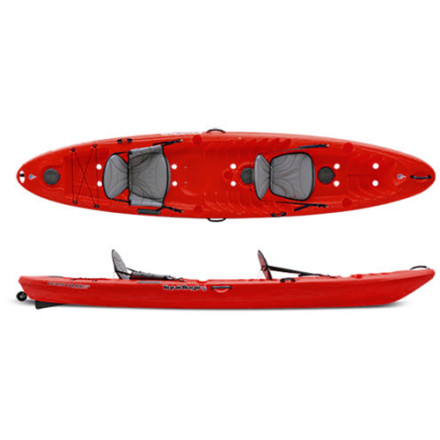 No need to leave your paddling partner on shore, because the Liquidlogic Deuce Coupe 13 Tandem Kayak has room for two. Integrated into the Coupe's hull is a spring-loaded, drop-down skeg that helps this sit-on-top track straight as an arrow, even if both paddlers aren't totally in sync. The rocker shape of the hull allows for superior maneuverability so you can paddle into tight inlets or surf some waves, and the skeg is easy to raise when you come in close to shore.
Two full-sized molded-in seats equipped with auxiliary mounts for the addition of included deluxe seat bottoms and backrests
A small center seat accommodates a child or a solo paddler
Five, count 'em—five, cup holders accept your beverages of choice
Three dry storage ports and a stern tankwell with bungee straps let you bring along plenty of gear
Extra-large scupper tubes and a stern plug drain water quickly
Bow grab handle, molded stern carry handle, and screw-on tag along wheel allow for easy transport
Paddle holder secures the paddle while you're fishing or taking a break
First Kayak Dissappointed w/ Backcountry
This is my first Kayak, looks to be a good Kayak, but very dissappointed with backcountry since the kayak did not come with paddles, and there was really no mention that the kayak did no come with paddles in the description. Therefore, disappointed with backcountry and liquid logic for not making that more clear. Seems to be just cheap business.
Experienced MultiKayak Owner Friend Recs
Gender:

Male

Familiarity:

I've used it once or twice and have initial impressions
Thanks for a page for this kayak I am planning to get soon. That is how I found your page.



A friend of mine, Jeff Sievers, wrote me several emails on which kayak to get. I had him put them together in an advise/opinion type piece I posted as a guest blog on my blog.imran.com site. ( I am not posting the actual link here as I hate comment spam on my blog too :-) ). But you can search for Kayak on my blog and see why Jeff recommended it and why I am getting one.



I am getting Yellow for its visibility. And am still looking for a good set of items like oars/paddles, life jackets etc. because the local supply is limited (it is still officially winter even in FL where I am writing this). I did sit in/on one and it is wide, comfortable and sturdy looking.



I do wish there were discounted bundles for paddles and jackets etc. type stuff a new owner would need to buy, especially as everyone seems to sell the kayak only at list price.



Stay safe and have fun.



Imran Anwar
My girl doesn't kayak that much so I wanted something we could both be on together. BK had this at a good price. We took it out last week and had a blast. Wide and stable but still fast. We were as fast as some other people with us who paddled single sit-on-tops. We loaded the rear with a cooler and wet sack and paddled for about 6 hours. Very comfortable ride. Went through some class I, and II rapids with no problems. If your looking for a tandem this is a great kayak.
Does it come with paddles
Does it come with paddles


No paddles come with this Kayak unfortunately.
I am 62 and wife is 61. We tried several kayaks before choosing the liquid logic deuce coupe. IT IS STABLE AND SPEEDY. I added a rod holder to do some fishing, I would like Liquid Logic to outfit this kayak as a fishing kayak to see how they would do it.
Liquid Logic Deuce Coupe Tandem Sit on top Kayak
Woody explains the Deuce Coupe, Liquid Logic's tandem, triple, solo sit on top Kayak
Liquid Logic Deuce Couple Sit on Top Kayak
Tandem and Solo paddling Sit on Top Kayak