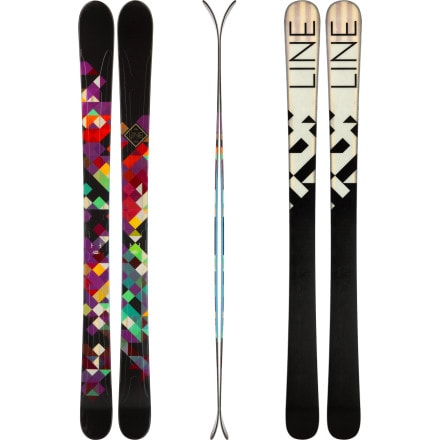 Videos
Description
You knew it was "the one" at first sight.
You can't quite put your finger on it, but when you first saw the Line Women's Soulmate 98 Ski, your heart went pitter-patter, time froze, and you envisioned yourself skiing with it in sickness and in health. Love at first sight is rarely wrong, right? Although the Soulmate is, yes, handsome, you knew there was something that was deeper than the surface. You fell in love with its features before you even knew them.
Early-rise tip and tail with regular camber underfoot provides easy turn initiation and enables you to slash turns through ankle-deep, choppy, or slushy snow. Aspen MacroBlock wood core keeps this ski light, extremely nimble, and playful as you charge groomers. CapWall construction (P-tex plastic walls over the edges and a capped top) gives you a light, responsive ski that also absorbs vibrations for a smooth, solid ride as you take this ski through a mogul field. Metal Matrix (3D die-cut metal titanal laminate) lends you more power and grip where you need it most while reducing weight when you take it to the next level down a tight chute. Once you got to know the Soulmate, you found out more than you could have ever expected, like the 5Cut technology blends five different sizes of sidecut radius shapes into one for intuitive control and unlimited turn shapes or the Fatty base edge (30% thicker base and edge) dramatically increases durability and tuning life. If you want to keep things interesting with the Soulmate, you can ride both ways because of the Symmetric Flex. This kind of love is forever, so never forget that.
Early rise tip and tail profile
CapWall construction
Metal Matrix
Aspen Macro Block
98mm waist
5 Cut sidecut
Symmetric Flex
Fatty base edge