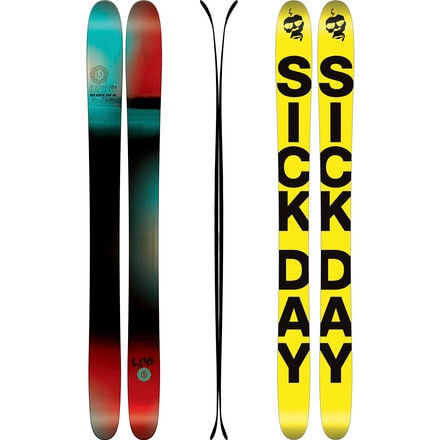 Description
The best cure for any sickness is a trip to the white room.
The steep and deep calls for big sticks, and the Line Sick Day 125 Ski answers the call, making the best days even better. Back for another round, the award-winning Sick Day series delivers another season of free-refills on the face shots. A beefy 125mm underfoot, with 150mm in the tip, offers plenty of float for the deepest days. But, with early rise in the tip and tail, these big boys are playful enough to get into those tight stashes. Making them even more playful is their thin tip construction, which sheds about 100grams per pair and cuts down on tip chatter when you open it up back to the chairlift.
The maplelite core has a rigid core of maple to screw your bindings into, but uses aspen in the tip and tail so you get a light and buttery feel while you're turning. And if you're torn between a cap construction or sidewall, the Sick Day has you covered, because it features a combination of both. Cap construction on the top gives you easy turn initiation, while a sidewall next to the edge gives plenty of stability for when you're straight-lining chutes. Its Fivecut uses five different shapes blended into one, giving you intuitive control while not inhibiting your turn shapes. Sintered bases keep your core shots to a minimum, and beefy edges can handle some abuse. All in all, the Sick Day 125 is a big mountain, pow-crushing beast that will won't disappoint.
Camber underfoot, rocker in the tip and tail
Capwall construction
Maplelite macroblock
125mm underfoot
5-cut sidecut