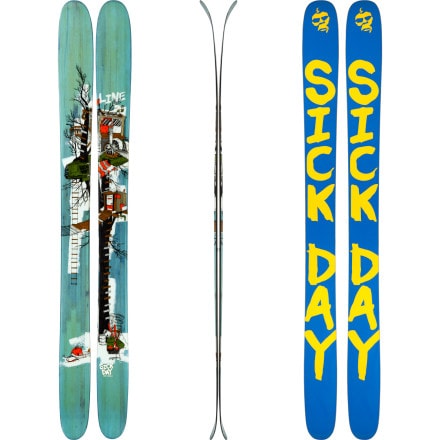 Videos
Description
Puking snow never looked sooo good.
Used up all your sick days? Call in dead and grab the Line Skis Sick Day 125 Ski. It's dumping way too hard to let anything stop you from nabbing some face shots. The 125 is Line's most playful floatation device and features a 125mm waist and an early rise in the tip that starts earlier to allow for easier turn initiation and effortless snow floatation without making you sit back. Plus, the 125's widest point of sidecut starts tapering earlier in the tip to reduce tail drag and hooking in powder so you can smoothly munch pow under the lift line.

Designed with CapWall construction, the 125 features a cap on the top for light and responsive performance and sidewall construction over the edges for a smooth, solid feel while you slay the mighty mountain from top to bottom. Line engineers also gave the 125 a Maplelite Macro Block wood core which has solid maple wood underfoot with lightweight aspen at the tips for durability and reduced swing weight. In addition, its ThinTip technology reduces swing weight and tip bounce by making the core and sidewall tips 100 grams lighter per pair.
Line's Directional Flex technology supplies a softer tip for float and easier turn initiation, while the stiffer tail gives power, stability, and high-speed control when you send it. Also packed in there is 5Cut technology which blends five different sizes of sidecut radius shapes into one for intuitive control and unlimited turn shapes. Yup, the Sick Day is named for a reason ... it would make you sick to imagine a powder day without it.
Early Rise profile (rockered tip, camber underfoot)
ThinTip technology
5Cut sidecut shape with early taper
CapWall (combines sidewall and cap construction)
Maplelite Macro Block (maple underfoot, aspen tips)
Directional Flex
125mm waist
Artist Derek Muscat
Share your thoughts
What do you think of the
Line Sick Day 125 Ski
? Share a...
Sick Day 125 + Retallack, March 2013
Member since
Groups:
Posted on
March 2013 I got to ski Retallack for several days with the Orage team. We had a bunch of fresh snow and tended to stay within the trees. I was on the 192s, which would have really enjoyed some massive lines, but they were surprisingly nimble in tight spaces. I think for most applications, 186 is plenty of surface area. If you're going to be able to have pow and a nice slope to play on, you're obviously psyched, but doubly so if you're surfing on these.
At 5"11 and 190 pounds, is the 192 too...
Member since
Posted on
At 5"11 and 190 pounds, is the 192 too much ski for me? Or put another way, is the 186 too small for me? I am an expert skier but getting up toward 50 years old and so not as aggressive as I used to be.
Member since
Best Answer
Responded on
There is no way that the 186 would be to small for you. I'm 42 years old, 6'1" and about 178lbs, expert. I own a sick day 95 in the 186cm length and if I bought the sick day 110 I would probably get it in the 179cm. If I went with the SD 125 I would go 186cm for sure. I do spend a lot of time in bumps so take that for what it's worth. The sick day skis are light but they aren't amazingly light. I would think a sick day 125 in the long length could be a pretty good size ski to toss around. If you were over 6' and over 200lbs, and pardon my French a little younger then go big. But I think the fun factor of the 186cm would outweigh the super deep benefits of the 192cm. Just my opinion though. I own a AKJJ also and armada stuff is light but it's still a big sky to have on all day.
Member since
Responded on
I have the SD 125 in 186 cm and they are just perfect for me (6'0" and 145 lbs, expert level). Plenty of flotation in the deep powder, very joyfull and agile in steep couloirs or between trees, you cannot go wrong with 186 cm. I would recommend the 192 cm if your cup of tea is to go at high speed in big walls with very few turns. Not to say that the 186 cm are unstable at high speed, not at all, but they are very agile and turny indeed...!

Compared to the SD 95 in 179 cm, the SD 125 play in another league : they are way larger and floattier, but surprisingly no less agile and turny in short turns.
Line Sick Day 125 Ski
Member since
Groups:
Posted on