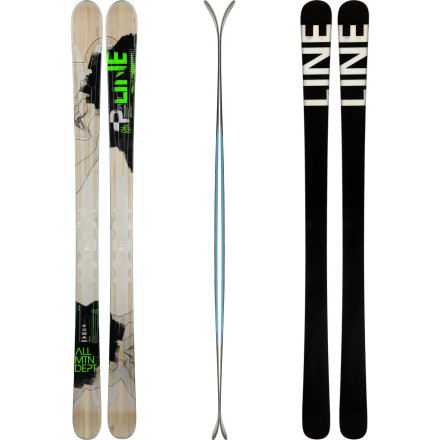 Videos
Whether you're an East Coast all-mountain ripper or a West Coast in-bounds shredder, put the Line Prophet 98 Ski underfoot. This girthy all-mountain ski features an Early Rise profile and 98mm waist that makes the Prophet feel skinny in all the right places. A little early rise keeps the tip afloat on the deep days, the metal-reinforced wood core is well mannered at speed or in the chop, and a generous, multi-radius sidecut shape lays trenches when groomer days are the only option.

Designed with CapWall construction, the Prophet 98 features a cap on the top for light and responsive performance and sidewall construction over the edges for a smooth, solid feel while you slay the mighty mountain from top to bottom. Line engineers also gave the Prophet 98 a Maple MacroBlock wood core which has two full-length maple stringers surrounded by aspen for the best of both worlds—durability and lightweight performance. In addition, Metal Matrix technology (3D die-cut metal Titanal laminate) provides more power and grip where you need it while also reducing swing weight where you don't.

Line also packs in Directional Flex technology which supplies a softer tip for float and easier turn initiation, while a stiffer tail gives power, stability, and high-speed control when you send it. The 5Cut sidecut shape blends five different sizes of sidecut radius shapes into one for intuitive control and unlimited turn shapes. Its Fatty Edge (2mm wide x 2.5mm high) and Fatty Base (1.7mm thick) also increase the durability and tuning life of the Prophet 98. And finally, we think you'll enjoy the Prophet 98's smooth-looking graphics.
Early Rise profile (rockered tip, camber underfoot)
5Cut sidecut shape
CapWall (combines sidewall and cap construction)
Maple MacroBlock (maple underfoot, aspen tips)
Metal Matrix (metal Titanal laminate)
Directional Flex
98mm waist
Fatty Edge (2mm wide x 2.5mm high), Fatty Base (1.7mm thick)