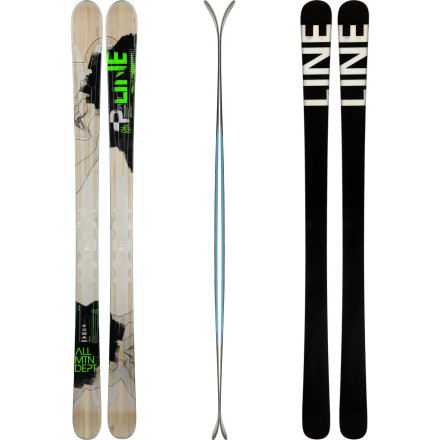 Videos
Whether you're an East Coast all-mountain ripper or a West Coast in-bounds shredder, put the Line Prophet 98 Ski underfoot. This girthy all-mountain ski features an Early Rise profile and 98mm waist that makes the Prophet feel skinny in all the right places. A little early rise keeps the tip afloat on the deep days, the metal-reinforced wood core is well mannered at speed or in the chop, and a generous, multi-radius sidecut shape lays trenches when groomer days are the only option.

Designed with CapWall construction, the Prophet 98 features a cap on the top for light and responsive performance and sidewall construction over the edges for a smooth, solid feel while you slay the mighty mountain from top to bottom. Line engineers also gave the Prophet 98 a Maple MacroBlock wood core which has two full-length maple stringers surrounded by aspen for the best of both worlds—durability and lightweight performance. In addition, Metal Matrix technology (3D die-cut metal Titanal laminate) provides more power and grip where you need it while also reducing swing weight where you don't.

Line also packs in Directional Flex technology which supplies a softer tip for float and easier turn initiation, while a stiffer tail gives power, stability, and high-speed control when you send it. The 5Cut sidecut shape blends five different sizes of sidecut radius shapes into one for intuitive control and unlimited turn shapes. Its Fatty Edge (2mm wide x 2.5mm high) and Fatty Base (1.7mm thick) also increase the durability and tuning life of the Prophet 98. And finally, we think you'll enjoy the Prophet 98's smooth-looking graphics.
Early Rise profile (rockered tip, camber underfoot)
5Cut sidecut shape
CapWall (combines sidewall and cap construction)
Maple MacroBlock (maple underfoot, aspen tips)
Metal Matrix (metal Titanal laminate)
Directional Flex
98mm waist
Fatty Edge (2mm wide x 2.5mm high), Fatty Base (1.7mm thick)
I am advanced at 6"4 and 185lb. I am skiing...
I am advanced at 6"4 and 185lb. I am skiing sidecountry (70) and groomers (30) looking for an all around ski which I can ski most of the Year. I am looking at this Line Prophet 98 and Armada TST. I skied the DPS Wailer 112 in Alta and that was Great in the sidecountry. Performance in groomers was ok.

Question 1: Would these Skis (Armada TST or Line Prophet) be right for me?

Question 2: Which Length Would bei adequate for me?
Best Answer
Hey there Hans,



If you wanted a 50/50 ski I would say Prophet 98. It's more fun on groomed snow due to it's more traditional carving feel. It has a nice tight turn radius that carves fun round turns but easily transitions to medium and long turns. The metal matrix adds the right amount of dampness and stability without adding bulk to the ski. A medium flex throughout the entire ski makes it very forgiving in all conditions. It won't be near as good off piste compared to the TST. It's a great ski but not fair to compare the two side by side in deep snow, the shovel of the P98 can't compete.



Being that you stated a 70/30 mix the TST in my opinion is the way to go. The elf shoe rockered shovel will float so much better than the P98's early rise shovel. Plus the extra waist width won't hurt either in deep snow. The TST handles busted up crud extremely well due to its stiffer flex from the middle of the ski and throughout the tail. This also makes it a little less forgiving in a mogul field versus the P98. Skiing groomed snow on the TST can be a lot of fun but the tip can throw you off at first. It can flap a little at higher speeds but does not affect the performance of the ski. It's a strong performer.



Lengths will be a little tough for you. I'm 6'1" 178lbs and I owned a TST in the 183cm and tried the P98 in the 179cm. Line skis measure short and Armada skis measure long. You should base your decision on a few factors.



1. Your ability level and how aggressive you are.

2. What type of resorts you usually visit, big or small

3. What part of the country do you live or what is the average snowfall for your area.

4. Do you prefer light, playful, nimble or heavier, damp, powerful skis. Anytime you go up in size you gain float and stability but sacrifice weight and playfulness.



I hope that helps. Think this over and let me know if you have any other questions.



SkiFreak


Tanks a lot. This ist really helpful. In General, I like more playful skis. I do not jump cliffs or switch. I have been looking at other skis and reviews on this website - and I wonder how this ski compares to Armada JJ, Line Sick Day 95/110 and Line SFB? All seem to be Great skis and maybe better/more suitable than this or the TST. Any thoughts on this? In partikular on the lengths ( this gest more complicated the more I Look into it...).



I ski in all kinds of conditions. Unfortunately I do Not live close to a skiing resort.
Hans,



All great skis and I have skied them all except for the Sick Day 110cm.



What ski or skis are you currently skiing on and what length? This can really help me and anybody else when trying to offer recommendations.



The Sick Day 110 would be a great way to go if you want a ski for 70/30 use. It will be more forgiving in the tail if comparing to the Tst. In heavy crud the TST will be more powerful but unless you are an aggressive charger I wouldn't worry about it. I would go for the longer 186cm, because of your size. I spent quite a bit of time on the 186cm Sick Day 95 and wish it was a touch shorter but I'm 6'1" 178lbs.



The JJ and SFB are a blast(I own both) but lengths for you will be a little tough. 185jj may not provide adequate float for you, same with the 184cm SFB. They are both meant to be mounted fairly close to center and therefore can have an over the tip feeling on deep days. You could jump up to the 190cm SFB but on my opinion that takes some of the fun out of the ski for every other day.



Try not to look at too many skis, keep your eyes on 2-3 pairs or you will drive yourself crazy. If you spend a lot of time in big moguls I would throw out the TST because of its stiffer tail, but other than that it's a strong player.



Line Prophet series truly are great skis and have been for many years. I have never spoke to anybody that didn't enjoy them for any condition. Sick day's just have more rocker in the tip and tails for better deep snow and off piste performance.



I'm here for any other questions you have.



SF
Cadillac of All Mountain Skis
Familiarity:

I've put it through the wringer
Ive shredded on these on just about EVERY CONDITION there is to offer. All within the same week i put these bad boys to the test on fresh groomers, ice slicks, hard pack, mashed potatoes, and of course some fresh pow (Even some dirt and rock patches). Could NOT be more satisfied with how these handle in every imaginable condition on the mountain. They are agile in the trees, blast through the crud, charge the steeps and float on the powder. You truly feel when that Metal Matrix comes into play for added stability without being too stiff.
Considering this ski, but would like to...
Considering this ski, but would like to mount it with an AT binding like the Marker EPF Tour F12. Good idea or not? Or should I opt for the Sick Day 95 or even the Soul 7? Or other binding? Or any other combo? Looking for a (Euro) on/off piste combo with touring capabilities. I've got a pair of lightweight Atomic Freedream touring ski's with tech bindings for the longer trips. Thanks in advance
I have Look Pivot 14 bindings bc I don't do much touring. I cannot imagine the Market Bindings being a bad fit for these skis for any reason. In comparison to the Sick Days and Soul 7 skis, they are both lighter than the Prophets mainly due to the absence of any metal like the Metal Matrix in the Prophets. If you are going to be skiing mainly powder, Sick Days may be a better fit. But if you plan to ski more variable terrain, I cannot preach the Prophets enough.

I hope this helps.
Get 'em you won't regret it!
Familiarity:

I've used it several times
I purchased a pair of these at the end of last season so mine are the 2013 model with the black graphic. Mine are the 186cm and I have some Atomic FFG 14 bindings mounted up which makes for a nice combo at the resorts. I've been skiing for over 25 years (ex racer) and this was the first pair of LINE skis I ever bought and to be honest they weren't even on my radar until a couple years ago. I purchased them over Volkl or Blizzards because they were over $100 less and had very favorable reviews. So far I have only skied 4 days on these skis, and I've hit just about every type of conditions you'd expect for early/mid season skiing in Colorado, with the exception of deep POW (but that's not what I bought these skis for). I was amazed at how well they did in windblown snow that was almost cement like, they just blast through with confidence. Bumps, Trees, Groomers were all handled with ease as well. These are now my go-to every day ski and will probably be so for the next couple seasons. I'm also a 6'1" big dude and never expected these to have the "pop" of a carving ski, but I didn't move out west to Ski groomers or gates...
West coast tractor driver
Familiarity:

I've used it several times
For a 6'2" 185 lb. Tahoe skier these turn like a GS ski but a brilliant radical slicer it is not. If you are heavier, looking for something to rocket you out of turns the P98s won't do, but for me these and new intuition liners makes for a kind pairing on my feet. Super easy turning ski that can still give back. Just enough rebound and dampness to demolish 5" of fresh snow on crusted out bumps at Kirkwood last week without making me nervous about getting hung up and twitched out. Maple Woodenness. So looking forward to ripping these all over the Sierras this season.
This ski rips! Mounted them with marker griffon (90mm brake). They are pretty much a 4x4 truck going down the mountain. They will run over small children!
Awesome ski for wide range of skiers
Familiarity:

I've used it once or twice and have initial impressions
Very smooth, very predictable, not demanding, but definitely rips the mountain. Is the turniest ski in the 98mm all mountain category I think but you can still dictate the ski into whatever turn shape you want. For only having the metal matrix in it this ski rips and holds an edge like a full metal sheet in my opinion without the added weight of layers of metal. Smooth, absorbs terrain, stable, but still very snappy and powerful. If you want to ski it hard it rewards, if you want to relax it lets you. Swing weight is lighter than the Bonafide and I think overall easier to ski for less aggressive skiers. Experts will love this ski but so will intermediates trying to get better. There is a reason it's been highly rated for years. I struggled deciding between this and the Bonafides after demoing both all day long but I went with the Bones just because I liked the surfier feel when I needed it. But I loved the weight of the prophets better, prophets were also a very fun shorter radius carving machine. Tough choice!
Great ski....so far!
Familiarity:

I've used it once or twice and have initial impressions
Finally! I blew my ACL last summer and missed last season on the slopes as I rehabbed it. Played Sherpa all winter to the wife and kids while they skied and my wife bought me a ski I'd had my eye on for a while as a motivational gift, the Line Prophet 98. I finally had my first day on the skis today and found them to be everything I had hoped for. The wife got them for me with Marker Barons since I occasionally go off piste and plan to do more as my kids get older. At 5'10" 185lbs I chose the 179cm length.



Skied very variable conditions in Southern Vermont including packed powder, ice, hard crud and a few runs with perfect corduroy.



I was really surprised at the quickness edge to edge of a "fat" ski like the LP98. I had heard that they turn like a more moderately waisted ski but was pleasantly surprised at the actual results. As far as I am concerned anyone with reservations about getting a fatter waisted ski can stop worrying and start enjoying them. With directional flex, and capwall construction the LP98 delivers the best of both worlds.



That's a lot said for 1 full day out so I'll update as soon as I put some more miles on them. I'll be skinning next week and taking them on more varied terrain so I'll update then.