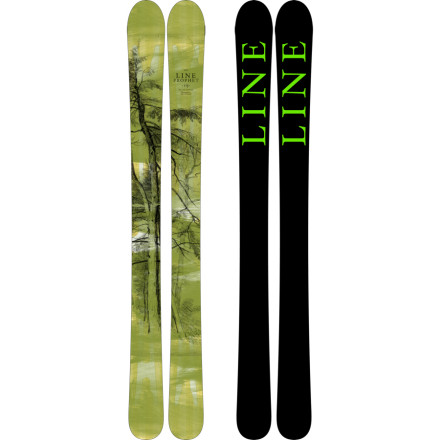 Community Images
The Line Prophet 115 picks up where the legendary 100 left off. For the powder-specific Prophet, Line added 15mm at the waist and early rise tips for increased flotation in deep snow.
Base and edge are twice the thickness of a standard ski for extreme durability and impact resistance
Maple Macroblock Core for light weight, durability and long lasting camber
P-Cut five radius sidecut provides powerful turns with less tail hooking
Titanium Metal Matrix die cut laminate adds power where you need it and reduces weight where you don't
Share your thoughts
What do you think of the
Line
Prophet 115 Ski
? Share a...
i bought these line prophet 115 skis new...
i bought these line prophet 115 skis new this year but i am having a hard time finding bindings with the wider brake system. i would like to go with a touring binding but all there systems are only 110mm
Most of the touring (AT) bindings out there have wider brakes available. Look at the Dynafit, G3 and marker systems.
Loved them. Killed it in the trees and even did good on some groomed runs. Switched from the Prophet 100s and I'm glad I did.
Offical Line Prophet 115 Product Overview
good overall description of the line prophet 115. They cover everything from ski shape to ski construction.
Line SSM (Prophet 115) Review
Line should have called this ski the snow seeking missile instead of the Prophet 115, but, who am I to argue.

Me:
193#
5'8"
Aggressive skier
186cm mounted on the line with Marker Dukes

Conditions:

Everything on the map except for blower powder.

Review: This ski destroys everything in it's path. It LOVES to go straight but has no issue turning as well. It is more of a GS turn than a touring turn. It is stable in the crud, chop, three week old mank, and at the highest speed you can get it to on the groomers. It has NO speed limit. I straight lined lines I never had before and actually was wishing I could make the ski go faster...it is incredibly stable. In manky three week old chopped powder with ice underneath it was stable as anything, but, did require some effort and power to make them turn fast. I did not get to ski them in powder, so, I will supplement this review when I have a chance to ski them in the powder.

Final notes: This is a powerful ski that likes to charge. That said, it has no issue shutting down when it needs to. You have to put effort into the turns you are going to make. Definitely not a ski for a beginner, but, if you are confident and like to go fast and hard, this is the ski for you. The metal matrix makes this ski so stable torsionally it is sick. It is so easy to straight-line is these that you will be amazed. It destoys any inconsistency in front of you. The only area this ski did not excel was, fo figure, moguls.

End Note: If you are looking for a quiver of one and you tend more towards the charging than the turning, this ski is for you!
6', 175lbs aggressive skier. I'm currently...
6', 175lbs aggressive skier. I'm currently riding the 175 Guns which feel short. Looking to move up in length and gain some width for the PNW powder days but can't decide between the 179 or 186 Prophet 115's. Advise?
I will echo the 186 comment
go with the 186 like i did. I'm 6'2 and 190, aggressive as well, looking for the all mtn and bc big sticks, these rip! just finally got on them yesterday, i'll write a detailed review shortly. but you won't be disappointed in these skis. i'm still smiling.
Hello,
I'm 5'9" and weigh 175. I currently...
Hello,
I'm 5'9" and weigh 175. I currently ski the 100's in the 172 length and am very happy with them. I'm interested in the 115's and wonder if I should go with the 179's since they would be more of powder ski for me or if I should stick with the 172's. Thanks for any help anyone can give me.
Go with the bigger ski.
with the early rise you will be super happy!
179 will be just perfect...you could even bump up to 186 if you are a capable skier.
Excellent Big Mountain Charger
My Stats
135lbs
5'9''
Expert Skier


186cm Length
I had never felt an ski HOLD onto the edge and stay there. That's what the Prophet 115 did, everywhere. That level of control was awesome. The minimal tip rocker in this ski allows any type of turn possible, at whatever speed. I was very impressed with this ski's stability in all conditions. Straightlining is redonkulusly easy. This is a heavy ski, but that went along with the stable feel. My only gripe is this ski drives so much that it's impossible to shut down in a hurry. The Prophet 115 just wants to keep going and going.

I reviewed several other skis the same day. To read for a comparison, check out
http://williamrichmondski.blogspot.com/search/label/Gear%20Reviews