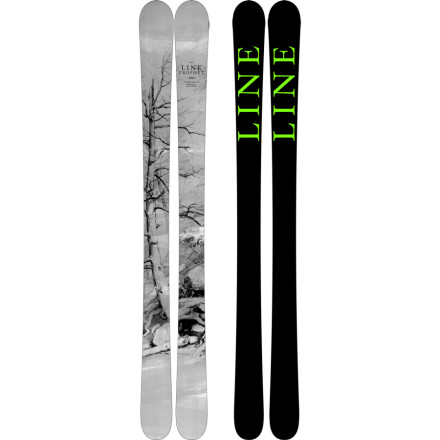 Line's Prophet 100 All-Mountain Ski is quickly becoming legendary as the quintessential do-everything ski. The Prophet 100 combines a waist width that gives you good flotation in deep snow with narrow-ski agility. Line accomplished this using their proprietary Metal Matrix titanium laminate that delivers power to the parts of the ski that need it and lightens the parts that don't.
Base and edge are twice the thickness of a standard ski for extreme durability and impact resistance
Maple Macroblock Core for light weight, durability and long lasting camber
P-Cut five radius sidecut provides powerful turns with less tail hooking
Titanium Metal Matrix die cut laminate adds power where you need it and reduces weight where you don't
Line Prophet 100
Gender:

Male

Familiarity:

I've put it through the wringer
I picked up a pair of these second hand for about 250$. I absolutely love them, I guess I am a good to very good skier but in no means an expert and have recently started free riding. I started on Volkl Katanas 190cm and skied them for three days through powder, crud, trees, just about every condition you can find (quickly changing weather) and thought they were a bit too long for what I was skiing and way to hard to initiate turns (I am 5'11" and weigh 148). Maybe it was due to my weight/length od the skis/conditions or me being a newbie at freeride and not having experience, but I felt wrong somehow. Then I bought the Prophets (179cm with Dukes) on a whim and was absolutely astonished. They are perfect for me, so easy to ski, very stable at speed, float nicely on powder and just power through crud and bad conditions. Trees are a joy. For deeper powder and wider, faster turns on not so steep terrain the Katanas would be better I admit, but for everything else the Prophets are completely brilliant. I would not change them for anything. Oh and they also rip the groomers. Overall an excellent ski in my opinion.
Unanswered Question
I bought these skis for this winter in...
I bought these skis for this winter in lenght 186cm and I want to use binding Dynafit TLT Radical FT (http://www.backcountry.com/dynafit-tlt-radical-ft-binding) also for ski touring.

Got anyone experiences with this combination or what's your opinion?



Because I heard that with these skis at underfoot 100mm I can rip of the binding from the ski in some hard turns because they don't have titan blade in construction.

I'm 181cm tall and 92kg (203 lb) heavy.

Thx
Tried the Prophet 100, March 20, 2011 - Sugarbush
This was/is my first pair of fatties ever. Though they are not as wide, at 100mm underfoot, as some of the chubbier boards out there, they were a significant jump up from the Salomon X-Wing Tornados I have been skiing since the 2009-2010 season.

I demo'd a pair at 172 cm length last weekend at Sugarbush in Vermont with the intent of using them next year for tree skiing. I am a 5"9" 155 lb advanced New England skier. I ski groomed and bump trails at about a 60%-40% ratio; very little in the trees, which is a skill I want to develop.

So, half expecting to be lumbering around on pontoons, I was pleasantly surprised by how agile they were on a sunny and soft bump trail. Turn initiation was quick and effortless. There is enough flex in the upturned tail to forgive a visit to the back seat. I deliberately hammered directly into the bumps rather than ski around them to understand the flex in the forefoot, which was very supple.

Short swing turns with these 172s suggested a turning radius of about 15 meters, if I was to take a guess, and that is tight enough, I think, for tree runs.

The slope conditions on most of the trails the day I demo'd these skis were "firm". A rain and freeze followed a week of no new snow. On a north-facing groomed trail that amounted to dusted ceramic, the grip on these boards was far above what I expected. I assume the metal laminate had a lot to do with the surprising fact these boards have enough torsional stiffness to handle hard pack without washing out.

The Prophet 100s at 172 cm are not for the race course, or for a very hard charging heavy weight x-racer. But they ran evevry bit as good as the Tornados, and a pair of 184 cm Rossignol 9Xs that I own.

I returned the demos to the shop at the end of the day and bought a brand new pair on sale for $440. I felt like I robbed those guys.
Just returned from a trip to CO with my Prophet 100's and was blown away by their versatility. They were great in the trees in deep pow, ripped hardpack chutes, and are amazingly quick in the bumps for a 100mm ski.
I recently demoed some S7s and Gotamas at Alta to see what all the rocker fuss was about. I enjoyed both skis and can see the advantage on the really steep and deep but neither ski was as versatile (or fun) at the Prophets. As an Eastern tree and bump skier these boards are perfect!
me: 5'11, 165 on the 186

last season, i developed a pretty serious case of rocker envy and picked up some early taper/early rise skis (BH maestros), thinking they would replace my prophets on the mountain. i love my rockered skis, but i love them for what they're for: skiing deep backcountry powder. 9 out of 10 resort days, i ski my prophets. the prophets like speed, bust through chop, are solid off drops, and absolutely rail groomers. let's face it, most days at the resort, the conditions are either rocky, variable, tracked out, dust on crust, dust on rocks, etc... and for that, i want the stability and precision that comes with traditional sidecut and having all 186 cm of ski pressed firmly onto the snow. and to the clown in the lift line rocking pontoons when it hasn't snowed in 10 days, you are a fool. learn how to ski.

bottom line: these skis haven't changed in a long time for good reason. they kill it.
Recommended bindings for Line Prophet...
Recommended bindings for Line Prophet 100's?
I've got the Marker Griffons on mine and love them (if you can really love a binding). Light weight and low moment of inertia coupled with the feather weight of the Prophets make for a really quick set up.
6'4", 175lbs. I ski pretty aggressively...
6'4", 175lbs. I ski pretty aggressively on and off piste (mostly off) and am looking for something that will charge the steeps and heavy Tahoe powder, but will still perform when firm conditions prevail. I ski ~75% resort / 25% BC, but plan to ramp up my time in the BC.

This ski seems to fit the bill, but I'm unsure on length and may not get an opportunity to demo. I'm leaning heavily toward the 186, but want to make sure I won't be fighting them too badly when I get in the trees, etc. Thoughts?
I ended up with the 186 because I found in certain situations I liked the extra stability, there were times that the 179 wasn't enough in the crud. It did fine in the trees, this ski is very predictable and doesn't throw any surprises your way.
Picked these up a few weeks ago, and I can't say enough good things about them. I'm about 150lbs, 6'1", and I bought the 186cm skis and set them up with Hammerhead telemark bindings. They're my first pair of fat skis and they handle really well on most kinds of terrain. Floaty enough for a foot of pow, and hold an edge really well on resort groomers. Quick edge to edge, especially for being 100 underfoot.I debated between the 179cm and 186cm length for a while, and am really happy with the 186cm. I can make quick turns and if I want to charge down the hill, they keep up. Highly recommended if you want a single ski to do almost everything.
I bought a pair 3 years ago and I used them as everyday(all conditions) skis in the first year. I mainly ski ALTA/BIRD during the season averaging about 100-120 days a season. Very versatile skis, used them in deep pow, cliffs, moguls, crud, tight trees, packed, groomers, all the chutes in ALTA/BIRD, touring and they rocked. On groomers, I can really get on their edges and carve with them. They're used to be my only go to skis now I only used them on packed days and still love them. They're getting worn out and I'll definitely getting the same skis next season to complement my Kuros which I use on POW POW days.
Anyone know if the base color changes on...
Anyone know if the base color changes on these with size? I just got mine and they are actually quite grey and dark unlike the picture, but I saw someone else with the 100s and they were white as shown above. Not a big deal, more of a curiosity.
You probably saw the prophet 90 or the flite. both of them have a similar lighter graphic. the 100's are all as seen above.
I've demo'ed both the Prophet 90 and 100...
I've demo'ed both the Prophet 90 and 100 recently. Both great, but found the 100's better on tight turns, trees, crud/pow. Was a bit surprised to find the 100's also seemed quicker, especially bombing down groomers.

Questions:

After a just few normal runs with the 100's my fee were killing me and I was adjusting my boots looking for relief. Rode the 90's in same boots, same runs, and similar snow conditions - didn't have this problem…? Can wider ski cause this, or does my technique just need work? Prefer the 100's, but the foot thing got me a bit worried…

The 90 in 172cm was harder in tight turns, but the 100 in 172cm seemed fine, in fact felt much shorter. I've only been skiing a few seasons, generally getting more aggressive, so think the 179cm would be better for me. Reasonable? I'm 5'10", 195 lbs and a level 7 ish skier according to the link below, ski almost exclusively local Pacific NW stuff.
http://skiing.about.com/od/downhillskiing/a/abilitylevels.htm

Thoughts?

Thanks
I'm not sure on the knees issue but I'd definitely go with the 179cm. I'm 5'10", 165 lbs and can whip the 179s around with little effort. I'm probably an 8/9 level skier based on that link.
Assuming you have a 4-buckle boot, loosen the top buckle. My first day on them I was all over the place, crossing tips, crossing tails, and haring off unexpectedly after an errant ski, but day 2 I loosened the top buckle and they started doing whatever I told them to do.
Absolutely fantastic ski.

I spent a week on these at Vail in late 2010, and they exceeded my expectations at every turn. These skis live up to their "all-mountain" billing. They are a joy to ski in deep powder, yet nimble enough to handle moguls without much difficulty. They are not as grippy on hardpack or groomers as a narrower carving ski might be, but their amazing versatility makes up for this minor shortcoming.

These are quite a bit easier to handle than the Prophet 115, which-- while also a blast in powder-- I found more difficult to control on groomed terrain.

In sum, the Line Prophet 100 is a really fun all-mountain ski. You won't be disappointed with this extraordinary piece of gear.
what's the turn radius of the 172cm length...
what's the turn radius of the 172cm length ski?
I can see into the future!
That I'll be skiing on these for a long time. I had 5-6 year old k2 Escapes as I live in the east. They always dogged me on powder days out in Utah, where we go every year for at least 2 weeks. I'd come back exhuated and dripping from the work getting the dump days.
We had a 30 inch drop 2 days into our trip this year and I said the heck with it and asked a million questions of the employees at the store in Salt Lake. The smartest guy skied these, so I followed his advice and boy am I happeee!
These babies were tough to get used to for me as they are wider and weigh more because they are twice the width! But after a day of getting used to it, I had the confidence to let fly and these babies made me a better skier!
I could not believe how fast they were on the groomers after the powder packed. Not as fast to start as my k2's, but I had more confidence to let them get more speed going. I felt like I had four wheeldrive they held on so well to the snow.
Going off-piste into the powder, where my experience is limited, I was immediately comfortable and had to adjust my stance to get control, but once I did, wow, the confidence boost came for that too.
The way they feel and look made me feel like a 25 year old "Shred the pow!" dude, when I'm 48 and starting to feel my body a bit more. I'd buy these again in a second. If you are an advanced intermediate, I p[romise they will improve your skiing too.
The Line Skis Prophet 100 ski has the power and stability of a big mountain ski, yet maintains the precision, agility and responsiveness of a carving ski. The result is versatility like to no other 100mm width ski in its class, and top awards from product testers around the globe.
Bought a pair of profit 100's a month ago. I am 6' 1" 240 lbs, ski mostly in NY, VT, NH, ice, gravel, grass, and sometimes powder. Wanted something that I could ski on the wonderful man made snow, but also take out west to the powder. I got my first chance on the profits last week "WOW!" . Conditions were usual ice and what not(no boiler plate), these things did great! Took half a run to get use to them and just as strong on ice as my Rossi Z10's. Fun and easy to ski, felt bad for the buddy who went with me, he had real trouble keeping up which is not usually the case. Can not wait to get on them again. The rossi's are 170's, the Profits are 186 and you would never know! Just crazy how easy they are to ski.
Am 6'4", 205lbs, relative recent ski addict, getting into black slopes & now spending a good amount of time off-piste. Was on a pair of Atomic RT 86s last year, which carved and gripped fantastically, but were too feathery light for me to deal with chunked-up frozen crud. Wanted something heavier and more stable. Have 186's mounted with Marker Barons 1cm behind midsole. Have skied em on groomers, icy groomers, piled up crud, windblown crust, waist deep pow. The skis are fun as hell, they are powerful and yet easy to drive. They give highly adequate pow float, yet carve lickity split on groomers. Their dampness and stability give me the confidence to plow over just about anything in my way and charge into new places I wouldn't have approached previously. My concern was that I wouldn't become a better skier because these things made everything so easy.... but I'm skiing steeper, deeper, and faster than ever with this setup. One of the funnest purchases I've made in the last couple of years.
Just spent a day on these at Vail in knee deep powder in the back bowls and Blue Sky Basin. I had never skiied a ski this wide under foot and was impressed at how versatile they are. They absolutely killed it in the deep stuff. Outstanding floatation! At the end of the day we were on some groomers and runs that were skiied off. These skiis are stable at any speed. As fast as you want to push them, they can take it. I like to make quick turns and was surprised that a ski this wide could turn this quick. The ski performs better the more aggressive you ski it, it is a pretty stiff ski that will throw you into the back seat if you get lazy. If you want a great all around ski that performs well frontside, backside , and powder, this is a great choice.
I'm 5'5'' 121 lbs, expert skier. I have...
I'm 5'5'' 121 lbs, expert skier. I have never had a fat ski before. Looking for an all-mountain ski, but mostly for backcountry/offpist. Will the 172 work for me?
Thanks
I'm 5'9 175 and I just got the prophets in 179. It took me some time to adjust coming from salomon thrusters that were 161's and 85 ish under foot. once I got used to the amount of energy input needed to turn the prophets on a dime they felt great. they have phenomenal edge hold, even on eastern ice. I have yet to take them into the trees but did ski them on some nasty slushy bumps and they did well.
Also I am 6'3" 200lbs, love to stay in the...
Also I am 6'3" 200lbs, love to stay in the trees and backcountry so I am leaning towards the 179cm. Will I regret this on the big powder days and wish I went with the 186cm?
186 will be much better on powder days. sounds like you'd be getting this ski for resort skiing if you like the trees and back county i'd get a better powder ski. two excellent powder skis are the side stash and the jj. The jj and sidestash float much better than the prophet 100 but still carve very well. Unlike the jj and sidestash the prophet has no rocker just traditional camber . Camber causes skis to sink because the camber pushes your weight into the snow. this is helpful on groomers because it gives you better grip but is completely unnecessary in powder. hope this helps