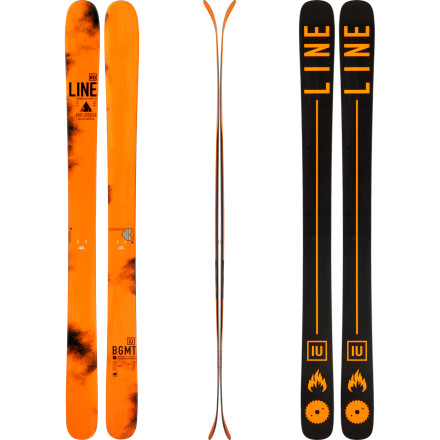 When big mountain means all-mountain, the fat, powerful Line Influence 115 Ski is the stick for the win. With a rockered tip and girthy waist, it floats through the deep with ease; a traditional camber and five-radius sidecut give it carving power when things firm up. This ski flies, thanks to the Metal Matrix and Carbon Ollieband, which strengthen and stabilize at hyper speeds, and the maple stringers in the lightweight aspen core put solid power tip to tail. A softer, directional flex and thin, lighter-weight tip and stiffer tail give this ski just the right feel for no-dive float without allover flightiness. The semi-cap construction mixes killer sidewall and durable, lightweight cap for another perfectly balanced act.

Early Rise profile with traditional camber underfoot
Cap Wall semi-cap construction
Maple Macro Block aspen and maple core
Carbon Ollieband carbon fiber stringers
Matel Matrix 3D die-cut Titanal laminate
Directional Flex softer tip
Early Taper in the tip
5Cut multi-radius sidecut
Thin Tip
Fatty 30% thicker base and edge
My 115s Lined Up Next To My Cochise
Just Right!
Familiarity:

I've used it once or twice and have initial impressions
Yesterday I demoed the Influence 115, Atomic Automatic and Line Sick Day. (all 179 cm) Would've liked to include the new Super 7, but it wasn't available.



5'6"; 140lb. Mt Hood Meadows; 5in new; 25in in the last three days. 25-30deg. Looking for a ski to replace my Rossi S7(178), which I've been on for the last four seasons. Great ski in the powder, but I want something more stable at speed.



All 3 were an improvement over my S7's. I thought the influence 115 would be a bit too much ski for me, however it ended up being my favorite by far. It felt incredibly smooth going fast through powder and heavy crud. It inspired confidence to take jumps and little cliff drops. Just as quick and maneuverable through the trees as the others(this surprised me). Able to make loose surfy turns, but not as loose as the Automatic. On groomers it railed, but took more work than the others to get up on edge. Overall this ski made skiing easier and put a smile on my face.



The Automatic was a little better at making loose surfy turns, but was more chattery and harder to control at speed in crud. I suspect the Automatic may be a little better in a couple of feet of dry powder, but can't say for sure.



The Sick Day felt very light and snappy. Fun ski but not nearly as stable as the Influence. Floated very well in pockets of powder, but not as surfy as the Automatic.
Looking to replace my Rossi S7 (178) which...
Looking to replace my Rossi S7 (178) which I've been on for the last four seasons. I'd like a ski that can bust this heavy PNW crud a bit better. I am an aggressive skier, however my concern is that the influence is often described as best suited toward heavier powerful skiers, and may be a bit much for someone of my stature. I am 5?6? 140lb. I'll be demoing the Sick Day 110 this weekend, however the Influence is not available for demo.
Best Answer
I live in eastern Washington so I get some nasty crud too but not as much as the west side. I have a buddy that skis the Influence series in the 105mm and loves them but has mentioned that it's a pretty stout ski. He is about 50 years old, 6' and about 210lbs I would guess. Upper intermediate to advanced skier so take that for what it's worth.



I personally haven't skied the Influence series but I am a Line fan. From everything I've researched and just by having the ski in my hands I will say that there is no way it's not just an absolute bomber for the PNW crud. If you are strong, aggressive, charge hard, and don't mind a little heavier ski this will be a great ski. What length would you get? I would buy the 186cm for myself but I'm bigger than you are.



Pretty big differences between the Sick Day series and the Influence 115mm, just an FYI. One is more playful and one is a bomber. Just read the description Backcountry gives above and that's the way I would describe the ski. Again that's just by a little bit of research and hands on the ski.



Feel free to pick my brain or anybody else's that jumps on your question.



Skifreak
Skiing the Influence in Jackson Hole.
Video from Jan-Feb 2013. Skiing on the Line Influence (2012 and 2013 versions; same ski). Whole lotta fun! Holler if you've got any questions.
Powerful and playful
Familiarity:

I've put it through the wringer
I'm really pleased that the Influence has remained more or less untouched from last year, the exception being the cosmetics...and I think it's sweet because it's the orange makes it way safer when you're combining hunting and big lines. (not that I've ever done that...)



So, I feel the Influence is a really predictable, strong ski that doesn't punish you for mistakes. It's fun to play around on but will have your back when you get into some serious $#!*.



Despite being the 115mm waist, they can rip hardpack and groomers- while still giving the float in really deep situations.



The 21m turn radius feels true when you rip a big gs turn, but the ski never dictates the turn shape- it feels comfortable going from a straightline into a dump speed schmear, and then into whatever else you'd like.



The early rise and taper at tip and tail help the Influence ski shorter than the number indicates when you're slarving turns or in a tight situation...until you open it up and have all the stability for runouts in chunder.



On the subject of chunder... this ski is super fun in crud & chopped up snow. The wood & metal help the ski stay damp and stable until you pick a bump to pop off of and load those carbon stringers up...and then you're touching back down 20 ft later.



I'm 6ft, 165lbs without pack, and the 192cm is my go-to ski. I've used the 186cm with Dukes and it felt great and now I'm trying the 192s with a CAST touring setup...and we'll see if I'm strong enough to really tour with that, because it's not exactly a rando race ski.