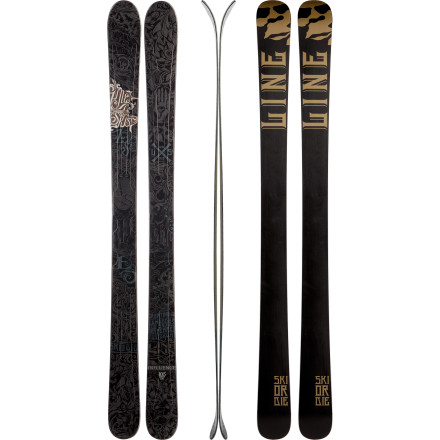 Your powder ski is only really good for powder, and your carving ski requires too much spandex to be fun outside the gates, so what are you to do? With its 105mm waist, early-rise tip and tail, and powerful metal laminate and wood core, the Line Influence 105 Ski is your answer. This is an all-mountain ski with a little performance-enhancement in the horsepower department. It charges, it carves, it floats, and it soaks up chop or rough landings (should you decide to exercise some 'extreme'). The Influence is truly a jack and a master of all trades.
Early-rise camber profile (4/0mm, tip/tail) allows the tip and tail to float above powder, helps you surf over choppy conditions, and makes hooking a tip in deep snow a thing of the past
Traditional camber underfoot gives you steady edge control and the ability to carve deep turns instead of sliding
Maple Macro Block core uses two full-length pieces of durable maple surrounded by springy aspen wood so you get the best of both core personalities
Titanal laminate (Metal Matrix) reinforces the core with metal, aids the transfer of power to your edges, shovel, or tail, and encourages increased edge grip
Directional Flex gives this ski a softer tip that planes above soft snow quickly and initiates turns easier while the stiff tail provides power at the end of your turns and aids stability at high speed
Fatty Base and Edge means a thicker base and edge for increased ski durability and tuning lifespan
Capwall, or a combination of cap and sandwich construction, combines the weight savings and responsiveness of cap construction with the edging power of sidewall construction
105mm waist gives you a nice wide platform to stand on so high speeds feel like a walk in the park and deep conditions feel smooth as silk
5 Cut Sidecut shape blends five different sizes of sidecut radius into a single shape for ultimate turn shape versatility
Is this ski complete overkill for the east...
Is this ski complete overkill for the east coast? I ski mostly in the Adirondacks and Vermont. I try to get out west for a week each season. All the reviews are promising but it seems most everything is reviewed for skiing out west. Turn radius is good to but I am a little worried about the width. Price point right now is making it hard to pass up but I want to enjoy them in all conditions. I like skiing in the trees as well as ripping some groomers.
Before moving to Colorado, I skied Influence 105's pretty much every day at Gore.


What binding pairs well with this ski? I...
What binding pairs well with this ski? I have a Black Diamond Factor 130 boot. Will be using this for in bounds skiing.
I mounted these with the Marker Jester which is a 6-16 DIN. I am 6', 215 and have never released from this binding on two different skis. If you need a lower DIN range, look at the Griffon instead.
One ski quiver
Gender:

Male

Familiarity:

I've put it through the wringer
I've put 15 days on these this season and am loving them. I'm 5'9" 147lb fast aggressive skier. I'm on the 179 and ski out west in Washington State.

They are super comfortable at high speed, can make quick turns as well as long turns, stable thru the crud and chopped up. The early rise makes it ski great in powder and prevents the ski from hooking in dense snow or wind crust. carves great on groomers. Only slightly negative thing I can say is they are kinda heavy but that just means they are not a great choice for a touring ski. For inbounds or sidecountry they rock.

Check out the youtube video with some POV of skiing the influence 105

http://youtu.be/uT1L5ebLTwE
one quiver dream ski
Gender:

Male

Familiarity:

I've put it through the wringer
If you are looking for a one quiver ski this is a beautiful ski to get you there. Very quick edge to edge dispite it's 105 underfoot on the groomers. It's solid in off piste broken powder and crud and handels mogals very well. Very smooth and fun in the powder, just a do it all ski. I highly recomend it. I ski the Wasatch and it is my every day ski. I only go to a rockered ski when it dumps just because I can. I'm 5'10" 170 lbs. expert skier and the 179cm is perfect for me. Trust me...if you want a great fun ski this is one you must put on your list to really consider.
all mountain
Gender:

Male

Familiarity:

I've used it several times
second year skier, 6'2" 190 lbs on 186. I went from a dynastar 85 underfoot to this 105 & the difference in powder is night & day. these hold an edge really well while traversing & are quick through trees & down chutes. great for an all mountain ski but I would like a bit of a stiffer tail for more pop & for powering out of steep fast turns. I demoed the s7's last year on a powder day & they were fun but the influence 105's are more fun, faster & are a more serious ski. if you are aggressive & charge steep stuff these work great. definitely need to wax regularly.
Bought these skis last season ('11/'12) and despite less than desirable snowfall in Tahoe, was able to put a decent amount of turns on these sticks.



One thing to note, these skis like to be on edge. The early rise with some camber underfoot works well on both hardpack and crud alike. Decent powder abilities but by no means a powder specific tool.



These are definitely my daily drivers and "quiver of one" if I had to choose. A little squirley on the flats due to the early rise but like I said, these things like to be on edge.



This is definitely a ski that you have to be on top of at all times, if you relax too much you run the risk of them skiing you rather than the other way around. I would definitely recommend these.



*Size Notes:

I'm 6' 180 lbs and have the 186's. Definitely the desired length. Ski a little shorter than you would expect too. Able to throw down some big arcing turns as well as bounce through the trees.
Underrated Shred Stick
Gender:

Male

Familiarity:

I've put it through the wringer
Picked these up at the beginning of last season (only change for 12/13 is the graphic) and ended up skiing them almost every day that I wasn't touring (Snowbird passholder). I'd say that the Influence 105 is more than enough ski for all but the deepest days. These were super fun all over the mountain - especially in chutes, chopped bowls, and trees. They carve much better than I expected too. They are a bit turny for a freeride ski, but I felt that it helped keep the ski loose and fun despite it being more damp than a lot of today's rocker skis. Despite the twinned tail, the Influence 105 isn't much of a freestyle ski. The sturdy core and metal matrix make this ski more of a directional all mountain stick with kind of a limited freestyle feel. Not much jibbing on these, but plenty of pop for airs. The bases are sturdy and survived last season's lean winter in pretty good shape. However you'll want to wax these regularly. I've already gotten back on them this season and am fired up for another winter on my Influence skis.
I'm 6'0", 165lbs, trying to decide between...
I'm 6'0", 165lbs, trying to decide between the 179 and 186 lengths. Will 186 be too long to manage in the trees and bumps?
hi there. depends on where you live. out west? go 186 all day. however if you're skiing mostly the super tight trees and bumps back east then it might pay to go shorter. for reference i'm a transplanted east coaster skiing at Snowbird on the 186cm. I'm 5'9" and 145lbs.


Got last years ski on deep discount in march last year in Chamonix, and it really took everything i could throw at it (I dont think anything has changed except the graphic). a good friend of mine was on the Gotama and we switched off skis a few times to feel the difference. We were both in agreement that these were an excellent ski which was very similar to the Gotama, but favored groomers a bit more than the full rockered Volkl. They both have some pop to them, but influences really allowed you to get great performance in any turn shape, where the Katana's really wanted to turn the length of their reverse camber. They provided ample float and shovel to power through powder and crud (though not quite as easily as the Gotamas (which as mentioned are full rockered )) . The metal in them makes them a little heavy, but i found them very well balanced, so I didnt really mind the extra swing weight on hop turns. Overall very happy with my purchase.