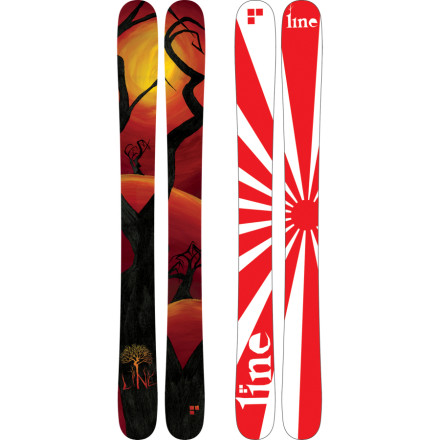 The Eric Pollard Pro Model Ski is the fattest freestyle-specific ski in the world. You need a fat ski when you have a habit of landing huge airs in powder—switch. The massive 127mm under foot width isn't the only thing keeping you on top of the powder, though. An early rise tip and tail make the EP Pro float like a water ski, so you can devote more of your effort to ripping long after your buddies are spent and headed for the bar. Of course that means that you'll get to the bar last, wind up the most sober at closing time, and go home with the hottest girl.
Base and edge are twice the thickness of a standard ski for extreme durability and impact resistance
ABS sidewalls dampen vibration
Maple Macroblock Core for light weight, durability and long lasting camber
Symmetric flex at the tip and tail for predictable handling whether riding forward or switch
Thin core and sidewall at tips reduces swing weight for easier spinning
My son bought a new for 2011 pair of Line skis and they started coming apart with only 9 trips to the ski resort. They are many layers of glued together wood and it came apart. Pro shops told us this was a defect in manufacturing and we should contact the company, Line. We have done that but they ignored us. Don't stand behind their product apparently so BEWARE.
Unanswered Question
I know that the rocker went from 40cm x...
I know that the rocker went from 40cm x 30cm to 30.5cm x 25cm from last years to this years but what else has changed? Camber? Flex? etc. Does last years have camber or is it still a flat spot? And is the rocker in the tail the same as the tip? Thanks
Unanswered Question
How do these do in the trees? Are they...
How do these do in the trees? Are they pretty nimble?
Been thinking, 2011 Hellbents in 189 or...
Been thinking, 2011 Hellbents in 189 or 2011 EP Pros? I now have two seasons on my Prophet 130s and enjoy skiing them, but to get the most out of them they need to be ridden hard, especially in the crud, but they're still fun. I am 5"11 and 160lbs and do alot of backcountry and technical lines, like steep trees and as many cliffs as I can find (Vail, Jackson Hole and the like). I also do a little bit of skinning, both with my Prophets and my skinny skis ('10 ObSeths) and will probably skin with either of these. I did demo 2011 Hellbents in 179 at Vail in late December and found fresh crud on piste and a little powder in the trees. I did find them to be super playfull in crud and powder and can even be skied a little lazy because of all the rocker (they just kind of float over everything), but also kept going over the tips when landing +10ft. I'm starting to ride switch more and am wondering if these will be better than the Hellbents, especially dropping off cliffs and natural features?
that is an interesting question, The Hellbents are reverse camber and the Ep's are rockered in more tail tip from what i know. The Hellbents as you know are the bigger ski at 132 mm underfoot vs. the EP's 127 mm underfoot. The Hellbent skis a little more a water ski but they absolutely dominate the Powder and they are made can drop big cliffs if thats your thing but they are at home with the back country freestyle, big spins and landing switch, a big percentage of the top backcountry freestyle kings ski the hellbent, Pep F, Andy Mahre, Charley Ager, and the legendary Sean Pettit. All those guys are at the top of their games and they ski the Hellbent and they all land switch the majority of the time.
The Ep pro is a great ski though, as i said before its the smaller of the two, but they still ski like water skis because of the early rise tip and tail, but because of that they will be easier to manage on the hard pack. They like the Hb's are made to stomp big switch hits in the Backcountry The Ep's are a little easier to manuver in the narrow steeps because of they are smaller underfoot so it does not take as much to muscle them. Both skis are good in the slush and corn days, fun to butter with and smear and just have all around fun. So remember though that both of these skis are made in the same factory, and that yes they are different companys but they along with Volkl are all owned by the same company (jarden inc), so they operate as different companys but they share technology and construction etc. So in my opinion the Hellbents are the better skis, and next years are really fun skis to ski, (skied them last week) in chest deep pow. so hope this helped
try it before you knock it!!!!
try it!!!! my intro to the EP pro was only because i ripped a binding out of the fat skis that i had at the time. living in utah, i was pretty bummed to have my fat skis out of commission, but i was lucky enough to have one of my buddies say, hey u can use my EP's until you get something new. i was definitely stoked to have something fat to ski on, but as i'm a pretty hard charging big mountain skier i immediately said, 'well at least it's something, but i just know i'm going to hate these things. WRONG! i ended up buying them off of him. i ski Snowbird, UT and anything from straight lining the cirque to making pow turns in mineral basin to sending it on north baldy. this ski kills it (in the deep) and holds it's own very well in the chop and can get around on hard pack. my disclaimer: i ski the '07- '08 model. which from what i read (i haven't skied any of the newer models) is a fair bit softer, which only means that the newer models are even more versatile. so check it out, Eric Pollard kind of knows what he's talkin' about.
awesome all over the mountain
After the riding Sir Frances Bacons for over 2 years I switched over to the E.P. Pro's for more float and was blown away by the first run. They CARVE RAILS on anything but full on ice and blow bacon's away on groomers. They are super soft in the tips and tails but STIFF under foot so when you roll them on edge they just carve away. Of course that is just a plus to there real purpose " slaying powder" they are so surfy and quick in the tree's if you can fit your soulders between they won't hold you back. The steeper and deeper the better. I have not had any issues with the soft tails at all landing drops up to 15' or so you just have to stay centered and they land them selfs. My only complaint is when our wet heavy sierra cement gets really chopped up you have to stay foreword and drive them or else you may get beat up by the softness of the tips.
Before i bought these skis i heard that you could not take these skis on groomers and stuff. but i have been at the biggest ski area in the world for the past week, and i have had every type of condition, they slay pow like a mutha, lean back a little when you goin down a small slope in pow and it looks so sweet, not to mention the rooster tails you kick up. my bro cant ski like 10 ft behind me. but then when your lappin the catwalk back to the lift they ski just fine. as long as you put a little pressure on your feet so they dont get to squrily. but all in all these skis are amazing. super light. and every lift i get on i have had about 10 french people ask me if they are water skis, so its kinda funny tellin people you can actually ski on them. so go pick up a pair of these and you wont be dissapointed.
Eric Pollard Says Why The EP Pro Is Rad
2011 EP Pro Ski
So what's the story on this years thin-tip?...
So what's the story on this years thin-tip? Are the tips and tails tapered down to just topsheet on P-tex? I'm just concerned with durability.
There still exellent preformance wise.
No, early taper means that the widest point of the tip and tail is closer to the boot, i.e., the shape of the ski tapers earlier. That means that the profile of the tip and tail is thinner, meaning that the tips and tails won't drag in powder. It also gives the ski the sidecut of a shorter ski, meaning that the EP pros will ski like a shorter ski and hold a better edge on hardpack.
I'm 200 lbs, tend to ski aggressive and...
I'm 200 lbs, tend to ski aggressive and like to ski powder through the eastern trees. I like to catch air but am not a hucker or jibber. Wondering if the EP pro is the right choice for me? My other skiis are Shoguns and I am looking for a bigger POW ski. Any thoughts, is the EP pro a good choice?
Ep pros are an awesome ski... if you like to ski powder and powder only.. If you have several more skis and you are looking for a powder specific ski by all means get the ep.. But powder is all this ski is going to be doing.. I highly suggest get this years Sir Francis Bacons or the Armada JJ if your looking for a ski that will do more than just pow but is still going to be very fat and be a powder specific ski...
maybe get some thing stiffer like the kuro. This ski is very soft and poppy meant more for freestyle and backcountry jib kind of skiing. Although it is a great powder ski something like the kuros would be better because it would be more stable.
If you dont ride switch pow another choice would be the K2 pontoons or the karhu team 130.
Hey guys! So fortunately I got a job working...
Hey guys!
So fortunately I got a job working at Alta this year, and I want to get a pair of powder skis to go with my chronic cryptonites (best ski ever by the way). Do you think I would be better off with the EP Pros or the Sir Francis Bacon if pretty much all my time is gonna be spent in bounds? Thanks!
Best Answer
I think the bacons are the better choice. The bacons are still very fat but they will do more than just ski pow then have a nice camber on them to ski groomers and catracks which your going to be using usually to get to the powder so i think the Bacons are a more versatile ski hence making them in my opinion the best ski to buy.
The EP is a tool, meaning, its designed to slash/shred/butter POW. period
There are so many different shapes and designs of skis these days. Progression of the ski is another aspect that we forget to look at and accept. This being said, the EP, is one act of this progression. If we all dressed, looked, and ripped on skis in the same manner, skiing could turn black and white. In order to keep things interesting, we all have our own methods and styles of skiing. The EP is simply one of those styles(aka "another tool in the tool box"). Sure, this ski isn't the best tool for staying in control inbounds. Hint this isnt what Eric had in mind when designing this guy. Although, 1st chair/unclaimed resort pow lines can turn this ski into a miracle. Lets just say, your kinda along for the ride once you hit the chop, tracked, and iced areas. In "POWDER" this ski DOES WORK. If u can only grab one pair of sticks for the winter and 80% of your riding is inbounds, this might not be the ski for your "toolbox". Line Bacons, Atomic Bent CHets, Armada JJ, or similar skis probably fit your needs much better. These designs still murder Deep stuff and are a much more versatile tool. But when im heading to the Uinta's to slash some freshies in the backcountry, u better bet the EP's are strapped to the sled.