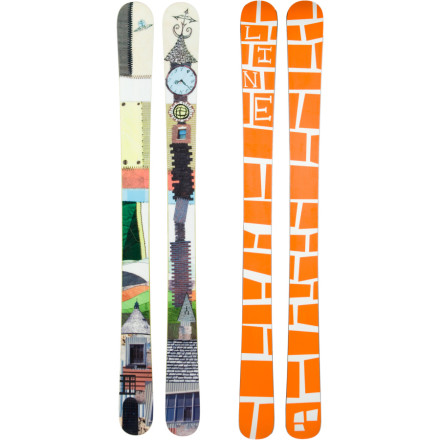 Detail Images
I rode them for a day in chalky powder and they killed it. Definitely a great ski to take out on the hill if you are a bit smaller.
Oh yeah, they're a blast!
The Lizzies make me love skiing even more. They are extremely soft and almost symmetrical, hence why they are EP's park ski but the width makes them an absolute ball in powder as well... the short length makes skiing powder in trees pure heaven. Oddly enough, I like them best in powder trees as I was saying... it the park they are good for jibbing and small jumps but when you hit large jumps (55+foot gaps) the short length and soft flex play against you. Obviously, they aren't great on hardpack/ice but they are do-able and they are wonderful in moguls... short easy to turn and again the noodle flex takes so much of the bump from the bumps.

Im 5'9" and 155lbs... I would say if you are any larger than me don't get them... they're just not long enough or stiff enough... if you're my size and smaller... you won't regret this purchase.
Line Elizabeth's are oh so sweet
Eric must have had one sweet girlfriend to name this ski. I've skied it 60 + days this winter in all conditions. It minds very well- does what you command it to do. Light pressure, big turns, pounce on em and they turn on a dime. The soft flex takes a little getting used too. When skiing deep powder, stay on the fall line and kiss them a little and you're off and wiggling and grinning. I have them mounted tele. In powder, corn, porn and slush they ride a nice tele arc. On hardpack, ice and groomers turns work great too- just keep them out from under you and up on edge. If you trust the edge, there's nothing these skis can't do.

I love these skis!!!
I'm 6 ft 175lbs, and an expert skier, just...
I'm 6 ft 175lbs, and an expert skier, just gettin off my line prophets and looking to get something fatter with rocker, like really fat. wonderin what ski sizes are like, do i need to get smaller ones? i currently ride 179cm Line prophet 90's.... any help would be great
cheers
Keegan Pearson
As far as sizing, you can go either way. If you are riding terrain where you need some quick radius turns then shorter will be better. If you want some big arcing G.S style turns ride 'em longer.

The way rockered skis are designed less of the ski touches the snow so you can ride longer. The ride will be very different from the ride you're gettin on your prophets, much softer.

This would be a good starter for a fatter ski, or if you're feeling really adventurous you can go for the Line Sir Francis Bacons...now those are some funny fatty's. No rocker on those either, just early rise in the tip.
fair enough, thanks for the help. i was thinking hellbents... and on that note, do you know how close to center to ride them, for the best of both worlds (deep snow, and freestyle)
These skis don't have any rocker, so if that is what you want, I would click on some other skis. Ones to look at might be like an Armada JJ or ARG, Atomic Bent Chetler, 4FRNT CRJ, or Rossi S7. The hellbents are cool, but unless you are balls deep in pow, they are not the best choice. As far as length goes, I would hesitate to dip below 185 with a rockered ski, at 6ft, anything shorter will feel very squirrely.

Mounting position depends a lot on your style of skiing, how much switch riding, buttering, etc. you want to do, as well as the ski itself. If the ski is symmetrical, then a true middle mounting will work best, otherwise anywhere between +2 to +5cm will allow for a good mix of stability, flotation, and maneuverability.
Hi I am looking at using this ski in ontario...
Hi I am looking at using this ski in ontario as an everyday ski, lots of park but also groomers. I do half jumps half rails, and really like to play around on little features. I am wondering if this ski would be good for me, I weigh 120 pounds.
These skis would do just fine for you. The thing with these skis are, they were designed as a all mountain ski/park/pow ski with the geometry of a fatter pow ski. they have a super deep side cut so they turn like a snowboard, with concerns to a little pressure in initiating the turn creates a long turn but with a lot of pressure you get a short snappy turn. i am getting these skis next year for my one quiver ski. i demoed a pair over this last season and they are perfect for everything. you can start off the morning slaying some pow and at the end of the day you can jib it up in the park. these skis are real soft so they have a lot of play so you can butter just about any feature on the mountain. at 120 pounds you should be fine with initiating turns and buttering all the time because of the softness.

this will help show what i am saying.
http://lineskis.com/skis/elizabeth
i love these skis for what theyre made for.. the park and all around fun.. very low swing weight with a soft flexing but responsive ride is a good description.. EP did nice with these by putting a really deep sidecut and making them much quicker edge to edge than u would think.. if youre looking for a playful park ski u can definetly ride all over the hill pick them up..
.My 16 year old son is 5''8" and 115 lbs...
.My 16 year old son is 5''8" and 115 lbs and is looking at the Elizabeth or the Sir Francis Bacons both in 172 or ? We live in Montana and he spends most of his time in the trees and side hills skiing powder, a few small cliffs, and hits the runs on his way back to the chair. He is very atheletic a solid skier and spends 30 days a year on the hill,
I'd hook him up with the Bacon due to it being a shade stiffer (for airs, steeps, and rough terrain). The Bacon is also a little fatter and not quite as park ski-ish as the 'Liz. Either way, he'll be pretty stoked, but if he's a side country shred, the Bacon may be the way to go.
The big question is will this be the only ski he uses...I would get these skis(elizabeths) if its the only ski he will be using since the underfoot is 110mm...however, if he will be using these new skis as powder skis get the sir francis bacons because they are more specialized for powder. Either way it should be a great ski...i have friends with both and love them. Also for bindings I would recommend either the marker griffons or jesters.