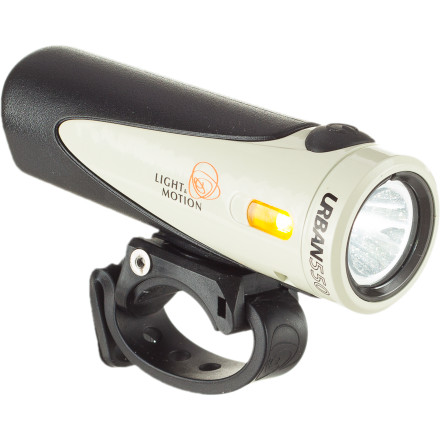 If your daily commute, or 'goosefraba' rides take you far off the beaten city paths and into the inky countryside at night, you'll certainly need more than the stars to light your way. Nearly as powerful as a car headlight, the Light & Motion Urban 550 Light will make daylight out of any nighttime road, keeping you highly visible and alerting you to any animals or hazards in the road that might pop up.

Few cycling lights come with the pedigree of those from Light & Motion -- a company who has been designing lights for over 20 years. But not always bicycle lights though. In fact, the small Monterey, California company cut its teeth making ocean-proof diving lights that adhered to some of the most stringent safety standards in consumer products. The DNA for safe, highly visible and weatherproof lights for cycling was already in place, and thusly we have the Urban 550.
Just as its title implies, the Urban 550 casts a bright 550 lumens beam to help you see and be seen. For the sake of comparison, a typical car headlight tends to put out around 700 or 800 lumens. The level of performance that the Urban 550 delivers allows you to fly over broken pavement at night, seeing the obstacles and having time to avoid them before you run over them. Like the Vis series, Light and Motion's Urban lights have amber side lights to increase your cone of visibility, adding to your safety. Accident data tells us that most car/bike accidents occur at intersections, and not surprisingly, with cars turning into or across cyclist's paths as they thread their way through the intersection. So the more light you can project in all directions, the better.
The Light and Motion Urban 550 Light will run for 2 hours on the high setting and for 4 hours on medium. The lowest setting stretches the battery life out to 8 hours, and once it's dead a complete charge by means of the included USB-Micro charge cable requires around 5 hours. It's designed to be mounted onto your handlebars and comes with a rubberized, tool-free strap that secures the light in an instant.
Did not last.
Familiarity:

I've used it several times
I bought this product about 6 months ago and have not used it often because I primarily ride during the day. But during those rare night rides I used it and liked it. The beam was wide and the charge held. But I went to use it the other day and it would not go on even though fully charged. I pulled off the rubber covering the push button and the stem had broken. I am careful with my "stuff" and this light was not misused. So I will not be using this company's products again.
Unanswered Question
Will this light mount on aero bars? Not...
Will this light mount on aero bars? Not the aero bars themselves but the base bar. Specifically, Profile Design T2 Wing bars? Thanks.



ANSWER: I bought it, and it does fit.
Bright as a Car
Familiarity:

I've used it several times
The light puts out all the light you need for a ride in the dark. An added plus is the amber colored lights that show to the sides. One issue is battery life. Don't leave home without charging this light or you may be stuck. The light seems to drain its battery even when off.
I can't review this light any better than Aaron, Cooz, or Christy below -so read their reviews! I will just add that there are a handful of companies that make really good bike lights, but Light & Motion is universally regarded as one of the very best by bike shop employees and experienced riders. There is a reason for this.



Great company, design, performance, experience, and quality. And 550 lumens is plenty of light for the road.



One potential issue: The light is really easy to mount and dismount on your bar, still I wish the light was removable from the mounting strap. This is not an issue for MTB. More for road bikes with handlebars crowded with taped horizontal brake and shift cables.



By the way, L&M -includes- a helmet mount with the 550.
In the fall my buddy and I do lots of night riding on the trails in the foothills and mountains above Provo. This light works in a pinch by itself as a helmet mounted light but it truly shines when I pair it with an Urban 350 for a bar light. The beam is very bright with a long throw and a good spread. I have never seen a light as bright-white as this. Battery life is sufficient for a two to three hour ride especially if you use the mid-power setting for the climbs and reserve the full power for bombing the descents.
Nice product, great service
Familiarity:

I've put it through the wringer
I bought an urban500 last winter and used it almost every day commuting and recreationally. When riding off-road, i've always been a fan of using a headlight and a handlebar light for better depth perception on the trail so i'd use the 500 in conjunction with my old bombproof niterider HID. The 500 is brighter than the nightrider at a fraction of the size and weight and on the medium setting (~300) I get about the same brightness and run time. USB charging is an awesome feature as opposed to a dedicated charger. I wish charge time were a little less but it hasn't caused a problem yet since the charge indicator on the back of the light gives fair warning if you get cut short during a top-off. I can attest to the company's excellent service because unfortunately my light began to turn on intermittently and then not at all this summer. An email to Light&Motion got a quick response with a repair number. A week and a half later it was back to me in Juneau with a new battery and 550 guts with performance run stats showing a run time of 2.4hrs on high which is almost an hour longer than advertised.
Light and Motion FL1 Testing
Quick video showing an unique 5-step testing process at L&M.
Great for urban cycling
Familiarity:

I've put it through the wringer
There are a number of reasons I like Light&Motion lights. A.They are made in the US, and B. They are bombproof. I've been using my Urban 550 light for over a year and haven't had a bad experience with it yet. When turned on high, it makes cars think there is another car coming towards them, so light position is key when you don't want to piss off motorists. The other two settings still provide tons of light and will keep you noticed on even the darkest streets. I've used this light in snowy, rainy, and downright hurricane like weather with no problems or damage to the light. The battery lasted on high down an eight mile descent during a midnight hill climb and lit the path for a few other people I was riding with. The only complaint I have, The battery life isn't absolutely, out-of-this-world, blow-your-mind, amazing. But it holds a charge and you can charge it via USB at your desk.
Is the battery replaceable trailside?...
Is the battery replaceable trailside? looking for a light for endurance racing and commuting (helmet mounted). prefer all in one for simplicity, size and weight.
Battery is rechargeable, not replaceable. Go with the Stella 300, or if you want serious illumination... SECA 1700 Enduro (both are from Light and Motion).