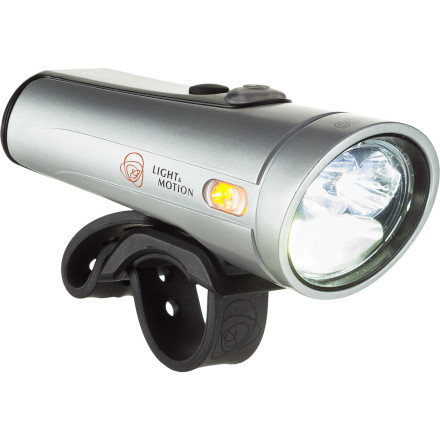 Colors
The Taz series from Monterey-based Light & Motion is billed as the company's 'crossover' lights. From the rigors of a darkened return commute, to illuminating potential trail hazards, the Taz 800 delivers enough concentrated light power for the darkest trails, while softening up and conserving battery with a 200-lumen output for your ride home. For comparison's sake, a single car headlamp tends to run around 700 lumens, give or take. So rest assured that the Taz 800 will be providing more than enough light no matter where you choose to ride.
Few cycling lights come with the pedigree of those from Light & Motion -- a company who has been designing lights for over 20 years. But not always bicycle lights. In fact, the small Monterey, California company cut its teeth making ocean-proof diving lights that adhered to some of the most stringent safety standards in consumer products. The DNA for safe, highly visible and weatherproof lights for cycling was already in place, and thus, we have the Taz 800.
The Light and Motion Taz 800 Light will run for 2 hours on the highest 800 lumens setting and for 4 hours on medium. Both of these settings should be more than enough to get you through your leg on a 24-hour relay, or a long, darkened stretch of your commute. One of the coolest features of the Taz 800 is its Race Mode, which cycles between only the high and medium brightness modes, letting you quickly change modes as the trail opens up without demanding too much of your hands' attention. The lowest flash setting stretches the battery life out to an impressive 24 hours, and once it's dead a complete charge by means of the included USB-Micro charge cable requires around 5 hours. It's designed to be mounted onto your handlebars and comes with a rubberized, tool-free strap that secures the light in an instant.
Has some challenges
Familiarity:

I've put it through the wringer
I am a light and motion fan and have several of their lights. This one however has some challenges. Its really bright and allows me to see everything I need. Love that part. It however takes a full work day to charge so don't forget to plug it in. Its biggest challenge however it that it is so heavy it does not hold its position on your handlebars and needs to continuously be re positioned. I would not purchase the product again.
Not reliable and too heavy
Familiarity:

I've used it several times
Was really jazzed about the Taz. Alas, battery stopped recharging after the third time that I used the unit. It's a heavy unit and no matter what I did (including the using their pads) the unit kept pointing downward after hitting some bumps on the road.
Bright Light
Familiarity:

I've put it through the wringer
This light is bright enough to make me feel very visible even when it isn't really dark out. I prefer the strobe mode but it has several setting and I like having those options. I'm not really thrilled about the mounting system. You have to turn the light 90 degrees to get the strap to hook and then twist the light back. If you already have other accessories on your bar, even a small bar fly that can be annoying. It feel big and in the way. My other light is an older style where you mount the battery elsewhere and just the lamp goes on your bar.
Great Light
Familiarity:

I've put it through the wringer
I've had this light for three years now - really lights up the trail in front of you. The only drawback is how long it takes to charge - 10 hours or so.
Great idea that does not work
Familiarity:

I've used it several times
While other lights i have from this company are great, the Taz only worked for one day before charging failed.