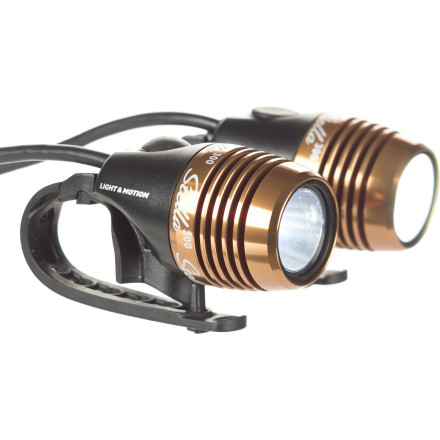 Riding at night in the city or on the trail can feel a little like playing Russian roulette when you are riding with inadequate lights. Ok, that 25 lumen light has done its job by flashing hopelessly so cops don't pull you over, but it is time to step up your game. Take the guess work out of hitting rocks or potholes by being equipped with the Light & Motion Stella 600 Dual Light. These dual lights provide plenty of light for cruising the streets or hitting some weeknight singletrack. Kicking out a full 600 lumens, you will have plenty of light for a midnight hammer-fest.
The Stella 600 has us questioning why we didn't start using this light sooner. The universal, rubber mounting system lets you move the lights from bike to bike without needing to adjust them for different bar diameters. Three light settings let you decide if you need the full 600 lumens or dim the lights a little to preserve battery life. The batter lasts nine hours on low, four hours on medium, and two hours on high. With two and a half hour charging time, you can plug the Stella in before dinner and be ready to roll out with your late night ride group.
The Light & Motion Stella 600 Dual Light comes with a battery pack, charger, and mounts. They are available in Root Beer and Red.
Unanswered Question
I understand the light uses a notched...
I understand the light uses a notched rubber strap system to secure the light to the handlebars. My mountain bike has standard size handlebars, but my road bike has the FSA carbon bars with a circumference of 4 3/4 (4.75) inches. Is this strap large enough to fit on my road bike?
Unanswered Question
How come you are selling the dual light...
How come you are selling the dual light with the 2-cell battery and the single Stella with the 3-cell? The Light and Motion has them packaged the other way around. I'm not going to put two headlights on my helmet and a 3-cell battery is going to weigh to much to do the same. What gives with the switch on the batteries?
It comes with their double cell battery that, they say, lasts only 1.5 hours on high. The double cell is the one comes with their single headlight models like the stella 200.