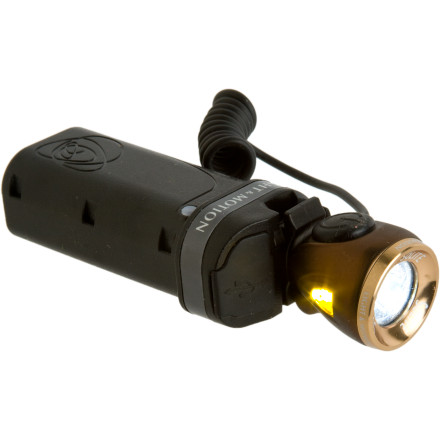 Detail Images
Due to the cost, high quality bike lights are an investment. Hesitation to buy can be an issue, simply because most are bike specific. Not so with the Light and Motion Solite 150 Light. It functions as four lights in one -- hold it in your hand, wear it on your head, on your helmet, or mount it on your handlebars.
The Solite 150 Light is meant for commuting and general purpose lighting. Its beauty lies in its versatility. And that it's packed with the same features you'd find on bigger, heavier, and more expensive lights is a great bonus. Like Light and Motion's Urban and Vis series lights, the Solite 150 has amber side lights to increase your cone of visibility when you ride on dark roads. This adds safety, especially considering that the greatest percentage of accidents occur at intersections. It also has a battery life indicator that tells you when a charge is due. At full power the Solite 150 puts out 150 lumens on the high setting. This is quite enough to see and be seen when you're on the bike path or paved city streets. It will run at this output for 3 hours. Dropping to the medium setting nets you 6 hours of run time, and the low setting yields an everlasting 40 hours.
The Light and Motion Solite 150 Light uses a rechargeable Lithium-ion battery pack that accepts the lamp unit into a built-in clip mount for handheld use. You'll also get a handlebar mount, a helmet mount, and a headstrap. It weighs 135 grams, and in case you were wondering, you won't even notice it on your helmet. To recharge, simply plug the included USB-Micro cable into an open USB port. You'll get a complete charge in 5 hours.