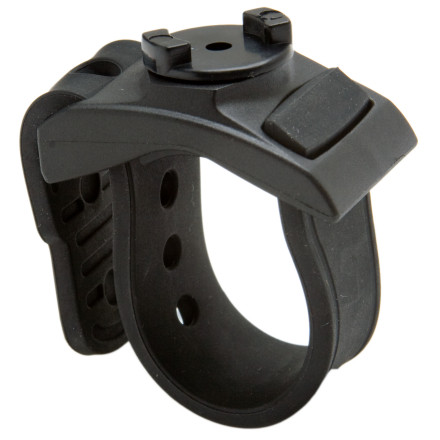 The Light & Motion Seca/Vega Spare Bike Light Bar Mount gives you the option to switch your light from one bike to another in seconds or replace the one you broke last weekend. This quick-attach mount goes on nearly any bars without tools. Don't forget spare parts when you're gearing up for 24-hours of wherever.
Write your question here...Will this fit...
Write your question here...Will this fit a Trek light #402899?
thanks
Frank
No, I'm afraid not. These are specifically designed to fit Light & Motion light heads.
Let's rethink this one guys
I'm using this with a L+M Arc light. In the w"inter" I ride at night 3 nights / wk, So-Cal Fire roads + Single track. I rely on one light at night, either helmet or bar mount.

Pros-
easy on / off
side to side adjustment
Tilt adjustment is pretty easy

Cons-
After waiting for this part, having been sent the wrong part 3 times, I was pretty eager to try out my new Arc with a helmet mount. Bad news bears. The Arc, while a great light, is a)decently heavy b) tall c)relies on a small base for an interface with the mount. The Light bar Mount is made out of a pretty flexible rubber. While this is great for making it fit around a lot of strangely shaped objects, it fails miserably as a means of mounting your light onto a bike helmet IF you are riding anything (singletrack, fire roads, etc..) that is, in any way, bumped, rutted, or textured. Problem is because of the weight / height of the light, the mount flexes and stretched enough that your light is now bouncing/shaking all over the place. For the first time, I have to say a bar mount is actually more effective than the helmet mount.

I previously used the NightRIder Trail Rat. While not a great light (brightness) the plastic interface / helmet mount makes for a really solid / secure connection between your helmet / head / light.