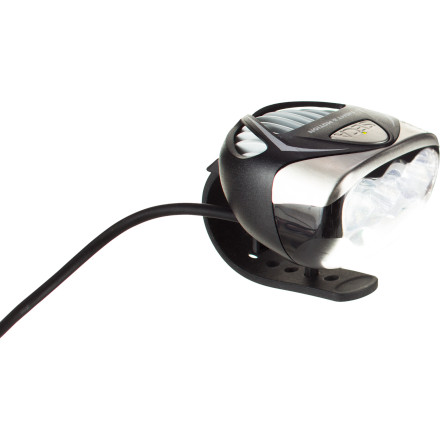 While the lumens from a retrofitted car battery and headlight will be sufficient for night riding, its packaging is a little too bulky and weighty to be practical. Thankfully, there're products like the Seca 1400 3 Cell Light from Light & Motion that can push out equivalent brightness without doubling the weight of your gear.
In fact, including its battery pack, the lightweight Seca 1400 weighs less than 430 grams. But, equally important as weight, is the quality of light. The Seca 1400 relies on powerful Cree XPG emitters for their inherently pure white light and super-efficient operation. Different lights can only emit a portion of the color spectrum -- sometimes too blue, green hazed, or yellowish. In practical human terms, our eyes are built for natural light, and Light and Motion strives to make equipment that produces light as closely matched as possible to the color of natural midday sunlight.
However, all of this power and light quality would be lost without a well-crafted reflector to shape the beam. For the Seca 1400, Light and Motion's bi-conic reflector creates a broader center spot that shoots straight down the trail, allowing you to see what's coming at high speeds. This broader center spot transitions softly into very even fill light that lets you see the woolly stuff at the edge of the trail, not to mention all of the roots and rocks below your front tire.
It comes with a tool-free handlebar mount that will work on just about any bar diameter or shape as well as on the included helmet mount. The mounting arrangement has been redesigned to rotate the lamp forward on the bars. Perhaps the greatest benefit of this new shape is that the light will sit farther towards the front of your head when you're using the helmet mount. So, it's easier to avoid snags on unseen or low hanging branches.
The Light and Motion Seca 1400 3 Cell Light comes with a 3-cell lithium-ion battery pack, and will run on full power for 1:30 hours. It will run it on medium for 1:45 hours, and the low setting will stretch out to 5 hours of run-time. The Light and Motion Seca 1400 comes with a power cord that provides you the freedom to put the battery in a variety of locations.