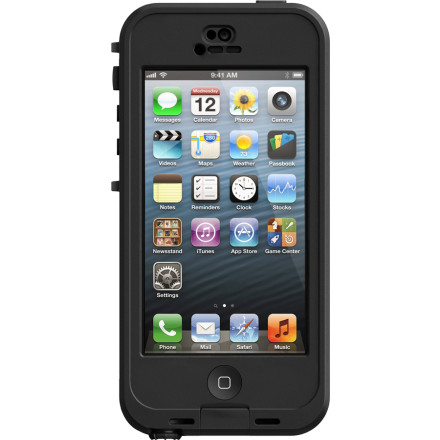 Colors

Detail Images
The Lifeproof Nuud iPhone 5 Case offers waterproof, drop-proof, and dustproof protection for your iPhone. The screenless technology protects your tech from bathroom accidents and torrential downpours without taking away any of your finger-tapping fun.
Waterproof, dustproof, and dropproof
Plastic frame
Screenless technology
Share your thoughts
What do you think of the
LifeProof
Nuud : iPhone 5/5s Case
? Share a...
Lifeproof
Familiarity:

I've used it several times
I got this for my son's phone, as I don't trust him to not drop it in the water. I was skeptical of the no screen protection but so far so good. It's doing exactly what it's supposed to do, and my son is the coolest kid in school.

Lifeproof
Familiarity:

I've used it several times
Gave this to my brother for his bday. Here's what he had to share!

I respect and enjoy the LifeProof case. It is easy and manageable to install and remove the phone case when I need to. I am still skeptical about how you can touch the actual phone's screen and have a waterproof case but it is a great product. The case adds a comfortable size and feel to my Iphone5 and product delivers as advertised. I am a happy customer.
No front screen protection from the case
I was reading the description and I was like "WTF? how is it waterproof but not have a front screen like the other Lifeproof?"

I thought they meant the clear back maybe? Nope, there is no front screen protection from the case. There is a seal that seals around the phones glass screen to make it waterproof. They say the unit was water tested with the plastic insert the phone is packed with.

It also comes with an optional screen protector film you apply by yourself.

Will the phone stay as clean as the last Lifeproof case I had? I doubt it. The last case that was fully enclosed kept the phone in brand new condition for two years. This one? I know I will not be as harsh with it as the last one and I will get a new iphone 6 here sooner than later when I start having issues with it.

If you want a fully enclosed case this is not the one to get. If you like to have your phones screen unprotected and still have a waterproof case.. Sure, this one is for you.

I will give this one a try but I know the screenless design is going to be harsh on the phone with what I put it through.


Does What it is Supposed to Do
Familiarity:

I've put it through the wringer
Great case. Allows me to take my phone on any adventure and not have to worry about it breaking due to a small mistake. Was tossed in the pool the other day with the phone in my pocket, worked great. Its expensive but, so is the small computer that sits in your pocket for most of the time.
Insurance for adventure
Familiarity:

I've put it through the wringer
I've used a Lifeproof on my phone since I first got a smart phone. I was stoked to be able to take it under water, but I have been further impressed with it's shock absorbence. I take my phone everywhere to take pictures, and never have to worry about it getting damaged. The only time I have had an issue, is I left my phone in the sun and it was overheating. Good thing I have a Lifeproof! I just dropped it into some water and it cooled it right down. Make sure to register your front and back of your case under the Lifeproof warranty directly: http://www.lifeproof.com/en/contact/warranty/
I had an issue on my old iPhone 4 case taking it through a race called The Dirty Dash. The mud damaged the film over the earpiece. I called in, and they were phenomenal at sending me a new one right away.
great case
Familiarity:

I've put it through the wringer
Definitely lives up to its' name.

Ive swam with it, tubed with it, answered calls in the shower (no, seriously), gotten it muddy, and it has always kept the phone dry and functioning. Additionally, in a moment Im not overly proud of, I slammed the phone onto a tile floor and while it did break the case, the phone wasnt even scratched. (I replaced that one with an identical LifeProof case and swore to stop being a dbag and never throw a phone again.)

The case is great. It doesnt interfere with your ability to use the phone in any way.

Now, I will say this... you do have to use the little dongle cord thing that it comes with so that you can use your aux jack to hook it up to your car stereo or headphones. It can be a pain. So can keeping track of the little screw in plug that it comes with to plug up the aux hole when the dongle isnt in use.

But, all in all, it beats replacing a wet phone. So, Ill take it.

Last but not least, Ive been told that people can barely hear me if I hold the phone between my shoulder and face if Im busy doing stuff. When holding the phone in the correct position with my hand, no issues... Just when Im shouldering it.

I like it enough that Im waiting on LifeProof to release their model for the 6 Plus before I buy the phone. I wont ever have another iphone without a LifeProof around it.
Protects my iPhone from water and sand
Familiarity:

I've put it through the wringer
I am not a fan of iPhone cases mainly because they make the phone thicker and aren't always easy to work with, but I always put my iPhone in a Lifeproof case when I head into the desert to do some Slot Canyons or explore some abandoned mines. It has come in very handy because I can take pictures without having to worry about my phone getting destroyed from sand or water. I have even had to use the phone's light a few times while hiking out of a slot canyon in the dark because my friends forgot to bring their headlamps or visa versa.

Pros:
Protects from Water, Sand, drops, etc...
doesn't add to much thickness to the phone.
Doesn't need a special adapter to change your phone.
Comes in tons of awesome colors.
You can still use the Touch ID.
Lifeproof will warranty your phone if the case fails IF you purchase the case directly from Lifeproof only and pay the $10 or so to get the warranty protection.

Cons:
You HAVE to use a long dongle that screws into the case to use the 3.5mm headphone jack. Big Fail on Lifeproof's engineering team!
Sound is slightly muffled.
Adds some bulk to your phone.
The case is expensive.
Lifeproof does not warranty your phone if the case fails (this happened to my friend).
The plastic can degrade the sharpness of your picture.

Overall this is a very good case and I will continue to buy them whenever I upgrade my phone.

The Fre is good for the occasional case use like I use and full enclosure and protection.

The Nuud case is good if you are going to constantly use the case and never take your phone out.
Lifeproof used in Choprock Canyon
I always have my iPhone in a Lifeproof case when doing slot canyons in Southern Utah. My headlamp was not waterproof so I ended up having to use my iPhone light in the Lifeproof case to light my way in the Grim Section of Choprock Canyon in Escalante, UT. See the Lifeproof case in action at 5:50 if you don't want to watch the whole video.
Reliable
Familiarity:

I've put it through the wringer
This case is on a rather expensive side but if you have an expensive phone, you want it protected, and the Nuud puts your mind in ease. Tough and durable it's ready for the outdoors, as well as occasional mishap in the civilization.
We use our phone as an additional navigation tool, and also as a reading device, and occasional camera. Being able to touch the screen makes it much easier to operate the phone outdoors, especially when the outside temperature drops and my fingers get colder.
It is also nice not to worry about the elements. I can use the phone in rain without a need for additional plastic bag or at the beach and not worry much about sand getting in.
Once inside, the phone is fully functional, even the Touch ID works.
The downside: Swiping from the bottom of the screen to bring up the shortcut menu can be little tricky but once to get the motion down, you will be able to do so easily and without frustration.
The case is compatible with the standard iPhone charger; however I found out I could not fit an off brand charger through the enclosed area.

Only Somewhat Compatible iPhone 5s
Familiarity:

I've used it once or twice and have initial impressions
I like that there's no plastic membrane covering the screen, but as a trade-off, gaskets around the screen make the case really bulky. Gestures that originate at the edge of the screen (Notification Center, Control Center, etc) are difficult to start because the edges of the screen are blocked by the case.

The home button built-into the case feels really chinzy, and is not satisfying to use. While I'm sure it's still watertight, it feels loose. If I were a betting man, I would bet this is the part of the case that will fail first.

The mute toggle switch is also difficult to operate. It requires more force than I feel like is necessary to switch the operating position. The volume control and lock buttons seem okay.

While the case fits the iPhone 5s, the home button built-into the case completely covers the TouchID sensor. If you don't care about TouchID, it's probably not a big deal.

There's a newer version of the nuud case that doesn't cover the TouchID sensor, but that's not the version I received.

I haven't built up the courage to actually drop my brand new iPhone into a drink, but when I do, I'll report back with my results.
Best protection for you iPhone
Familiarity:

I've used it several times
Killer case straight out of the box it just feels like its going to protect your phone. Put it on and dunked it a few times in water and it will works great. Really impressed with the quality so far and it seems really durable.
Keep your Phone Safe.
Familiarity:

I've used it several times
I just upgraded to the iphone5 right when the new ones came out haha. This case has been great so far. Keeps it slim and un bulky. It does come with a screen protector to put on after the case. I water tested my case for 3 hours with some tissue inside the plastic water tester it comes with. No water, kept the tissue dry. I haven't had a chance to actually see it in action with my phone but I'm happy to know that it works.

Also the whole no plastic over the screen is awesome! No hiccups and the mesh over the speakers seems a little different from past models like for the iphone 4. Can hear the speakers a lot clearer now.

If I drop my phone in the snow this season or in some slush i will for sure post a pic.