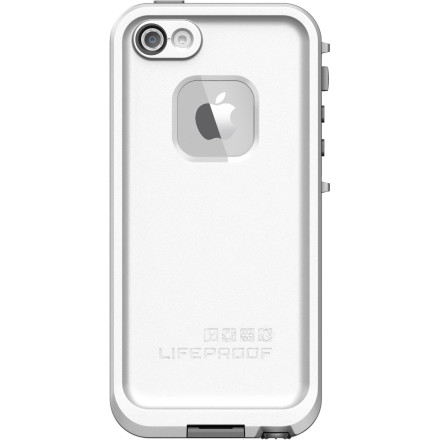 Colors

Detail Images

Community Images
Description
You're going to wish you had one eventually.
You're carrying around a tiny computer in your pocket, so it makes sense to invest in some protection for that magical little device that you take literally everywhere. The Lifeproof Fre iPhone 5 Case is submersible in up to six feet of water for up to an hour, totally sealed against dirt and dust, fully enclosed to keep melting snow and ice out, and can withstand drop impacts from up to six feet, all without sacrificing the sleek profile that makes the 5 so enticing. So whether you're tired of losing iPhones to damage from white water rafting, ski touring, intense hikes, or simply dropping it in the toilet, the Fre has you covered so you can keep your iPhone going for a long time to come (or at least until the next model comes out).
Waterproof, dust-proof, shock-proof, and snow-proof
Sleek, low-profile design
Optical-glass lens
Sound Enhancement System acoustics
Case, cleaning cloth, headphone adapter, and headphone jack cover included
It lasted two years and it kept my iphone 5 in brand new condition.

As in the photo below of the rubber edging deteriorating and falling apart, that is what happened to mine too.

I am going to stay with LifeProof but I am going to go with the Nuud case instead for the replacement.




Baby Proof
Familiarity:

I've put it through the wringer
I don't really take my phone anywhere with me when I do water sports, snowboard, or anything else where I could fully submerge my phone in water, but when it comes to baby saliva, my phone is constantly around that and covered.
This case is bombproof when it comes to that stuff! nothing gets behind the screen cover, or anywhere else for that matter, it is awesome. I can actually let my little dude play with my phone and not worry.
Not to mention, when he drops it, (that is not an "if" statement, because... well... you know) I don't have to worry about that at all. It protects my phone so well! And after having a shattered phone once, this is excellent.

Here comes my complaint (and my husband has the same issue with his, so it isn't just me!) When I am on the phone with someone, and I mean anyone, I cannot hear a word they say! It is the lowest volume ever, and no matter how much you try to turn up your volume on your phone, at the highest setting it still sounds like they are underwater. I have to take off my case if I ever want to make a phone call, or put it on speaker phone, but then sometimes they can't hear me when I put them on speaker. That is the most annoying thing ever.

Other than that, its great, cute colors too!
Be Free! Bye Bye H20 Fear!
Gender:

Female

Familiarity:

I've put it through the wringer
So, let me start this review with a story. This one time, I was fishing at dusk, beautiful day coming to a close with a classic Utah sorbet sunset. My iphone 4 had been a loyal cellular companion for 2+ years but had one foot out the door (power buttons not working, constant crashing, fuzzy lens) but still did the job and took a photo when needed. I did NOT have a lifeproof for this bad larry, and while casting to browns in one of my favorite Provo holes, it attempted to end its life in a dramatic naked drowning.



Thankfully, it was just a call for help. To this day, I do not know how a phone would continue to work after being lost at the bottom of a river. I left it for dead, my first thought being "dammit, I just littered, I am going to have the worst fish Karma ever" Then from some magic, I was able to catch a reflection from the screen and raised it from the depths. She worked for another month until a defective wine bladder incident did her in. RIP iphone4



Needless to say, I am not the type of person that should ever have a phone that is left unprotected. My phone karma and more has been used up, and thankfully Lifeproof is around. I can now fish without worry of losing my phone, my wine and phone can share a bag uninhibited, and there is zero concern for snow on pow days.



This item comes highly recommended. I did a test before use and it is 100% sealed. The charger port hinge :"door" is functional and trustworthy and sound is great via the screw in aux port. Headphone jack port when not in use seals well and doesn't loosen over time.



I was torn between the Nuud and The Free but after talking with some people, I decided on the Fre being the best best. Two major differences, and the ones I found to be the only somewhat drawback of each was that the Nuud does not have a screen cover (uses suction to stay on, so if its not fitted perfectly water can get in) while my brother said that he wasnt a fan of the Fre due to the gap he found between screen and cover (Now that I have used this, I do not have this issue) Overall, both will work great but figure out if you are meant to have a screen cover or none and go from there.



The liveproof may feel a bit funky at first, but once you get the feeling of how much pressure is required on the rubber buttons, it will seem normal in a day.



Overall, highly recommended phone cover! Pumped for more river and snow pics, along with peace of mind with the Lifeproof Fre!



Below is my Fre doing the job and capturing a brown and the Fre hard at work


Not as durable as the iPhone 4 case
Familiarity:

I've put it through the wringer
When my iPhone 4s died I upgraded to the 5 and had great luck with the Lifeproof 4 case prior. I got this version for the same reasons (Waterproof, Dustproof, and Drop Resistance) since I'm in the outdoors often for work/play and work on construction sites. The case managed to keep my phone water and dust free while saving it from many drops. After about 6 months the front black facing of the case began to wear through (the softer rubber portion) and eventually came off. I took a photo of the case and sent it off to Lifeproof for a warranty replacement which they happily obliged to.



The case works as advertised, but it seems their durability has gone down. It goes without saying though the case has done its job and is much cheaper than buying a new phone.
Protects my iPhone from water and sand
Familiarity:

I've put it through the wringer
I am not a fan of iPhone cases mainly because they make the phone thicker and aren't always easy to work with, but I always put my iPhone in a Lifeproof case when I head into the desert to do some Slot Canyons or explore some abandoned mines. It has come in very handy because I can take pictures without having to worry about my phone getting destroyed from sand or water. I have even had to use the phone's light a few times while hiking out of a slot canyon in the dark because my friends forgot to bring their headlamps or visa versa.



Pros:

Protects from Water, Sand, drops, etc...

doesn't add to much thickness to the phone.

Doesn't need a special adapter to change your phone.

Comes in tons of awesome colors.

You can still use the Touch ID.

Lifeproof will warranty your phone if the case fails IF you purchase the case directly from Lifeproof only and pay the $10 or so to get the warranty protection.



Cons:

You HAVE to use a long dongle that screws into the case to use the 3.5mm headphone jack. Big Fail on Lifeproof's engineering team!

Sound is slightly muffled.

Adds some bulk to your phone.

The case is expensive.

Lifeproof does not warranty your phone if the case fails (this happened to my friend).

The plastic can degrade the sharpness of your picture.



Overall this is a very good case and I will continue to buy them whenever I upgrade my phone.



The Fre is good for the occasional case use like I use and full enclosure and protection.



The Nuud case is good if you are going to constantly use the case and never take your phone out.
Lifeproof used in Choprock Canyon
I always have my iPhone in a Lifeproof case when doing slot canyons in Southern Utah. My headlamp was not waterproof so I ended up having to use my iPhone light in the Lifeproof case to light my way in the Grim Section of Choprock Canyon in Escalante, UT. See the Lifeproof case in action at 5:50 if you don't want to watch the whole video.
Great protection but still slim
Familiarity:

I've put it through the wringer
I'm no longer worried about dropping my phone in the river...and it still fits in my pocket :)
It's a great case. I love it. I went to the river with the dog and accidentally dropped it. All that I had to do was wipe it off and no water damage at all. Great investment!
Snorkeling in Kauai
Familiarity:

I've put it through the wringer
First started showing my friends that this was water proof by dunking it into pitchers of beer. The real test for this case came last week when I went snorkeling at a friends wedding in Kauai. Totally forgot my phone was in the pocket of my trunks and went in the water for 30-45 minutes at depths ranging from 1 foot most of the time to 20 feet sometimes. A little water did seep through the charging port cover but no where near enough to damages phone. Mainly just a little between the screen and screen cover and only enough to make it hard to use my screen. All I needed to do was take apart the case and dry the little bit of water out. Only thing is if you need to do this be careful drying it out cause I poked my screen protector out and now I have to order another. That's my own fault though.
Does it work for the iPhone 5c?
Does it work for the iPhone 5c?
Nope... if the case is designed for the iPhone 5, it won't work for the 5c.
saved my phone!
Familiarity:

I've used it several times
the First day I had this case on my phone I lost it on the mountain on a Pow day. thought I would never see it again but someone actually found it, turned it in where they called my girlfriend and I got it back!
Isn't everyone hard on phones?
Familiarity:

I've put it through the wringer
I got one of these to try out, and I am really impressed. After having one for my ipad I decided to upgrade to get one to protect my phone. So far I have dropped it from 25 feet up, sat on it hard a hundreds of times, allowed my nieces and nephews to play with it and dropped it in a river 3 times. gone through the washing machine a dozen times. Not a scratch on the phone, but starting to see some considerable wear on the case, some of the rubber now suspect. Would recommend if you want to beat your phone up. For those of us who are just plane forgetful like me, then this may be the next big thing.
Great Case... very Dependable
Familiarity:

I've put it through the wringer
I got this case primarily for it's waterproof-ness to use during fishing, camping and touring trips. This thing has been dropped in the water, dropped in the mud and snow, dropped on the concrete and submerged to take sweet pictures and videos of pretty fish. It's still doing great and hasn't gotten a drop of water or the first scratch on my phone. I also love the fact that it's a relatively slim design so it doesn't feel bulky when it's in your pockets.



The only con for the entire case is the headphone jack area. The screw in/out jack makes it nearly impossible to keep track of the screw. Once that's gone your case is no longer waterproof. Thank goodness they give you an extra one because you'll most likely lose it at some point. The adapter to use headphones while the case is on is also kind of a pain if you use the case daily but all in all this is only a slight mark-down in what is an awesome case.
2 thumbs up
Familiarity:

I've used it several times
I didn't really need a waterproof case, but this one is so low profile that I figured why not?

I love that the entire phone is completely protected while still looking good and not bulky. In the past I've messed with all kinds of screen protectors that just end up getting scratched up and look like crap. I've had this one for a month or so is the screen cover looks great, no scratches at all.

I have an iphone 5s in there and it fits perfectly, I don't use the finger print scanner which I guess will not work with the particular case.
best
Familiarity:

I've put it through the wringer
best iphone case out there by far!! I have dropped my phone all over the place and ZERO problems
Case fails, Lifeproof hard to deal with
Familiarity:

I've put it through the wringer
I bought my case the end of June, and it failed while swimming laps in November. It had performed fine until then. Verizon replaced my phone through the insurance I purchase monthly, but since the iPhone 5 is no longer made, they had to replace it with an iPhone 5c. This cost me $169 for the deductible on the insurance policy for water damage, and Verizon/Assurion was great about providing as close of a replacement to my old phone that they could. I contacted Lifeproof to have them replace the case under their warranty. I explained the situation with the new phone, that it doesn't fit in the 5 case, and that I needed the replacement case to be for a 5c. Both cases retail for $79.95. After several days of e-mailing back and forth with them, they refused to replace the old case with one that fits my new phone, saying it was against their policy, even though the cost is identical. They don't care that the 5 case is useless to me. The phone damage was due the failure of their product, I wasn't asking them to replace my old phone, pay the deductible, or anything else, just to replace the case with one of the same cost that would fit my phone. They are unyielding, so now they are sending me a 5 case which I will sell on e-Bay or something, and then I will be purchasing a case of another brand. I initially spent several hundred dollars on their products (waterproof ear buds, floating case, etc), and am not happy that now they are useless. I will NEVER purchase anything from this company again, as they could care less about their customer service. I suggest you look elsewhere for a phone case, as they are impossible to deal with, and completely unreasonable regarding replacements. Also, this case should not have failed after only 4 months or so of use. I understand that no case is failsafe, but all they had to do was replace the case with one that was useable with my new phone, and I would have been happy. To refuse is no way to run a successful business.
saved me a lot of anger first day
Familiarity:

I've put it through the wringer
Although I don't suggest this I was completely pleased the first day I got this. I sometimes forget I have phone in my pocket and jump into water. I've ruined about 5 phones doing this, so finally sucked it up and purchased this case. The very next day I yet again forgot my phone was in my pocket and jumped into the lake. I was horrified at first thinking S**t there goes another one. I however remembered to put my new green case on my phone. I got back into the boat and to my relief the phone was bone dry, fully functional and I wasn't going to have to do the walk of shame into the apple store again.



Other than it saving me a lot of money I enjoy how light weight this case is compared to the otter box, as well as it not being bulky. I have tiny hands and this case doesn't not bother me as much as other cases I have had.



I have dropped it from 20 feet (I tend to forget it's in my pocket when climbing as well) it landed on the side of the phone, and left a small ding in the case but left my phone unharmed.



Even if you're not as clumsy as I am this phone is totally worth it just incase you have that one accident.



I use with Iphone 5
Works with 5S, but not with TouchID
Familiarity:

I returned this product before using it
I bought this to use with my iphone 5s but unfortunately it does not work with the fingerprint sensor so I returned the case. But it does fit the 5s perfectly and if you dont care about the fingerprint sensor its a great case. I didnt get to use it, but it seems very sturdy and well made. For the protection it is sleek and slim. Had it worked with touch ID i wouldve kept it for sure!