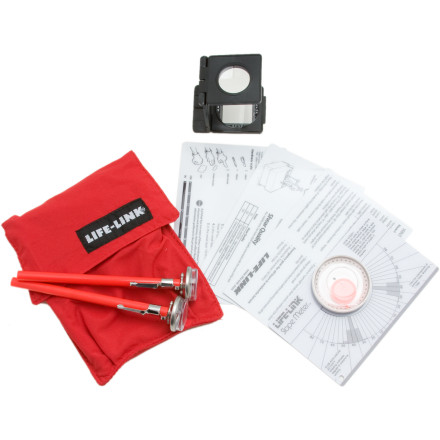 did not bring all the items
Unfortunatelly my study kit was not OK upon arrival.
The kit contained only one thermometer and the 5X magnifier was missing.
The rest of the kit is fine and very usefull but is a great shame that they sent me a faulty kit.
Snow study basics! Do your homework before hand, and this stuff can help teach you a lot.
Decent Kit, Requires Homework
This kit has a lot of stuff in it. If you know a lot you can use the snow study tools and get a good knowledge of the snowpack and stay reasonably well out of harm's way. If you don't know a lot it's laid out in sort of a tutorial form and kind of teaches you on the way. Unless you spend a lot of time off the slope learning this stuff, though, it's a pain to use and learn while actually skiing. Like most things, these tools are only as useful as the craftsman using them. Take the time to learn them and this kit will be really useful; only pull it out when you're going out in a "considerable" avy forecast with no prior knowledge and you shouldn't expect it to save your life. It does require thinking.

By far the most useful and easiest to use piece of equipment in this is the clinometer (slope meter). Without much knowledge, religious use of this thing can keep you out of trouble if you pay attention to avy forecasts. It will also keep you from skiing a lot of fun stuff, perhaps sometimes unnecessarily, but better safe than sorry, eh?

The overall construction is decent; everything is reasonably waterproof and shouldn't wear out from normal use. If you abuse it and don't pack it with care it can break. A lot of people complain about the durability of the clinometer; it is somewhat fragile for a piece of BC gear and you should treat it with care.
It's got all the stuff a recreational traveler needs to run quick tests, plus some handy quick guides in case your memory isn't all there that day, or you're out of practice. The inclinometer can be a bit finicky if you're trying to use it to site down a slope, but works great from a distance.
all the things you need to analyze the snow pack packed into a nice little pouch. i love this thing.