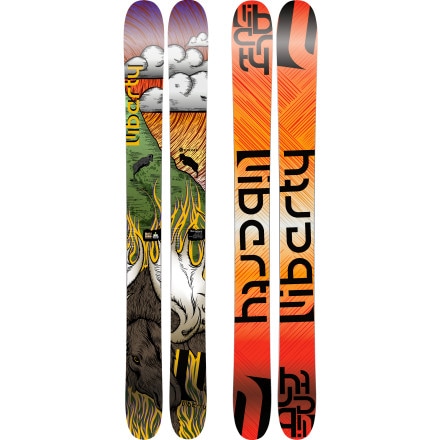 Videos
Description
Size matters.
Don't be fooled by those clowns who tell you that size doesn't matter—damn straight it does. They're just saying that because they're insecure about their own tiny little "powder" sticks that can't hold a candle to the massive girth of the Liberty Genome. Sure, it's a little intimidating, but we promise you can handle it. The light, energetic bamboo and poplar core makes the Genome surprisingly lively and easy to manage, and a fiberglass laminate keeps it from getting floppy when you're driving it on hardpack—yup, hardpack. Even though it's obviously a powder ski, what's most surprising about the Genome is its versatility and all-mountain performance; believe it or not, there are cats who use it as their everyday West Coast driver, and though it might be hard to fathom, the Bomb Rocker's underfoot camber and moderate effective edge allow the Genome to be a far nimbler number than its dimensions would suggest.

Of course, it's a monster of a pow ski, with full tip and tail rocker and a silly-wide platform that let it surf, slash, and skip over the deepest, cold-smokinest snow you'll ever find, and all the stability you'd expect from a ski the size of an old-school snowboard. Liberty incorporated a Durathane PU bumper into the construction to smooth out the ride and keep your topsheets lookin' tight, and gave the Genome a lightning-quick P-Tex 2000 base, because sometimes you impress the girls more by being fast (It's also tough and easy to repair, which'll come in handy when you mob over some rocks while waving at tourists on the lift.) Even if you never mount 'em up, they'll be a sure-fire conversation starter if you leave them in your living room for visitors to ogle.

Tip & tail rocker, camber underfoot
Speedcore (sustainable bamboo with poplar and fiberglass laminates)
Bomb Rocker (tip and tail rocker, slight camber underfoot)
P-Tex 2000 bases
HRC 48 extra-wide and deeply-anchored edges
Durathane PU bumper for a smooth ride and topsheet durability
Share your thoughts
What do you think of the
Liberty
Genome Ski
? Share a...