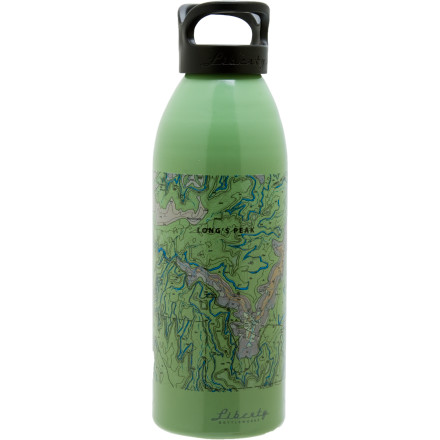 Now you can carry your favorite outdoor destination wherever you go. Take a sip from stunning vistas, whose topographical maps adorn the side of your recycled, American-made Liberty Bottle Works Topo Water Bottle. Your rehydrating gulps may be even more satisfying since 1% of Topo bottle profits go to the Conservation Alliance.
My wife just purchased two bottles, when I saw the design I didn't like it, it looked like the top would come off too easy and or would wear quickly. At the very least I expected them to work at the start but they did not. After filling each bottle up and turning them upside down they both began to drip. They are both going back....terrible design.
i question the negative review here. i have six liberty bottleworks bottles. i absolutely love'em -hence buying six of them. i keep one in my gym bag. one in my briefcase -great when i travel. one my kitchen counter for grabbing and going. one in my golf bag. one in soccer bag. one for my son. i previously owned sigg bottles, plastic bottles and other stainless steel bottles. much prefer liberty hands down. yes, i love the art work. more importantly, i appreciate the functionality. the quarter turn caps are easy to use. the cap does require that you make sure all three little knobs seat in a the cap before turning to close. i've only experienced one leak -the first time i used a bottle. i do have some reservation about the long-term durability of the three knobs. i've banged the bottle against tables, doors and dropped. i find them much less likely to dent than sigg bottles. no issues with denting. i really like the wide mouth of these bottles -much easier to drink, fill and add ice cubes. again, i seriously question the negative review here. checkout other reviews from around the web. i own six bottles and love'em. a couple of friends with i've shared my fondness for liberty bottles have since bought bottles as well and they feel like i do. perhaps the negative reviewers received a defective bottle.

also, like to support USA manufacturing!
Beverages always taste like aluminum - yuck. Bottles dent easily and lose volume capacity - yuck. Have to mark the bottle or open it to see what's inside - yuck. Not easily compatible with some standard water filtration systems. Forget the "recycled aluminum" this bottle helps the planet line - if they don't make a product worth having then why make it? Go buy two of the standard nalgene bottles for about the price of this one.
I am the rep and used 5 of them over the 4th weekend car camping and fishing. Held milk, juice, wine, water, and some powered Gatorade. Was great to not have to haul all the larger containers around and saved a ton of space in the cooler. The top never leaked, not in the car, cooler or pack which was a huge plus.