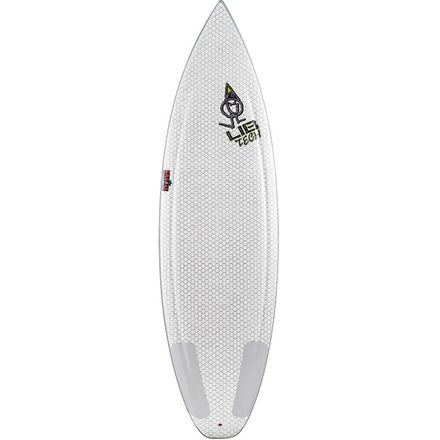 Detail Images
Description
Surfboards reimagined.
When it comes to action sports, surfers have always been at the forefront of environmental consciousness, but the industry standard for board construction uses a wide range of harmful chemicals and processes. Lib Tech is changing that with the Vert Series Surfboard. With the exception of the stainless-steel fin screws, every piece of the Vert Series uses materials that are new to the surf industry to create a board that's environmentally friendly without sacrificing rideability. The Vert Series features a squared-thumb tail and increased rocker at the nose for precise performance on fast, high-energy waves so you can shred hard on a board you'll be proud to ride.
Powerpop Airspring Core features a closed-cell alloy formula that is waterproof, springy, and contains up to 50% recycled materials
2D2D (Dang Difficult 2 Ding) Volcanic Basalt Honeycomb Technology uses basalt for a lively feel and high impact resistance
High Rebound Matrix replaces polyester and epoxy with environmentally friendly materials that are responsive and highly durable
Elastomatrix Perimeter Dampening Web provides a silky-smooth ride even in choppy water
M.I.L.F. (Maximum Intensity Leading Foil) fin system includes four adjustable fins: 2 M.I.L.F side fins, one Lib standard trailing fin, and a bonus Spinfly trailing fin
Lib Tech Leash Plus features a super light fiber-composite cup and aircraft-grade aluminum pins
Awesome
Familiarity:

I've put it through the wringer
Transferred to this board from a 7' (got the 6'-4) and am loving it. Super stable, fast, duck dives like a dream. rails dig in when you need them to. Can struggle a little on mushy waves, but anything shorter is going to have that problem.
Is Backcountry an authorized Lib Technologies Surfboard dealer, including all warranties that Lib Tech includes?
Best Answer
Hey Ona



We sure are an authorized retailer for Lib Technologies. You can find us through their official sites dealer locator

http://www.lib-tech.com/dealer-locator/



as for warranties Lib Tech will honor their warranty if you buy from us since we are authorized. However they have asked us to tell customers to send their warranty claims to them directly so that they can take care of them in house as we are not equipped or certified to handle repairs on damaged/defective products. I hope that this information helps and let us know if you have any more questions.



Cheers!
The shortest board I've ever ridden is one Mickey Munoz made for me in 1968 i.e. a 7'8" Hobie. I have 6 boards all semi and full "logs." With wetsuit (Oregon) I weigh in at 210ish and need a board that paddles well due to 2 shoulder surgeries. I was hoping that the 6'8" vert series would fill my needs as I adapt down to a shorter performance type. I'm 64 years young and still stylin. Appreciate your info. Thanks!! Doc Watson
Hey Douglas,

You definitely would be better off with this board rather than one of the shorter boards Lib Tech offers. Being that it is a full foot shorter than the shortest board you've ridden, you will definitely notice it's a bit more squirrely out of the gate and will take a bit to adapt to. Being that this is a shorter performance board, you'd expect that type of ride for quick slashes and carves. I'd say that the 6'8" would be your best bet for this board if you're looking to drop down to a smaller more technical board.
Unanswered Question
two questions what size waves is this board meant for? and also what size (weight) rider is it best for?
Any incoming orders on smaller sizes? I...
Any incoming orders on smaller sizes? I need a 5'10". Anything else is just way too big.
Best Answer
It looks like we do not have any on order from Lib as of right now for the Vert series. We do have a 5'10" in the Bowl series though.



http://www.backcountry.com/lib-technologies-bowl-series-surfboard?rr=t
Must buy!
Familiarity:

I've put it through the wringer
6'1 180lbs

3 years surfing (intermediate)

90% of sessions from Santa Cruz to Point Reyes...mostly Cronkite and Ocean Beach

I buy and sell used surfboards to get a feel for as many brands, shapes, and materials I can.



This was my first Lib Waterboard model I owned. I had the 6'0" and I rode it everyday it was waist high plus. I rode it in weak waves and hollow waves...it really prefers to good conditions but I was amazed at how fast it was even in mushy chest - head high ocean beach. The flex is consistent and when it snaps back to its regular shape you will rocket out of your turns with soooo much speed!!



I am buying another one ASAP but this time I will go with the 6'4 (better volume for me) I am never going to own another short board that is not made by Lib, the performance is really amazing and they are stronger than any other board I have seen.



I will use the 6'4 Vert for good waves chest - head high +



I am starting my all lib quiver and I am not looking back.