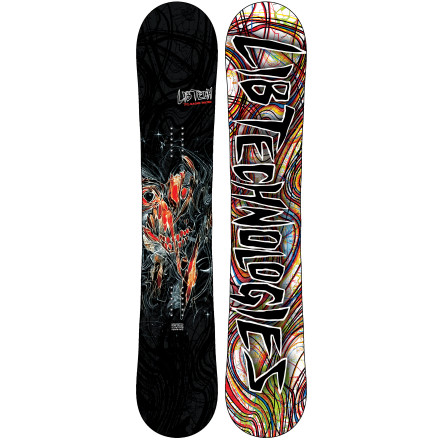 Control I never thought possible
So Ive been waiting all summer to ride this thing. Charged up to mammoth for opening day, couple of runs were open, a bit slushy and bumpy and of course this board did not let me down. So much control in crap snow, its impossible to catch an edge with this board. Cant wait til more snow comes. Board didnt even stick to wet slushy snow. . . it should have but either way, its inane technology.
hey ppl, i have size 12US boots and was...
hey ppl, i have size 12US boots and was wondering whether there's any chance ill get toe drag with a 253mm waist width...
im used to riding a slightly wider board but wouldnt mind going narrower.
Can anyone shed some light on this?
Cheers
You would get toe and heel drag for sure which is definitely no fun. With your size feet you need at least a 260mm waist.
Get some yogurt

Makes it all good


Dont eat it!


Just for your boots



TROLLLLLLLLLLLLLLLF!
Epic board that totaly lives up to its name total ripper series but if you're here then go for the gusto, spend a few more pennies and get the BTX, it will change your life. The TRS 154 BTX rides park like a 152, holds groomers like a Kessler, and floats pow like a 163. Wow, what do you know thats three realy expensive boards all rolled into one.
Magnatraction is sick, nobody denies that, but add in the rocker between your feet, and you have the most versatile ride on the hill. I've been snowboarding for 12 years, and every board I'd ever ridden rode about the same...enter the Lib TRS BTX. So skip the MTX, go for the Banana+Magnatraction=BTX, the only way to go.
Does this board flex like the skate banana?...
Does this board flex like the skate banana? I hear it's stiffer, but their both a 6 on the flex meter just wondering if anyone knows if this board is easy to butter?
From riding both boards I would have to say that that the TRS is a hair stiffer then the banana. It is pretty easy to butter but being slightly stiffer you have to put your weight into a a bit more.
From riding both boards I would have to say that that the TRS is a hair stiffer then the banana. It is pretty easy to butter but being slightly stiffer you have to put your weight into a a bit more.
The TRS is much more of an all mountain board then the Skate Banana. That being said you can definitely jib the s#$t out of this board. I have both the skate banana and the TRS, and I have found that the TRS rides better on the types of various conditions you will encounter especially out west. Bottom line is that both boards kill it, I just happen to like the stiffer TRS.
Yeah the TRS is quite a bit stiffer than the Skate so much that I was really surprised that they are rated the same. Both boards are epic and BTX has ruined me for now. However if I had to choose I would go with my Skate cause it has made me realy lazy and it attracts a lot of attention. hahaha. And how much effort do you realy want to put into buttering?
totally rad snowboard (TRS)!
first off my credentials: In the last 8 seasons i have spent a minimum of 50 days on the mountain...with most seasons nearing 70 days. I ride big mountain, backcountry, alpine, trees and steeps chutes and drops, cliffs and glades. I do not ride park (i've ended a season there before and i won't go back). i'm 26 and weigh 190 pounds at 6 feet. I would consider myself a super expert snowboarder and an average skier. I ride at mt. baker, stevens pass, alpental, and dabble at crystal.

Now the rewiew: Lib tech's TRS kills it! I wanted a sick pow board. knowing that i like big speed and big mountain i bought the 167...against the advice of everyone...after riding it all season i could have gone bigger...but we get huge dumps here in the northwest. It's not that i wasn't satisfied with the board...i was thrilled with it. Even at that size it was easy to control. It has great float from all the way back to straight centered. The board is lively with good pop and allows butters all day long. it navigates tight trees with ease, and is as easy to ride switch as it is regular.

However i believe that the banana tech is a pow specific technology...on the hardpack or ice i prefer my regular camber boards. I don't think that degrades the quality of the board at all...i think it grounds the fact of reality that one board cannot do it all. If you are a serious snowboarder...or one who prefers riding pow...this is a must have board in your quiver! Drop that fall line!
Definitely on the poppier/stiffer side. I would give it a 7 out of 10
As much as the name implies. It is a stiff agressive board. Much more than the Skate Banana.
in the description it says 2007 but is...
in the description it says 2007 but is this not a 08/09 board??
Best Answer
thats just the year it won the GoodWood award, and since they havent changed the design since, they can still say this board is holder of the 2007 Goodwood award. if somethin aint broke then dont fix it
this is the greatest board i ever ride, thanks dogfunk for sellit....
got the trs w/ magna and banana, love it, won't go back ever. it took me a bit to get used to the reverse cambre, but it works super well with the magna traction and and is great to ride anywhere on anything. now if only lib tech would make some more universally-appealing graphics: i don't particularly like the smokey-neon-skull shape on mine. don't need rainbows and unicorns, but c'mon guys!
After riding a friends 64 MTX ,I dont want to rides anything else.Rides everything better than a regular board. Cant beat Lib-Tech boards,best board for your buck made here in the USA.I sold all my other boards .This board rips!!!
Is 8.3m a pretty tight sidecut? Would you...
Is 8.3m a pretty tight sidecut? Would you recommend this deck for someone who doesn't spend much time in the park?
yeah its deep for freestyle riding, and i would still reccomend this because its not just like a jib-stick, its a freestyle board that will let you ride most of the mountain and have fun...its turns easier so you wont have to put your heart in soul into every turn even tho ur just on a groomer trying to have a relaxed ride...this just wont fair very well on huge double blacks and backcountry and what not
Would you recommend this board to an...
Would you recommend this board to an intermediate rider?
Would you recommend this board to an...
Would you recommend this board to an intermediate rider?
The more I ride the TRS BTX, the more I love it!!! The reverse camber allows for very easy edge switch and just grips a beautiful carve. Its so easy to ride. Plus I love the pop. I am however, not impressed at all with the Lib Tech quality. After only five visits to the mountain, mostly back country, the top is covered in chips and scratches. I've already had to get a base weld and P-tex. I had my last board for about ten years (Burton) and it almost looks the same as the barely ridden Lib Tech! But as I said, the reverse camber and magnatraction is here to stay.
I broke two of these boards in less than a year apart. The magne is awesome and the board had great pop. But if your hard on boards i would not recommend this board.
how does this compare to the t.rice? ...
how does this compare to the t.rice? thinking about buying trs mtx or t.rice mtx. please help.
3 differences really. The shape, width and stiffness. The T-rice has two distinct shapes that are both different then the TRS. The Rice has a blunt shape in the smaller ones for park and pointy in the larger ones for pow. The TRS is just your general freestyle shape. For the width the T-rice is considered a mid wide so it is much more suited for someone with a size 10 and up foot, where as the TRS has just a regular width to it. Lastly the T-rice is stiffer and more all mountain/freeride driven, simply because that is how T-rice wanted it. Whereas the TRS is softer, hence more park and freestyle driven.
What difference does the banana rocker...
What difference does the banana rocker make in the skate banana comapred to the TRS MTX board?
geeze where to begin, rocker boards are great in powder because the edges are turned up, and they are great on rails too, but they arent that great for big jumps and pipe because they lack the support you need for landings and such...thats a very short summary, just google rocker boards
Unanswered Question
I went to a demo day at a local mountain...
I went to a demo day at a local mountain maybe 3 weeks ago and rode this board and also the skate banana for 1 run each. I didn't really get the feel for either, but need a new board bad and I'm considering this.I love to dick around in the woods, hit natural features, bomb anything and of course tear apart powder where available.I'm 6'2'' and weigh 175. I've been riding a Burton Bullet 164 for the past 3 seasons and it's really time to get a new board because the bullet isn't allowing me to progress at all. I'm considering the 157 or 154. My boot size is an 11 so i'm thinking the 154 may be too small but I've heard you can size down with these. Just looking for an expert opinion to help me make my decision.
The name pretty much says it all: total ripper
I was introduced to magna-traction last year at an on hill demo at Tamarack. I was able to ride this years Travis Rice pro model and I was instantly sold. I could actually feel the edges hook up more than on my Rossi ONE. Fast forward to this season. I had decided that I was in need of a new board, and I had also decided that I wanted a Magna-Traction board. I was orginally looking at this years Rossi ONE with MTX. After some discussion with the shops owner, I decided that the TRS was a better fit. And let me tell you I couldn't be more pleased. The TRS does everything, and it does everything very well. It's super responsive, holds an edge like a pit-bull on a bone, it's poppy, press-able, floats in the deep, forgiving, and super fast. I've received several comments that I am noticeably faster this year and I would love to say that it's me, but truth be told it's the board. The only negative (and it's fairly relative) is the price and perhaps the topsheet. I understand that this is one of Lib Tech's high end boards but five hundred bones is a lot of money for a deck, but I will say that Backcountry.com did a great job with the on-line customer service and was able to help me out a little with the price. The problem with the top sheet is that it doesn't seem like the most durable top sheet out there. This doesn't really effect the performance of the board, but for 500 bones it would be nice the board kept looking tight for a couple seasons.

I am 6'0" tall and 185lbs and 159 works as my everyday/most conditions board. I have rode in thigh deep powder and had no problems with float, but if you ride in a lot of deep snow or back country situations you might consider sizing up, but know that the MTX allows a rider to ride a little shorter board because because mtx boards have more effective edge. Something to ponder.

Overall if you are a rider that likes to ride the whole mountain, does a little bit of everything and enjoys busting big, super fast, solid turns everywhere you go, the TRS is for you.