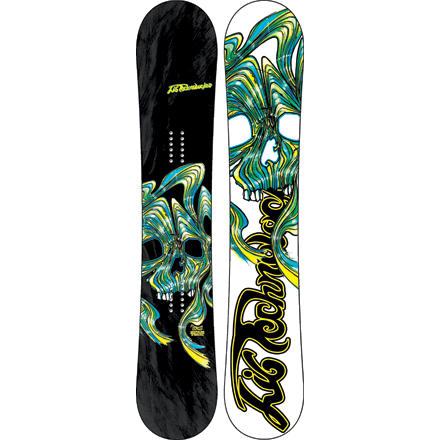 What do you think about this product?
Have questions about this product?
I bought one of these while I was instructing in Tahoe a couple of years back. For the time I had it, the board treated me really well. It was a really fun park/pipe board, really flexy and fun to butter around on. I had the 157 and went down to Kirkwood with some friends on a powder day. They couldn't fit my Phoenix 160 in their car and although I was leary about riding such a short board in the 16-18" of fresh tahoe cream that had fallen the night before, the TRS didn't disappoint. The board did really well in the pow, but once it started to get choppy I wanted my Phoenix. I managed to snap the tail all the way through that day coming down ultra tail heavy on a BS 3 on this fun hip outta one of the gullies there, but I would've broken any board landing the way I did. I don't think the little feet that stick out on the burton Cartel's helped anything either. In fact, I think they helped to focus the load and break the board. Regardless, I loved my TRS and had to go over a year and a half without one until last year just before a trip to Baker, and Hood a local shop had one left in an end of the season sale for 40% off. I couldn't resist. I'm super happy to have a TRS back in my quiver. It's a really fun board to ride just about any where.
Great, but get the MTX version.
EROCKR 1. The version of the board that you reviewed does not, in fact, have magnetraction. Secondly this board is known to be somewhat stiff (if your board is really that soft then either your board or bathroom scale is broken- look into a warranty), I own one and I'll attest to it- but don't take my word for it, ask about it on any forum and they'll say the same thing. This board is great, but I'd recommend spending the extra bucks and getting the MTX version. The TRS MTX is the best board I've ever ridden, it's stiff enough to carve at high speeds and hit big jumps but not so stiff as to not have good feel, or not let you play in the park. By no means a butter board.
the core on this board is PATHETIC. magna traction is this boards only positive attribute. if it had some kind of progresive flex pattern like a Burton Custom it would be my wepon of choice(Burton W/Magna). over all board constuction reminds me of boards I was ridding 15 years ago it is a NOODLE.....
I bought the 162
geared up i am 185lbs. 5'11
DISAPOINTED