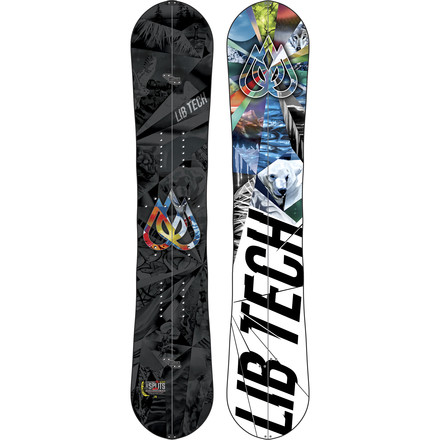 Colors
Description
Climb fast, shred hard, no compromise.
With the Lib Tech T.Rice Pro Model Splits C2-BTX HP Splitboard, you can now take your favorite board deeper into the backcountry in search of new zones. Based off his iconic pro model, this split employs a high-speed power freestyle shape, and kicks it up with Horsepower construction. The twin shape is perfect for full speed hits in both directions, and it easily accommodates a more directional freeride setup as well if you prefer. When you're ready to ditch the lift to go find something better, the T.Rice Splits will take you there.
C2-BTX Power Banana technology features rocker between the bindings for a floaty and forgiving ride in powder, with camber zones extending from the bindings to the tip and tail to give it a more aggressive, poppy feel. The camber zones also improve grip when you're skinning up icy tracks. Magne-Traction edges slice through ice like a knife so you can hold an edge on the slickest slopes, and a twin shape and centered stance allows for easy switch riding. Unlike traditional clips, the included Karakoram board clips actively pull both halves of the board together, which means less chatter and better response.

Travis also knows how important protecting the environment is for snowboarding, which is why this board is made in USA using eco-conscious materials. Horsepower construction means that the T. Rice HP split forgoes traditional fiberglass in favor of environmentally friendly basalt fibers. The result is more torsional stiffness and a lighter board than traditional constructions, and it's stronger to boot. A blend of Power A, Polonia, and Aspen XL wood in the core makes it strong, snappy, and lightweight, and the wood comes from fast-growing, sustainably harvested trees so you're not contributing to the destruction of the rainforests, plus the Bio Bean topsheet is made from castor beans instead of petroleum-based plastics.

Rocker between bindings, camber at tip and tail
Twin shape
Magne-Traction edges
Basalt lay-up
Medium-stiff flex
Power A, Polonia, and Aspen XL core
Co-Sintered extruded base
Power Transfer internal sidewalls
Bio Beans glitter topsheet
Karakoram clips
Share your thoughts
What do you think of the
Lib Technologies
T.Rice Pro Model Splits C2-BTX HP Splitboard
? Share a...
What are the pitfalls of this board when the snow isn't great? Issues ascending or descending? The camber on the solution and the t.rice are reversed. I've descended on both types of camber but only ascended on traditional camber and the solution - wondering how the t.rice camber works for climbing.
Best Answer
Responded on
So the T.Rice is rockered under the touring bracket, when weighted it will flatten a bit. That said on packed or icy skin tracks you've really gotta be on your heels to get the traction you're used to. It takes a little bit of getting used to. And at times I have just broken a new trail for a steep section... But a little bit of new snow or powder you'll be stoked. The C2 BTX is much better than skinning on a full reverse camber board.
That said the board kills it down hill!!
Hope that helps! Enjoy!
Responded on
I do consider the T.rice C2 BTX to be a pow deck. Not to say it couldn't handle a LITTLE ice, and I have to agree with Reid Pitman about it being MUCH better than skinning (and riding) on a full reverse camber. Total reverse is a lot of fun, but everyone I know prefers C-2. A lot of guys say they will only ride C-2. I like the C-1 also for it's tapered nose. C-1 and C-2 place the slight standard camber properly under your binding points, and everyone LOVES it! Still get all the float of total reverse, seems to never catch an edge in situations where you thought you were going to, yet has the grab from the standard camber in the right spots (or spot with the C-1)
Nevertheless, I could only advise you to ride that Jones Solution for anything less than fresh pow or softened snow.

That's WHY it's called the solution! I had always wanted to make a Nidecker split for years because of it's cam rock and light weight.
It would be too flimsy without question, so the Solution is your best bet to conquer ice. I went with a buddy in TOTAL ice just to go, and it was pretty rugged getting back down a sheer icy mountain. Inch at a time type story in some spots. The Lib Tech deck has no mange-traction on the inner edge (and doesn't need it since it is not the right deck for ice), although the outer edge has it on the Lib Tech. That magne-traction on the Jones is something I feel might just save your life one day! (trust me, try the Solution on ice if you have not!)
Posted on
stomps everything but ice, skins SO nice
Familiarity:

I've put it through the wringer
I own 3 of these splits (why, one might ask?) You can't bogart the backcountry all to yourself, and it seems that at the end of the season, splitties can be had for 50% off (must be like, zero profit for the retailers, but hey? it is what it is!)

I started with the voile set up on a split decision, and have seen the advancements of the binding systems with GREAT delight, and swear by the Karakoram system, particularly the ultra lights.

I have installed a 3rd K clip to ALL 5 of my splitties and it is WELL worth the additional 50 grams. Don't do it without a drill press, and be willing to patiently start with your smallest drill bit and work all the way up through your bit sizes until you have the correct size so that your holes are precise. If not, you will have un-desired play.
If you install these proper, you will never even notice ANY difference from a non split. If you don't, there will always be that gap that actually will even catch an inner edge when buttering. Now, with the Gecko clueless skins, and the Karakoram system, it is feasible to keep up with your skiing buddies, or even outpace them! I did a double tour with my buddy on skis last year, 2 x 4 hour tours back to back! I know full well that I would not have been up to the second tour without my trick set-up. This deck ROCKS!! I would rather have the C-1 like my "El Nino" deck for skinning, and in general for everything, BUT… if you are a switch hound like me, you will LOVE how C-2 does it ALL except for conditions that you don't want! I leave the undesirable conditions to my Jones solutions. Yes, when it is icy and un-predictable, leave it to Dr. Jones and his mountaineering deck, but for EVERYTHING else, stick with the C-2!