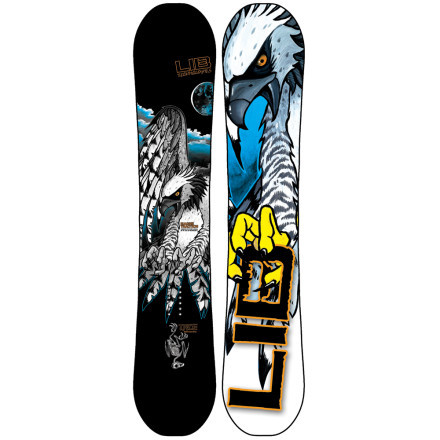 curious about sizing.....the local store...
curious about sizing.....the local store advised me to get a 156-158 skate banana (primarily what they had in stock....), im after a stiffer board tho and the t-rice has my eye. will the 153 be big enough for a 80-85kg (approx 180lbs) rider? advanced groomed runs, trees, and podwer are my primary areas of riding, with a little park thrown in for fun. also im from australia and when i loaded the cart i was told this was eligible for free shipping....is that true?
Yeah I would say go for a little bigger of a deck. Smaller decks are really for strictly park use, but some like their decks a little bigger for park. Depending on how tall you are, I would go for something along the lines of 154-160 for an everyday groomer, pow, and tree board. If you still ride park but not a lot of it, then go for something around the 154-156 area. And as for the shipping to Aus, thats weird that you would get free shipping(they really only give free shipping to the States), but you will probably still get charged for teriff when crossing the boarder at customs. This means that you might have to pay some loot when it hits your door. I live in Candad and I havent had to pay extra, just whatever the cost of shipping is(like $24 or something). And I have ordered hundreds of dollars at a time and never got free shipping. Hope this helps brotha
i was told i need an 159 but this board...
i was told i need an 159 but this board comes in 157 or 161.5 what should i go with im more keen to hit powder but i like to do a bit of park. and am i better off getting the btx c2
Best Answer
One of the cool thing about the Libs and their new construction is they seem to ride longer...tons of effective edge. Shred the park & float the pow.....you wont be unhappy with either...but you'll be making lightning fast turns on the 157
im thinking about buying this board, and...
im thinking about buying this board, and I ride mostly park or freestyle. Im 5'10, 150, and wear size 10.5 boot. Do u guys have any suggestions of a board size for me?
Best Answer
For the T Rice i would go for the C2 BTX instead of the MTX. either the 153 or 157 depending on personal preference. The 57 will be a little stiffer and better for riding all over the mountain and the 53 will slay the park.
if you get the T Rice for park you need C2 BTX you get a lot more pop and stability, although at this point of the year that board is next to impossible to find. the 153 is a better size for a park board but before you settle for this try to find the c2 btx version
I like the design on this board, but the...
I like the design on this board, but the one in my size (I'm 5'8 170), is a blunt shape and I don't do park. Is it a pretty good all mountain board to use for pow, jumps and boxes?
Best Answer
the T Rice does it all, pow, b lines, park and anything else you might throw at it
this is confusing what is the difference...
this is confusing what is the difference btween the btx, mtx, box scratcher, c2 btx, and i there is a dark series too????? my head is spinning can anyone differentiate between what all is going on and which one have what camber and are good for what. thanks
Best Answer
-well BTX is banana traction which is their fancy term for rocker designed for unlimited freestyle use all over the mountain: Jibbing, pipe, pow, park, ice, steeps, etc..
- mtx is magna traction which is a wavy edge that gives you more contact points on turns meaning better edge hold.
- box scratcher is more or less a jib board only.
- C2btx is designed for aggressive all terrain freestyle riders and features Banana Tech rocker between your feet combined with camber at each end of the board.
- dark series is just a C2 board

For more information go to their website at http://www.lib-tech.com/
BTX or C2 BTX combines the banana tech with magnatraction, MTX is just magnatraction

BTX boards have rocker between the bindings with the nose and tail being flat

C2 BTX will have rocker between the bindings while the nose and tail have camber

Magnatraction gives you extra contact points and a wavy edge design that gives you awesome edge hold and cuts through snow and ice like butter (they aren't lying about it, it really does)

the C2 BTX is supposed to give you more stability for free riding and stomping landings in the park

The Dark Series and Box Scratcher are specific models of boards, the box scratcher is basically a jib stick while the dark series is more of an all mountain board
Fantastic all mountain all conditions board
I've been riding this board hard for 3 (going on 4) seasons and it is the best board I've owned full-stop. This observation became especially entrenched when Air Canada lost it for a few days on a trip to BC and I rode a Burton Custom.

The Custom was fine, but really lacked the character of the Lib Tech - which when I got it back, I immediately noticed. The Lib has more pop, better edge holds (thanks to the serrated MTX sidecut which is really quite noticeable) and is just more fun to ride.

I've let a few people ride the board, and no one has anything negative to say - three people I know went out and bought one shortly thereafter.

As a note - this does not have the Banana Rocker, just the serrated (jagged) sidecut. BTX is the fad, and it is an interesting development (I haven't spent more than an hour on it) but this board will not disappoint.
it says it comes factory detuned, how much...
it says it comes factory detuned, how much of the edge is detuned? how well does it do outside the park, on groomed runs or ice?
The T.Rice MTX has magnet traction which is (according to my mates) excellent on ice and hard packed snow.

Can't say anything specific about the detuning on the T.Rice but normally the tip and tail is blunt and the edge between your feet is somewhat detuned.
If the board breaks on me does this website...
If the board breaks on me does this website offer a warranty?
I think the maufacturer covers all the warranties, but as you can see, if you break it after one year, the warranty is void.
Hey anyone know how this board is different...
Hey anyone know how this board is different from the skate banana or park pickle?
Best Answer
park pickle has a much softer feel

and this board only has mtx
not btx like both the others