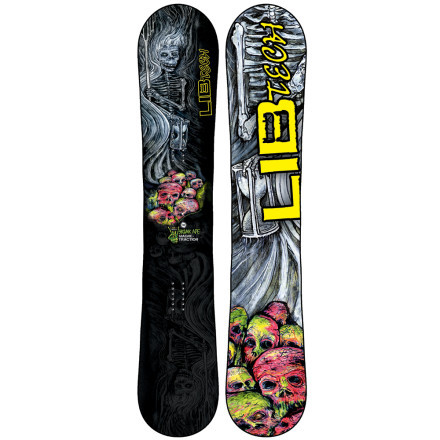 Share your thoughts
What do you think of the
Lib Technologies
Skunk Ape MTX Snowboard - Wide
? Share a...
i used to ride a 09 NS legacy-r 170cm. hopped on a 2010 169 skunk ape and never looked back. the board eats the choppy runs up like there's nothing going on underneath you and has quite a bit more flex ( i weigh 220lbs) than the NS. the mtx makes me more comfortable on those crappy iced out runs bc you can cruise around like its nothing with the sidecuts biting in the ice just by you leaning. i choose the skunk ape over my legacy r everytime now.
this board is the sh&t.. after switching from a 08 Burton Custom to this, i will never go back to any other type of board... good on the pow, hard pack, and ice.. you can't go wrong with this sucker!
Unanswered Question
Why is the recommended weight more for the...
Why is the recommended weight more for the shorter length board? The spec says "Rider Weight: [180cm] 130+; [190cm] 120+". It's the same on Lib Tech's website so I'm guessing it's not just a typo. Normally the longer the board, the heavier the weight recommendation.
Awesome + Awesome = Awesomer
Okay. this board kills.

It took me half a day to get used to the BTX, and now I can't see riding anything else. I ride Crystal Mountain and Alpental near Seattle, and this thing handles the crappy PNW non-powder like a champ. First day was a little squirrely when flying down the groomers, but once I got the feel it was super-responsive and FAST.

Up top, it rode the chunk, powder and ice with good control, and I landed my drops without fear of snapping it. The only reason I didn't give 5 stars is because I'd still be sketchy hard-charging some chunky doubles, but I guess it can't be awesome at everything.

If you're big (I'm 6'-4", 230, size 13) and like riding all over the mountain, and only want one board to do it with -- get this one.
Have the BTX in 165. It's the shit. Easiest wide board I have ever been on. Turns so dang easy and really does hold an edge through crud, ice, whatever...thrilled to death with it.
Unanswered Question
How long till you liquidate the 190s????
How long till you liquidate the 190s????
i only had this board for about 3 weeks before a snowboard rack failure saw to it's demise, but it was a LOT of fun to ride. The MTX works surprisingly well, and the board was a trooper. Not too heavy for it's size either, which if you're a trekker on snow shoes like me makes a big difference.
Spec says waist [180cm] 313mm. Isn't 313mm...
Spec says waist [180cm] 313mm. Isn't 313mm in fact the tail and tip width, as Evogear give it on their spec. They also say the waist is 268mm for both 180cm and 190cm. Can someone confirm what the waist for this board is?
You are correct, 313 is the tail and nose width and the waist is 268.
Straight goods. I have 20 years of snowboarding behind me, and I hail from the Interior of British Columbia. I have a few Big mountains on my resume. ( I don't actually keep track ). Would you surf Wiamea on a thruster? I don't care what your size is, or how long your flippers are. The truth is 1500 verticle feet of 45+ degree slope on a Big board takes a certain type of character. I picked up a 6 foot Doughboy in the early 90's, this 190cm Skunk Ape is the replacement. LibTech builds good boards, I just wish they didn't sell out and adopt the metric system for sizing their boards. Picture yourself floating over a powder field at 50 MPH and slashing a carve with a 20 foot high rooster tail. Only a few can appreciate it.