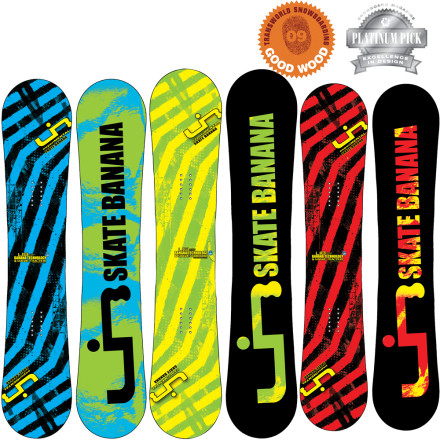 Lib Technologies Skate Banana BTX Narrow Snowboard - Assorted Bananas
View Larger Image
Good Day,Just wondering if you have the...
Good Day,Just wondering if you have the price match guarantee?Because I saw it on Sierra got 50/% off for nowThanksMichael
Get on Live Chat and ask.
I just bought a 148 2 days ago and it turns out the TAIL was 2 inches longer than the nose!
i took it back, and checked the other one's and they had the same problem, i expect lib tech will recall them, at least they should. isnt it supposed to be twin WTF!
The Banana is a great ride. This model is intended for smaller guys and women. If you really have a legit warranty issue, Mervin MFG is really good about replacing your deck. If you e-bay a board you ARE SOL...
If you are a really aggressive rider, I suggest getting the TRS board as the Skate Banana is a really soft, playfull deck and the TRS will hold up to a little more abuse since it has a higher end construction. But if you want to ride toxic chineese toys that you THINK will hold up better, be my guest.
Rocked one of these last season. It was a lot of fun as it was something different but it shouldn't peel after a month of riding. My top sheet chipped and came off the nose and tail in a month! Lib fix the construction of your decks! To top it off they wouldn't warranty it for me. I wish I had got it from this site but I didn't so I was SOL. I'm going to hold out for the Nitro Sub Pop I've been hearing a lot about or get the K2 Turbo Dream. I trust these two brands so I know they'll last longer than my Lib haha. Oh and the TNT base sucks. It's so slow!
assorte color what is that mean?
assorte color what is that mean?

, ☃bcs_badge_alumni_label☃
These boards do come in random colors. Though the design scheme will be the same, the colors will vary. Sorry no securing a particular color.