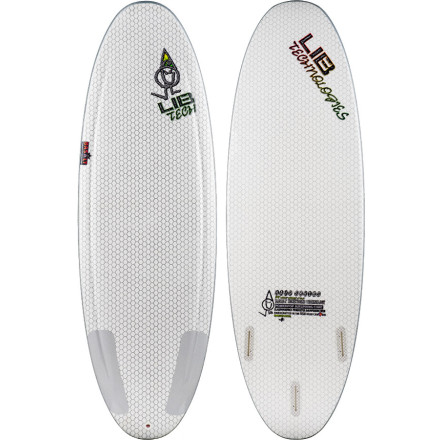 Detail Images
The madmen at Lib Technologies have taken a proverbial stick of dynamite to the surf industry. Thirty completely new, environmentally sound materials and compounds combine with groundbreaking construction practices to create the Lib Tech Ramp Series Surfboard.
The 100% closed-cell alloy core is waterproof and incapable of absorbing moisture all while remaining springy and light. Wrapped around the core is the Dang Difficult 2 Ding (2D2D) Honeycomb system. Comprised of organic volcanic basalt, the 2D2D offers industry-leading strength and ding resistance. On the bottom, Maxium Intensity Leading Foil (MILF) Fin System coupled with the Mo Box Micro adjustment system allow you to interchange the four included fins, or any FCS compatible fin, and slide them forward, back, and everywhere in between to adapt to changing conditions and different riding styles. Elastomatrix Perimeter Dampening Web absorbs the impact of choppy waves with rubberized metallic fibers along the rail resulting in a smooth ride even in rough water. A low rocker and short, wide shape provide a playful, skate-like feel perfect for small to medium waves. Concave on the deck maximizes comfort while paddling out and creates better feel when up on the rail. After you slide the Bowl Series sideways you'll never want to go surfboarding again, but you'll be stoked to go waterboarding..
Lightweight Powerpop Airspring core
2D2D Volcanic Organic Basalt Honeycomb
Elastomatrix Perimeter Dampening Web
Maximum Intensity Leading Foil (MILF) fin system
Mo Box Micro Optional, adjustable, FCS compatible fin system
What do you think about this product?
Have questions about this product?
Unanswered Question
Waterboarding sounds so much funner than...
Waterboarding sounds so much funner than surfing, shouldn't it be illegal? How did you get Isotopic Confusion and a MILF system both in this board at that price?
Unanswered Question
I really love the shape of this board but...
I really love the shape of this board but am worried it will be too short for me. I am 5'10" and about 165 . How do these boards ride/float? And would I be too big?