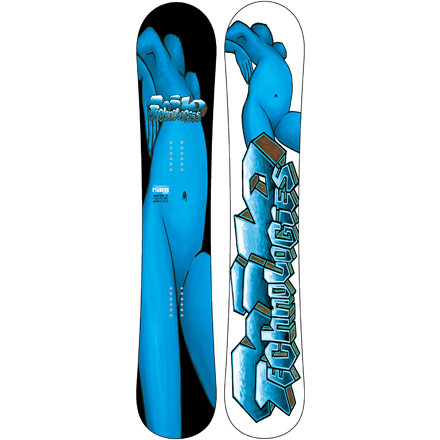 Detail Images
I have owned two Lib Tech Phoenix boards and I do love how it rides and especially the pop but I feel that they are not made for abuse at all. I cracked my first one and the second one started to come apart between layers. If they were built stronger I would definitely get a 3rd but I'm switching to a DH this year
Unanswered Question
Is this a twin tip?
Unanswered Question
have a 154 it seems shorter than my other...
have a 154 it seems shorter than my other boards that are154s. Do all libs measure shorter?
I own three phoenix series and never had any problems with any of them. They are definitely rock solid! Lynn wouldn't put his name on it if was crap. I also own three Matt C. series and a Tear Yeah board. Never any problems with any of them. These boards have seen pow,crud,trees,drops and park action and never any problems with durability. Burton got more problems with their boards anybody else. If you do have a problem with your Lib-tech, call the warranty dept. They will hok you up. Lib-tech rule!!!
also, wut is this board a true twin,...
also, wut is this board a true twin, directional, directional twin
I looks like a directional twin, the stance is setback one inch but it is a freestlye board.
How will this board stand up to a little...
How will this board stand up to a little bit of rail riding. Im not a huge go 100 times a season guy so how will it stand up against say just a little bit of rail and box riding?
It should stand up pretty well, they advertise a beefed up sidewall for rails.
I love my phoenix, I just wish I wasn't in Michigan.
I bought my phoenix a couple of years ago when I was living in Tahoe. It was the year the '06 model with the ship graphic, but construction wise not much has changed since then. The board is sick!!! It kills it in deep snow conditions and motors through chop with ease. I really like the unique torsion box construction that allows the board to be really stiff longitudinally, but still really torsionally flexible for tight technical turns in hairball steep terrain. I loved dropping cliffs on this board because you never had to think about keeping your weight slightly back on big snow days since the thing floats so well. Also, when conditions get skied out, the Phoenix plows through the chop like its nothing. One caveat about this board though, it doesn't like to go slow. Unfortunately, I'm living back in Michigan now and the phoenix doesn't do well on flat terrain. Its lack of sidecut demands that the board be ridden fast with large radius turns. It will skid-turn tight on the steeps, but don't expect it to carve a super tight turn especially at lower speeds. Still, when I'm riding out west, there is no other board that I want to be on than my Phoenix 160...so sick!
I guess it just comes down to, Don't suck at snowboarding. If you slam the tip of any board into anything harder than it, it's going to chip or split. Gimme' a break. This board is extremely durable just like a lot of the other boards out there.
i have ridden this board for all of one season, and i got to say that it jibs and rides beautifully, no issues at all about quality. I consider it a great board and would buy a Mervin product again. Its quality and performance and second to none. I have owned and ridden Burtons, ride and option boards before and the pheonix is a treat!
Best boards. I work in a shop and see all the boards that come back. Its industry wide not just Mervin. The majority of boards that come back or get reviewed in bulk is bc a majority of riders are on them. Its a snowboard , its gonna get screwed up. LIB has great people and is legit.
If you want durability, look elsewhere
First of all, R-Dogg, I don't think any company rep is putting 300+ days on a deck. 31 reviews that all slobber exclusively on Mervin products, from kids gear to every snowboard out there? Give me a break. Secondly, no Lib is doing 300 days without completely falling apart. I've owned 3 Libs in the past 5 years and I don't think I'll get another one because they won't do much over one 100+ day season without breaking or at least delaming in multiple spots. I love the way they ride when new and magnetration is great, but I want a deck that'll last longer. If your going to spread your company propaganda in what's supposed to be unbiased customer reviews, do a better job of covering your tracks.
Ailynn, Snowboards Just Don't Fall Apart
I have 300+ days on my Phoenix without any problems. I am very sorry to hear about your boyfriends board chipping at the tip. It sounds like he hit something with the tips causing it to crack. If it was a full metal wrap construction, the edge could have easily dented inward destroying the board. He is lucky to have a girlfriend that is smart enough to buy him a board with fully wrapped metal edges. If the top sheet starts to chip from impact, buy some expoy for $5 and seal it up, because it will only get worse if he continues to ride it, but still better than a metal edge that has been pushed into the core. Lib Tech also has a great warranty department.
I guess I can't feel to bad for your boyfriend if he still loves to ride the board and dosen't care enough to write his own complaint. Buy him some epoxy!
Mikey C, My Phoenix Has Over 300 Days OnSnow and Still Kills it!!!
Mikey C, I find it hard to believe that your Phoenix just started to fall apart, because I have over 300 days on mine with no problems. Sounds like you might of hit something with the tips to cause it to crack or chip. You are lucky you weren't riding a board with a fully wrapped metal edge, because the impact could have easily pushed the edge into the tip ending your boards life. Lib Tech also has a great warrenty department. Send your board in. If it truely just fell apart they will send you a new one. The Phoenix uses the strongest top sheet available. It is to bad that someones edge scratched your art work. If you want more art produced by Jamie Lynn, my advice is that you buy another Phoenix and mount it to your wall, because it will be $1000's less than buying a painting from him. You can also put a sticker over your scratch since it is a snowboard we are talking about here.
I've been riding mervin prodcuts for the last two seasons, and I'd have to say that craftsmanship is horrible! I had a GNU rider's choice and that board chipped easily, I had to super-glue some parts of the top sheet down. Also I hit some rails a few times and the side wall craved in. I thought i might of had a bad model but then it happened again this year with the Lib Tech Phenoix series. My brother also bought Lib tech NAS skis, and after one day of trees and riding the resort the top sheet and sidewall was done. The side wall also seems like paper material just glued onto ABS plastic. I'm very disappointed to say the least. I would never buy any mervin products again. I don't know how they end up as award winner year after year. Definitely not a board to get if your investing $400 plus dollars to last you season after season. I hate to say it, but I would recommend burton, forum, and ride. I've never had craftsmanship problem with them.
I bought by boyfriend a $450 lib tech last year for his bday. The same thing happened to him. After riding it twice-the top layer began just chipping off. This season it has gotten so bad that it is chipping everywhere. For a spendy board-this is ridiculous. He loves the board (except for the terrible workmanship) and wants to return it for this years model, but I am hesitant for him to go with a lib tech again-especially after hearing this happened to someone else here. I don't know what they are doing over there at lib tech but if two people are having the same problem then they really need to make a quality board or get out of the business.
I am on my second Lib Tech board. My first was the Jamie Lynn 157 from a few years back. The one with the abstract cat on it. Love the board, rode it about 15 times a year from the year it came out (2000ish) until the 06/07 season. Loved it. This board however... Has the quality gone down? It rides great, I love the way it feels on the mountain, but I'm not so sure of the quality. The first one started de-laminating after the first day I rode it. A small section of the tail cracked and began seperating. Not cool. Now on my second one, the site got it to me real fast, no questions asked. Thank you guys. But now, even the smallest scratch on the top shows up white, like the top of the deck artwork is like a paper thin film? WTF. I'm not sure if my next board will be a Lib-Tech, we'll see how this one holds up after a few years.