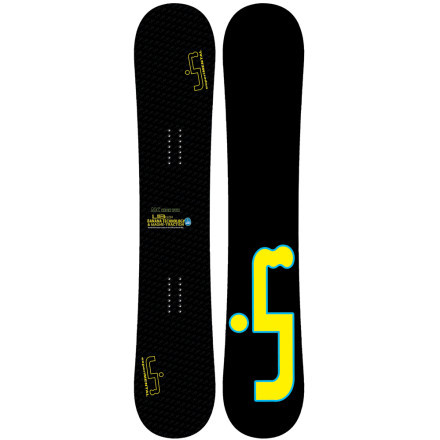 Community Images
Matt Cummins designed the Lib Technologies MC Kink BTX Snowboard to press, butter, and spin through parks, hidden jib lines in the woods, and into an alternate dimension of freestyle destruction. The kinked nose and tail shape floats effortlessly over obstacles, and helps you ride away from not-so-smooth landings (hey, it happens).
Banana Tech rocker profile lifts contact points for a catch-free ride and awesome float in powder
Kinked nose and tail encourage max ollie height, float over obstacles, and off-axis stompability
Magne-Traction edges add five contact points to maximize control in all snow conditions
Durable Morning Wood core prevents flaccid ollies
Share your thoughts
What do you think of the
Lib Technologies
MC Kink BTX Snowboard
? Share a...
hey i am 5'8 and i like to hit mountain...
hey i am 5'8 and i like to hit mountain and boxes and jumps is this a good board for me and what size should i get ? the lib technologies mc kink btx snowbard 2011 i am asking about
This board is sold out, but the Attack Banana is a perfect supplement. A few upgrades in materials and a few structural changes, but a similar shape/feel/ride.
Unanswered Question
It's my first year on snowboard. Friend...
It's my first year on snowboard. Friend gave me his Ride Havoc 2008 152 cm, but at mountains I broke front edge. What about this board(153 cm)? I'm thinking about Burton Custom, LibTech Skate Banana, LibTech MC Kint or GNU Carbon Credit BTX.
this board is--how do you say it?... god-like.
I ride a 2010 Lib Tech MC Kink 153, and it is one of my favorite boards that I have ever ridden; among the K2 Weapon, Ride DH2, and there have been a few other sticks that I have demo'd. The MC Kink is superbly responsive, and the ride control is a 10 out of 10. Solid icy conditions? No problem, this Lib Tech's Magne-Traction is unmatched by any other board. This board's base is indestructible. I ride it over everything, even the occasional rock. Still, I have yet to go through the first layer of the first layer of p-tex. A misconception about reversed cambered boards is that they do exceptionally well in the powder. I have to somewhat disagree with this. Although it does a little better in the powder than my non-rocker K2 WWW (152), it is not enough to say that it is impeccable. Maybe, if it were a 160+ it would make more of a difference, but then it wouldnt be much of a jib board. Although this board is my favorite combination of features, it is lacking a few features that I have had to accommodate for. One being its physical flexibility. Compared to my buddy's Skate Banana BTX, this board is 2/3 as flexible, which makes it harder to get the tips in the air during butters. The MC Kink, though, has noticeably more stable landings because of its stiffer stature. To me, another con to all Banana Traction boards, is that their edges only run the length of the deck. That is, they don't wrap around the nose and tail. Just in the start of this season and all last season, I bent the edge had to repair it with a hammer and dolly multiple times (after hitting a rock or tree, ect.) I never have had to do that with any other board with the full wrap-around, sturdier edges. This is something that all Skate Banana riders are aware of, yet they love their whip enough that this is minor. Plus, after the simple repairs the stick rides like new. The pros definitely outweigh the cons of this snowboard. It is a tough, buttery, poppy son of a stick that opens new doors in the progressive sport of snowboarding. I think it is definitely worth it to exchange the noodley, butterific boards for the MC Kink's moderate butterability, and its stability control at high speeds and off of the jumps. This is an 'almost perfect' all-mountain board that definitely deserves some attention.
Is this board going to go on sale?
Is this board going to go on sale?
It will, but it will when Dogfunk has only a few left. Thats how a lot of on-line shops do things. Just keep checking back to see
I'm a rider that was there when the Burton Cruise© was the hottest plank on the slopes. So, obviously I learnt on a regular camber board from beginner -to expert. I was in need of a new board this year and was very interested in a reverse camber, the design seemed very natural and made sense. Today, with internet blogs, you hear mixed reviews about them not holding an edge at high speeds... and then topics: what flex do I need? What length do I need?...etc . Well I finally decided to try reverse camber. I went from a K2 160 all mountain to this 155 mc kink (because it rides a longer edge and a bit wider). This board just flat out rips everywhere. Don't worry about the flex its better than any board I have ever ridden. There is no way I'm ever going back to reg. Cam. So if you are trying to decide if banana is right for you, do it. Stop your research right now and go buy this board especially if you're and old school rider...(it was the change i needed). It's not even that big of deal to adjust to it, I was doing better quicker transition turns half way down my first run. Give it a try you won't regret it. Oh, went high speed with it and was more stable than my K2...on ice the magne-trac© is revolutionary. Thank you Lib tech I'm a loyal fan now...sorry Burton.
This is my first year riding a reverse camber board and I've got to say, it took a while to get used to but now I love it. The reverse camber seems to make the board more playful on the snow and easier to carve with the help of having the effective edge between your feet instead of near the nose and tail on traditional boards. The magnetraction grips great on hardpack and ice like it should. This board is mainly park specific, hence why it has a medium flex but it is super stable when riding all over the mountain. I'm yet to test it in powder so I'll post another review on that soon hopefully.
the board has horrible grip with the average groomed park snow, i went from a burton clash to this n rite back to my clash. it isnt as good as most people make it sound. definatly cant use it in the powder very well and its extremely slow
does anyone know if this board would be...
does anyone know if this board would be ok for a beginner? i do have some wakeboarding skills so i feel i would pick it up decently fast (snowboarding)
Ive been riding for about 12 years now, if your a beginner i would suggest going with lower-end that way when you figure out your style you can buy a higher end board accordingly.
Best Answer
why does every beginner now days have to buy brand new shit before they ride ?they look like badass rippers off the mountain and when they get on they wreck into fences.my advice would be to try a friends board or rent a couple days before you throw down a thousand dollars on gear only to realize you don't like it.
yeah how rad is the lib from a 1 to10 and...
yeah how rad is the lib from a 1 to10 and also what's a better board for park t rice or matt cummings also you don't sell temple cummings gnu board?
just ordered one so il let u know how it is!
and from what iv gathered this board or the nana is best for park.
peace
I've got the MC kink 157 and 08 TRS 167 BTX and my wife has the T Rice 157 Btx (08). I can tell you the MC Kink is by far the most fun board I have ever been on. Soft, smooth and fast. I was a little nervous going way down in size from my usual 167 cm, but I couldn't get over how stable the MC was when I needed it and how forgiving and flexy it was for playing. It rides switch very well too. The T Rice is stiffer (like the TRS) and does not have as much rocker to it compared to the MC Kink. I can't imagine how you could go wrong with a kinky banana.