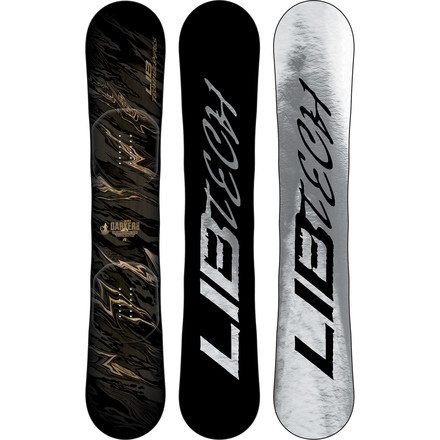 If you're like Lib Tech team rider Jason Robinson, then you love hauling ass down steeps just as much as you like getting airborne. That's why Jason rides the Lib Tech Darker Series C3-BTX Snowboard. This aggressive freestyle deck is just as comfortable pinning it down couloirs as it is boosting backcountry booters.
The C3-BTX profile features camber with a mild amount of rocker directly in the middle of the board. In fact, the rocker is so subtle that the rockered part of the board doesn't even touch the ground when you're not standing on it. This small amount of rocker makes carving easier and improves float in deep snow without compromising the precision and power of the camber. Magne-Traction edges provide extra grip to slice through ice likes it's fresh corduroy, and a slightly setback stance adds drive without limiting your ability to ride switch.
The bindings mount to the Bamboo Organic Throttle riser plates, which radiate out into the core to give you more direct input to the board and quicker response. The Columbian Gold and Power A core uses sustainably harvested wood for a board that's light and snappy. Power Transfer internal sidewalls crank up the durability, and they're buffered by UHMW external sidewalls for impact resistance. The sintered base is fast and holds wax well to keep you flying around the mountain. Best of all, you can rest easy knowing that your snowboard was built in the USA with eco-friendly materials by snowboarders with jobs. Basalt reduces the amount of fiberglass needed to reduce toxins created in the manufacturing process without sacrificing strength, and the Bio Bean topsheet is made from castor beans instead of petroleum-based plastics.
Camber-dominant with subtle rocker between bindings
Twin shape
Magne-Traction edges
Basalt and fiberglass lay-up
Medium-stiff flex
Power A and Colombian Gold core
Sintered base
Power Transfer internal sidewalls
Bio Beans topsheet
What do you think about this product?
Have questions about this product?
Can't believe I waited so long to fork out the cash for the Darker series...not that I was riding crap before...but the Darker is just a cut above even the high end boards...
This board turns on a dime when conditions get hard and floats superbly in the powder...had no problems on the rails in the park and when you hit a jump this board flys effortlessly!!! Been riding for 20 years and I've never been on a better board...nor will I ever ride another board....unless there's 2 feet of POW and I need a swallow:) I'm 5'9" and 170. The 158 was perfect
ROCKET SHIP
Familiarity:

I've put it through the wringer
This board rules the steeps. Stiffness and magne track combined with camber enable this board to inspire confidence on steep slopes. NOT A BOARD FOR BEGINNERS, INTERMEDIATE, OR CRUISERS! This is a go fast board for the most aggressive big mtn riders. Do not buy this board if you were thinking about anything under 162. Do not buy this board for riding the trees, the park, or low angle pow( check out the TRS series, they're more FLEXI with ROCKER I have one and use it every day that I am not riding pants pooper shoots).This is not a board for a vacationer!!This is a big mtn cheese grater eating mountain goating grimacing bearded locals board. I have been a snowboard instructor for 8 years. This board has very minimal side cut, and therefore has a huge turn radius which makes it difficult to turn on low angle, but THE board you want in the coiloir or gullies.. Definitely the board I want to be on above the 'shrund . I am very much enjoying destroying the mountain with mine this season. Ps environmentally friendly processes rock! Haha get it? basalt! Bottom line: If you're a local looking for a big mtn board to add to the quiver DO IT! If not, check out the TRS!
Experienced riders only
Familiarity:

I've put it through the wringer
Experienced riders will enjoy this board knowing Satans price tag went to a great cause. Those who pitch forked it over bought the ticket to insanely fast runs knowing the board will perform as it should. Any board that can't keep and hold the riders trust is crap. And there's a lot of crap out there. 9 outta 10 people are riding polished turds. The only turd resemblance on the Darker Series is you might poop your pants because the board is rad.

That said, the stiffness, side cut, torsion, and flex.....are dam near perfect. I am 5'6" ,156#, 9 boot, regular, snowboarding over 28 years, an instructor, and sick of wasting money on crap. Tired of listening to the next new fads and fashions. BTW, where's all the clicker bindings, the lunch trays, sawed off noses and tails, and foam cores and honeycombs?

Another reason to like Lib Tech, it's done right. That's why the company is still insight.

I gotta go, Slayer is up next.