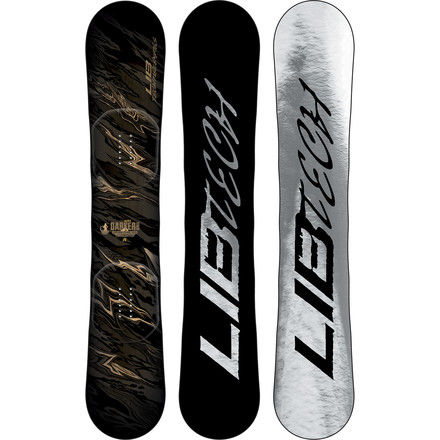 The Lib Tech Darker Series C3-BTX Wide Snowboard was built for riders with big feet, black hearts, and a ruthless approach to shredding the entire mountain. An aggressive freestyle board with a freeriding soul, the Darker Series can go from boosting off jumps to charging near-vertical faces without skipping a beat.

The C3-BTX profile features camber with a mild amount of rocker directly in the middle of the board. In fact, the rocker is so subtle that the rockered part of the board doesn't even touch the ground when you're not standing on it. This small amount of rocker makes carving easier and improves float in deep snow without compromising the precision and power of the camber. Magne-Traction edges provide extra grip to slice through ice likes it's fresh corduroy, and a slightly setback stance adds drive without limiting your ability to ride switch.
The bindings mount to the Bamboo Organic Throttle riser plates, which radiate out into the core to give you more direct input to the board and quicker response. The Columbian Gold and Power A core uses sustainably harvested wood for a board that's light and snappy. Power Transfer internal sidewalls crank up the durability, and they're buffered by UHMW external sidewalls for impact resistance. The sintered base is fast and holds wax well to keep you flying around the mountain. Best of all, you can rest easy knowing that your snowboard was built in the USA with eco-friendly materials by snowboarders with jobs. Basalt reduces the amount of fiberglass needed to reduce toxins created in the manufacturing process without sacrificing strength, and the Bio Bean topsheet is made from castor beans instead of petroleum-based plastics.
Camber-dominant with subtle rocker between bindings
Twin shape
Magne-Traction edges
Basalt and fiberglass lay-up
Medium-stiff flex
Power A and Columbian Gold core
Sintered base
Power Transfer internal sidewalls
Bio Beans topsheet
Wide waist