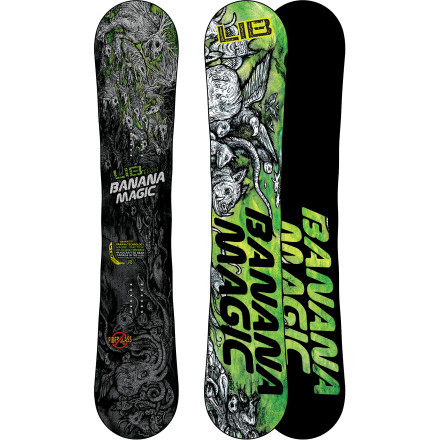 Detail Images
The Lib Tech Banana Magic BTX Snowboard is the result of pairing true-twin geometry with a mid-stiff flex and then adding a whole bunch of next-levelness including Enhanced Banana rocker, Horsepower, and the volcanic pop of basalt fiberglass.
Enhanced Banana technology voluptuously augments the traditional BTX profile by implementing a deeper and friskier rocker between the legs and inserting dominate camber under the feet for increased power and thrust
Magnetraction technology dissects any snow type with a fearsome serrated edge that has multiple contact points
Magical Mystery sidecut features a deeper heelside radius for increased balance while you carve
Horsepower construction ditches the fiberglass altogether and replaces it with lighter, stronger, and environmentally friendlier basalt glass
Glow-in-the-dark sidewalls light up your path at night
I have found mixed reviews on how this...
I have found mixed reviews on how this board handles in power. I am sure it is fantastic on the steep. What about the more mellow fields? I am 5' 9" and 190-200lbs looking at getting the 160. I am looking at the Banana Magic 160, T Rice Pro HP 161.5 or the K2 turbo dream and am going to get one before they all disapear. I am an all mountain freestyle rider. Any suggestions?
Snop509304,



you and I are about the same size. I'm 5'8.5" and about 185lbs. I ride a 61 banana magic.(I tend to like bigger boards for everything, plus bigger boards help you float better in pow. I owned the 2012 T Rice 157.5 and didn't really like it. it's pretty stiff and the rocker on it is very minimal plus i feel like that board is made for someone with a size 12 boot. it was a bit too wide for me and clumsy, i'm no Travis Rice even on my best day so you can prob say I'm unable to handle a real board like the TRice.



I like loose-feeling boards (long time ex skater so I like that skateboard feel.) so for me the NanaMagic was perfect for everything and everyday.



PS:I've been ridin' for over 20 yrs, too old and fat to ride the park these days. I ride steeps, trees, pretty much the entire mountain is my natural park. I LOVE my NanaMagic! wouldn't leave home without it!


I love this board for its diversity, it does handle pow really well, great edge hold, powerful pop and stiff enough to charge crud snow. but it does handle like a fully rockered board, which can be squirrely on hard snow. The T.Rice could be a better option for you, its stable and has great edge hold without feeling like the board is in charge. Its a great all mountain free style board.
Lib's horsepowered secret weapon.

The ride is smooth and surfy from the aggressive banana and mellow camber.

It eats crud and still holds amazing edge on icy steeps. And floats like a champ on the pow.

This is a great board for anyone whose ridden the skate banana and is ready to attack more freeride aggressive lines. Its really a do-it-all.


This board is very fast as your confidence improves because you have an edge that will grab anything and hold. The rocker under your feet will result in a more centered stance/ride, which feels more balanced and enables you to hit either edge quicker. I am 5' 10" 190 and ride the 157cm. It's plenty of board for playing all over the mountain. Will probably purchase a skunk ape or another board in a larger size for bombing. I raced a friend on a 168 skunk ape ... he jetted out ahead at the top by probaly 200 yards, but I was 10 feet behind him when we finished. This board can tear up the mtn! Fun in the park ... I find it great for jumps as I can land and hold my edge or the rocker makes landing and swiveling to switch a breeze. VERY FUN
Aggressive
Gender:

Male

Familiarity:

I've used it once or twice and have initial impressions
Carves thru the ice like butter with my NX2 GT bindings. The only time I fell using this board was when it cut hard into the ice. I wasn't expecting it to carve so aggressively. It's awesome. Can't wait to hit the black and double black diamonds now. Beats the Hell out of my 2001 Jamie Lynn Phoenix.
Go to the forest and gets your Magic Mushrooms... i mean Banana and get lost in the woods.