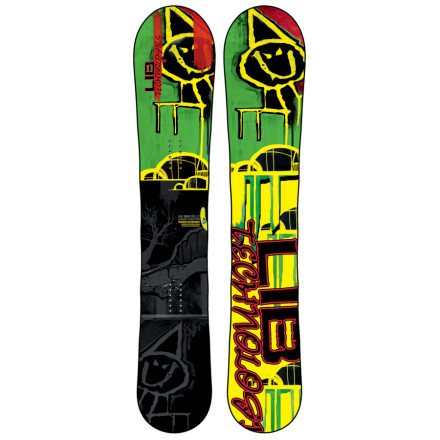 Community Images
Thanks to the tapered Banana rocker shape and set-back stance, Lib Tech's 1986 Snow Mullet BTX Snowboard defines the term 'powder gun'. The way this thing floats through the deep stuff, you'll swear there's a jetpack strapped to your back. From inconceivably tight trees to wide-open faces, snorkel days have never been more fun.
Banana Tech rocker shape offers insane float in pow and fewer edge hang-ups on firm snow
Magne-Traction edges add five additional contact points increase grip and turning power in all snow conditions
Tapered shape makes for easier turns and more float in deep snow
Bio-plastic topsheet is good for the environment—So Hot Right Now!
Unanswered Question
what is the waist width of the 165cm?
what is the waist width of the 165cm?
I feel very privileged to have gotten a snow Mullet, i hear that the model is being discontinued. This model was the one to have fo sho!
Does it ship to australia??
Does it ship to australia??
Hey,

Unfortunately not. Sorry for the inconvenience.
The steep and powder king
Magne traction lets you rip through the terrain better than a regular edge. The nose of this board brings you uup through the powder.

In a nutshell... A new snowboarding experience!
5 STARS!
Gad 2 lift line on her maiden voyage!
Hands down, an amazing snowboard!
So I ordered it two days ago and it showed up yesterday!!! Thankfully there was a bottomless amount of snow up at snowbird to go check it out today... Ok here's the deal, I've ridden the Forum Roost for the last 4 seasons and it is a great snowboard, very much like the Mullet, only no banana traction. The Roost was tapered and set back but not as set back as the Mullet. The Roost and I had many a good Powder days at Solitude and Brighton. So I believe this was the perfect upgrade for myself, i got the mullet in a 160 and I was used to riding the 158 Roost. I'm an advanced rider at 5'4 130lbs and like my snowboards long. The Mullet literally took me 3 or 4 turns to fall in love with. You cannot submarine it no matter what! The buttery feel is just amazing, and when I punched through the 8 inches of powder on the icey groomer it just bit like Ive never felt from any snow board due to the exaggerated magne-traction. The graphics speak for themselves! I love riding powder the most obviously, but i have no doubt this thing is gonna rip the groomers and crud, I'll follow up with a review in a few days. I have never felt like I could butter 360 in the pow on a camber board, but this thing is just soooo playful. Love it Lib Tech, and Thank you Backcountry.com, you guys rock!!!
i have a forum destroyer and its a wide...
i have a forum destroyer and its a wide 160cm but i want something bigger. will the 165 be better if im 6ft1in and 190lbs? also will it be ok that this board is not a wide?
Hey Mike,

165 is pretty big for 190 lbs but assuming you'll only be riding it for deep days, it should be just fine. The waist width is 253 which is actually a mid-wide so as long as you're not bigger then a size 12 you should be okay.
got the 172 couple years back. I'm 6'0'' and 76kg (you work it out) and I can fly on it just fine so you should definitely go for the longer board. Turns like a much shorter board and after a few runs you'll forget how long it is. Never had a problem with width but my boot size is only US 10...

john
i have the 2008 model with btx and needless to say its the beastiest board ive ever had a chance to ride. the pop is insane, turns on a dime, floats through pow like you're riding a cloud and it charges down the groomers without even trying. i'll never buy another board.