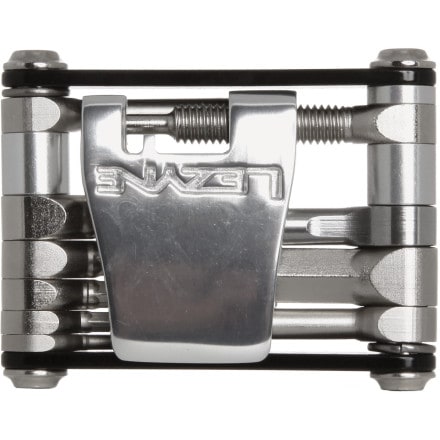 Description
Hmmm, maybe fill his tires with water …
We're as tired as you are of cheap multi-tools with bits that round off instantly if you aren't paying a surgeon's attention to what you're doing. We're betting that you hardly ever reach for your micro-multi-tool when you're wrenching at home. Why would you? Full-size tools are tougher, give you better leverage, and just feel better than minis. The designers at Lezyne aren't buying into that thinking. In the V-10 Multi-Tool, they've designed a lightweight, durable, ergonomically-designed multi-tool that can stand up to the shop-quality tools that are hanging proudly in your garage.
Lezyne uses nickel-plated chrome vanadium bits to make sure you have the toughest tool possible. The CNC-machined bits are unbelievably precise, so you don't have to fight to keep them from rounding your hardware. They'll never rust, either, even if you forget them in your pack over the winter. In order to keep weight down, Lezyne uses CNC-machined 7075 aluminum side plates and a forged and CNC'd chain breaker.
The most important difference between the V-10 and most other multi-tools is Lezyne's clever center-pivot bit design. This design allows Lezyne to make low profile tools that are lighter, stiffer, stronger, and more ergonomic than the more common wraparound design. Look closely at the joint area of each bit. The center-pivot design keeps the axis of the bit in line with the plane of the tool to make it feel more like a full-size tool. The natural-feeling pivot point is more comfortable and it gives you more torque.
The Lezyne V-10 Multi-Tool includes all the tools that you'll need for common road- and trail-side adjustments and light repairs. 90% of the time you're making adjustments with Allen wrenches, and Lezyne includes all the common sizes: 2, 3, 4, 5, 6, and 8mm. The Phillips screwdriver comes in handy more often than you'd think (just take a few rides without one), and we all know how annoying it can be to be caught miles from home with a broken chain and no chain tool. Torx T25 and T30 hardware is becoming more and more common these days, especially on SRAM drivetrains, so Lezyne made sure to include it on this comprehensive multi-tool.
Precision CNC'd chrome vanadium bits for strength
7075 aluminum sideplates and chain breaker for weight reduction
Included tool sheath to keep it clean, and secure
Share your thoughts
What do you think of the
Lezyne V10 Multi-Tool
? Share a...
Great Tool
Member since
Posted on
This tool has everything I need to work on full-on DH bikes on the side of the trail (including the 8mm hex which most tools don't have). I occasionally would like a knife of pliers, but I'm not sure you would really want to add either to this tool.