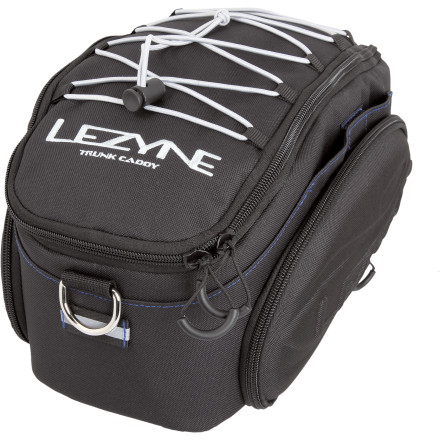 Detail Images

Community Images
Showing up for work with a sweaty back from a shoulder-straining, spine-tweaking, trendy messenger bag isn't the best way to commute. When you load your junk into the Lezyne Trunk Caddy EX, your back stays dry and straight, while your shoulders enjoy freedom from being weighed down. The Trunk Caddy even features side pockets for the staplers, pens, and notepads you steal from work.
Easily attaches to a rear rack with two straps and buckles
Included shoulder strap, with stash pocket, for easy carrying
Padded main pocket has adjustable compartments and labels so you can quickly find items
Shock cord straps on top for jacket/helmet storage
Water-resistant bottom keeps gear—and your rear—dry
Rain cover in case you're caught in a scheisse-nami
Reflective elements and a taillight loop for safety
Unanswered Question
the "trunk caddy" and the "trunk caddy ex"...
the "trunk caddy" and the "trunk caddy ex" are 2 different models whit 2 diferent prices?
It's my first bag for my cyclocross bike. I use it to carry and protect around my DSLR. It big enough to fit my T3i gripped with a 24-70 on. It has divider inside that you can move and two lateral bag that can be fold inside the side pocket. Great bag. Only con...There is a strap to carry around but can't be convert to a backpack. Still a good product.
My husband and I went on a 200+ mile bike trip and I needed a good bag that I could take on my bike since we were making this a three day trip. I purchased this bag and it worked great! There was plenty of room in the "trunk" section for several changes of clothes with a little room to spare if I needed to put something inside (my cell phone) in the event of rain. The paniers are very spacious. I had room to spare for extra water and all my other items that I needed for this trip. I would recommend this trunk bag to anyone! The only thing that was a little inconvenient was the location of the rain cover and the carrying rings. This probably wouldn't be an issue for a taller person. At 5' my seat isn't set real high so that end of the bag was a little harder to get to for me. Overall this bag was exactly what I needed for this trip. I can't wait to use it again for the next one.
I also wanted to compliment Huck & Rolls' customer service. They made sure my bag shipped in time for me to get it before my trip.
are the side saddle bags on the ex black...
are the side saddle bags on the ex black removable
No they are not removable but they do fold up out of the way.
Unanswered Question
, ☃bcs_badge_alumni_label☃
The dimensions of this is 7.1" height x...
The dimensions of this is 7.1" height x 14" length x 8" width