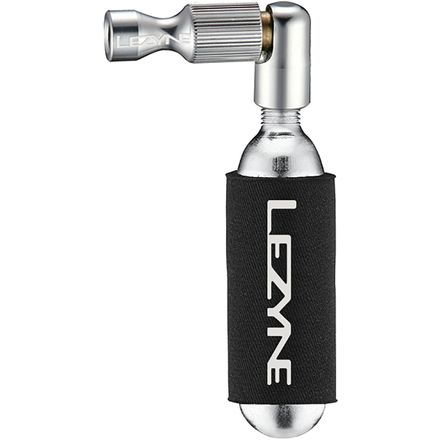 Detail Images
Description
Squeeze the trigger.
CO2 cartridges are great—they're quick, easy, and lightweight. However, they lack the control of a traditional pump. The Lezyne Trigger Drive CO2 Cartridge System changes that. The Trigger Drive is made with a machined aluminum chuck for light weight and durability. It joins the valve at a right angle to make it easier to get between spokes and under disc brake rotors. The chuck also threads on, so no CO2 is lost. The trigger is spring loaded for total control, so you can start with a long burst to seat the bead, then finish with shorter bursts for precise control.
Machined aluminum chuck
Attaches at right angle
Spring loaded trigger
Gets it done
Familiarity:

I gave it as a gift but have feedback to share
I got these for my brother who does some high school level mountain bike racing. He feels that they are adequate for the job. When you don't need the best thing on the market but good enough to get it done quick and easy, these are great. I got him a bunch of extra cartridges as well so that he isn't out of luck when he gets a couple flats per race.
Worthless
Familiarity:

I've used it once or twice and have initial impressions
Piece of crap, buy something else. nothing like getting a flat and pulling this thing out and straight up not working.... spring not compressing, wouldn't even screw on....I guess I should have tried it before putting in my jersey...
O ring falls out
Familiarity:

I've put it through the wringer
I like the concept, the weight and the convenience. But every time I use it, the O ring comes unseated. I've tried a bit of lubricant, but to no avail. I'm thinking it'll be lost eventually, and the inflator head would be useless.
Quality is key!
Gender:

Male

Familiarity:

I've used it once or twice and have initial impressions
This is a key piece when you need it and having a quality one is key. I bought several cheapy one before and it almost left me stranded if not for a manual pump! The punction tip is key as my last one broke! The nozzle is also and must offer an easy control and this one has it. I've only used this 2x but so far so good. I'll love it when I hit 4 or more saves..



Oh and besure to have the right Co2 size cartridge for your tire.. 16oz is minimal.
All business.
Familiarity:

I've put it through the wringer
Great inflator. Perfect blend of smart function and small size. I have two other inflators (Genuine Innovations) which I like, but this Lezyne has become my favorite. I really like the built-in press to inflate feature. No twisting, no bulky trigger and great control. It looks good and it has worked great.
Pssssssssssssssssst
Familiarity:

I've used it once or twice and have initial impressions
A must have - I have gotten over 10 years out of my old trusty inflator, until it's failure to perform last flat - RIP little dude ;) Good things come in small packages, as this is sweet. Compact, small, and machining is A+. Only takes threaded CO2 cartridges, and any threaded cartridge will work. Also comes with a sleeve for so the cartridge doesn't freeze your hand while inflating - that also doubles as a nice touch to keep the noise down while in your seat bag. A must have, and at such a compact size - worth the extra gram in your pocket :)
Will this take any c02 cartridge, or only...
Will this take any c02 cartridge, or only Lezyne?. Do you thread the chuck into the valve first, then crew on the cartridge?
Yes, I would like to know also. Anyone?
Best Answer
Greetings - this will accept any threaded C02 cartridge; but will not work with non-threaded :) And correct, thread the unit onto the CO2 first, then inflate - easy peasy :) Works awesome, just hope we all don't have to use it that often :)
Perfect for a quick road fix
Familiarity:

I've used it once or twice and have initial impressions
I almost didn't buy this CO2 inflator because despite the sleek looks and compact size lots of reviews from other sites complained of the trigger being difficult to activate which kind of defeats the purpose of having it in your repair kit. I suspect some of the problems people elsewhere have had may be due to a poorly machined inflator because with my small, weak hands I'm able to use this quite easily. Mine came with a protective freeze sleeve to fit over the CO2 canister to keep your hands from getting cold but with my small hands I still have to press against the round butt of the canister to activate the trigger so I keep my gloves on for that step. Very easy to use, great aesthetics, fits easily in my small Lezyne Micro Caddy Saddle Bag. FYI one 16g CO2 canister will inflate a 700x25 road tire to ~90 PSI, enough to get you back home safely.
Quick and Easy
Familiarity:

I've used it several times
This CO2 System is really intuitive and easy to use. It inflates tires quickly. I've used it on my 29" mountainbike and one cartridge get's you up to pressure quickly. Like most things Lezyne this is well constructed and I have little doubt about it's long term durability.
beautiful, functional
Familiarity:

I've used it once or twice and have initial impressions
I must admit, while reading reviews for this inflator, I was torn between the beautiful design and good reviews compared with the mediocre design and glowing reviews of the similar Genuine Innovations product. Eventually the desire to have a CNC'd block of beautiful aluminum won out, hoping it would work when I needed it to.



Turns out it does work, and well. No complaints, does what it says it will, inflates your tires in a pinch, I've had to use it a single time and it did it's job. No complaints. Recommended. And I love that it looks beautiful and solid in my wedgie bag. And no messing with crappy hand pumps.
This is a lightweight, easy to use inflator. Pull back on the sleeve to let the air flow and let go to stop. Doesn't get much easier than that. Always be careful when using co2 to not blow the tire off the rim.
well built, but the "trigger" can get sticky when it gets cold.
, ☃bcs_badge_alumni_label☃
Great Pump
Simple. Strong. Durable. We have two for the household. Go with CNC machined over other poorly constructed, injection molded pumps.
, ☃bcs_badge_alumni_label☃
Keep it simple
Simple design. Simple to use. Simply works well. I have two of these that I keep with two bikes. When you compare to other designs by Serfas like the Air Pod CO2 Pump this rocks. It's much smaller and lighter in weight. Additionally, the CNC-machined body will last. Do you really want to test injection molded plastic under the pressure of one of these canisters? Don't go there.
will a co2 pump inflate an average mtn...
will a co2 pump inflate an average mtn bike tire to full pressure (60lbs or so)? or is there a limit?
Best Answer
Phillip, the limit on most co2 dispensers is typically dependent on the CO2 cartridge and not the actual system. According to the Lezyne website (http://www.lezyne.com/co2-systems#panel-5) even a 25g cartridge will only inflate a mountain bike tire to 40psi or 2.8 bar. This would be plenty for a mountain bike tire, 60lbs is way too much for most riding.
Where's the trigger? how does it work? how...
Where's the trigger? how does it work? how do you prevent over inflating, can you show that or at least explain on your website. Thanks
Best Answer
You release air by pulling back on the sleeve that just behind where the inflator would meet the valve. Squeezed is releasing air, not squeezed will hold air. you most likely hold the inflator in you hand and pull back on the sleeve by putting it between your middle and index finger and pulling back.
I am looking for 25 gram co2 cart. for...
I am looking for 25 gram co2 cart. for life jackets with screw in top that will go into the life vests. Do you have anything like this.
HuckandRoll does not stock any cartridges that large. You may try checking with Bass Pro Shops or Cabelas.