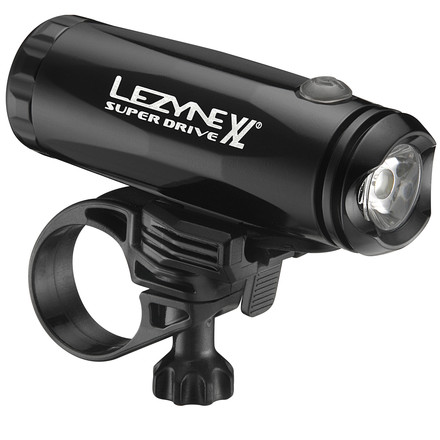 Colors
Description
Shine like the sun.
Illuminating dark stretches of desolate roads and twisty trails, the Lezyne Super Drive XL Headlight packs a whopping 700-lumens within a relatively compact size. The Super Drive XL features Constant Lumens management LEDs for a consistent beam of brilliant illumination, with side cut-outs to ensure 180-degrees of visibility. Moreover, its water-resistant CNC-machined aluminum body ensures long-lasting use through a wide variety of riding conditions.
The Super Drive XL gives you the option of toggling between five modes ranging from 150-lumens at its lowest Flash setting to 700-lumens of radiant illumination in Overdrive mode. Battery life is great for its high output, giving you 1.5-hours in Overdrive and roughly 5.5-hours in Economy mode. Another cool feature is its Overdrive Race Mode, which allows you to toggle between Overdrive and Economy modes with the simple push of a button. This is especially useful if you're transitioning between the dark countryside and brighter city lights, maximizing brightness when needed and saving precious battery life when it's convenient.
The Super Drive XL comes with two Composite Matrix handlebar mounts for 25.4 and 31.8mm handlebar widths. Its replaceable Li-on battery charges via a wall adapter and/or Micro USB cable (included), fully juicing up in 3-hours flat (with 2 Amp recharging). Furthermore, the Intelligent Power Indicator gives you a color-coded readout of the battery's juice level.
700-lumens at brightest Overdrive mode
Overdrive Race Mode: toggle between Overdrive and Economy modes
Replaceable Li-Ion battery charges in three hours (2 Amp charging)
Intelligent Power Indicator with LED power readout
Composite Matrix Handlebar Mounts (25.4, 31.8mm handlebars)
Micro USB recharging cable included
Stylish tough and functional
Familiarity:

I've put it through the wringer
I am pretty happy with this light. Now that I am riding more single track I wish it was brighter and had a wider beam, but its a 600 lumen light.

Disappointingly the clamp doesn't work on tapered bars. This may be a better helmet mounted light for mountain biking.

The design, construction, and heft make this a sweet product. although it may be slightly heavy I think that's a decent trade off for the quality construction.

I'm giving it four stars because when on sale, its a great deal for a well designed and bright commuting light.

I've used this in regular 8 mile commutes at dawn and dusk in fall winter and spring. Its great for the road, although it doesn't have a rapid blink mode.

Not for mountain biking!
Familiarity:

I've put it through the wringer
Lezyne makes some great LOOKING product I will give them that. But quality of build and functionality have been lacking in any Lezyne product I have used and this is no exception.

This thing is full on metal meaning it is heavy. They made some overcomplicated mounting system involving a clamp and rubber shims. What the heck, just give it a rubber strap and call it good! The clamp does not stay on tapered bars well at all and will come loose, then say good by to the rubber shims that help it fit.

The crappy clamp system combined with the heavy weight means that after a bump you will almost always have to adjust the light back to wear you had it.

Thinking about using this mountain biking? FORGET IT

My other issues is that the usb port on the light to charge it is junk. You have to fuss with it's position in order for it to charge. I plugged in overnight to charge and was disappointed when it was still completely uncharged. A slight jostle of the charging wire made it start charging again.

So why the two stars? The beam is good and it looks nice.......
Very powerful making your ride safety. Battery last longer.
Bright as the blazing sun
Familiarity:

I've used it several times
The Lezyne Super Drive XL took about 4 hrs to charge out of the box and has held a charge for ~2weeks with daily 30min use for my morning commute. It illuminates the road well at 7am and I know that I am highly visible to traffic.



On trail, the mount is stable and doesn't wiggle loose even after descending brake bumps for a couple miles. The light had a nice spread to it, illuminating the trail nicely for 2hrs. I like the handlebar mount, but the drawback of having only one light is evident in Utah's switch-back territory. That being said, I'd happily buy another Lezyne for my helmet.



One drawback: the charger cover tends to push on the charging cord, so check for a good connection before leaving it to charge overnight.