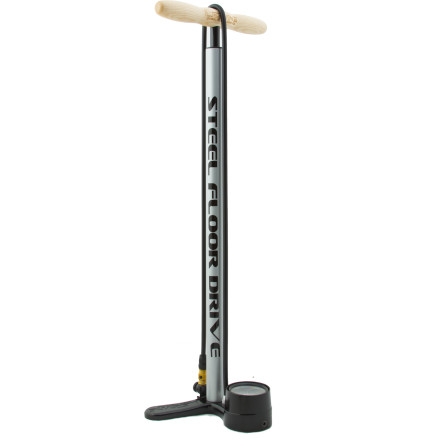 Detail Images
Description
Steel is still really real.
Lezyne's Steel Drive Floor Pump is designed to be the last floor pump you ever buy. That might seem like bad business, but it's damn good design. The steel barrel is capable of airing tires up to 160psi, which will handle everything from CX tires to track tubies.
The Steel drive features an easy-to-read pressure gauge, long 43-inch hose, and Lezyne's Speed Chuck head, which has a 90-degree bend for ease of use on disc wheels.
Steel barrel
Easy-to-read gauge
160psi max reading
Presta-only
Speed Chuck pump head
Is this the new version with ABS2 or...?
Hi Jin,



I just ordered this pump yesterday. Based on the description and image above this comes with the ABS Flip Thread Chuck HP and they include the "Presta-only Speed Chuck". Hope this helps.
Solid construction
Familiarity:

I've used it several times
I have gone through 3 pumps in two years due to either the bottom seals or gauges going out. This pump is solid and appears that it should last.
Great pump for Presta valves
Familiarity:

I've used it several times
I wanted to replace my cheap pump that had a hard time making the connection to Presta valves. This pump has a great head (the important part of the pump) that screws onto the valve, making a reliable connection every time. It also flips in about 5 seconds to Schrader valve. The pump seems well built and of high quality. My only complaint that prevents the 5 stars rating is that it can be finicky when working with Presta valves with removable core. Since it screws onto the valve, you can remove the valve core if you are not careful. Make sure to completely remove the pressure with the bleed air button before unscrewing the head. I also added a drop of chain oil on the threads of the head, and I have not had any problems since.
Very Poor
Familiarity:

I've used it several times
Chuck does not stay on Presta valve. Pressure gauge does not read correctly. Total piece of junk. A pump should do two things: pump air and read the pressure. This pump does NEITHER!! Very disappointing.
Great present for the biker in your life
Familiarity:

I gave it as a gift but have feedback to share
I got this for my roommate for his birthday. He has recently been getting in to cycling. Which means he goes out so infrequently that he often needs to inflate his tires.

He enjoys the bike pump as he says it feels quite solid and not like something that will just break easily on him. It helps him get out there on the road more, so he approves!
Gotta Get One
Familiarity:

I've used it several times
With 2 other floor pumps sitting in the corner gathering dust, and a couple more long since tossed in the dumpster, I was on a quest for a solid, DEPENDABLE, smart pump that would last, have features that make my riding life a lot easier, no strain reading the gauge, accurate, and all at a price that wouldn't break the bank. There are countless options for floor pumps and after narrowing my choices down I consulted with a friend/pro rider who immediately suggested this pump for all the reasons above, and then some—add to the list the easy to use Flip-Thread chuck threads onto Presta or Schrader valves for those who need both, the air bleed system makes removal a cinch, has an extra long hose (43") with a snap-clasp to keep it out from under your toes, and more. Two words to describe, simple and smart. I'm looking forward to many happy mountain rides with this floor pump as a permanent fixture in my car. ***Questions? Need other product recommendations? Hit me up at klindsey@backcountry.com
Best pump I've used
Familiarity:

I've put it through the wringer
There are a lot of good floor pumps out there and this seems like all the others upon first glance.
Let me say that what sets this apart is the fantastic hose connector for your valves. I love that it screws onto the threads so you don't lose it while inflating. The pump is built from good materials, looks great, and is perfect for home use. Other pumps are good, this one is fantastic.
This pump is very precise and I love the pressure release valve so you know there is no pressure lost in the tire when decoupling from the valve. It seems to be bomb proof in construction.
Solid floor pump for the price
Familiarity:

I've used it several times
I purchased multiple brands of pumps in the same price range as this pump. I was amazed at the pop and hiss when the pump hit 20 PSI. Returned all. Did my research and selected the Lezyne Steel Drive Floor Pump. Performs very well, smooth action. One drawback was not having a quick connect valve, but the screw on works rather well with very little loss of air when disconnecting.
Great all around
Familiarity:

I've put it through the wringer
This made a great addition to my garage full of bikes. Easy enough for the kids to use on their mountain bikes and great for my road bike tires as well. Seems unbreakable so far...but I suppose teenagers are capable of anything.
When You Mean Business
Gender:

Female

Familiarity:

I've used it several times
Buy this pump if you want a no hassle way to get your tires road or trail ready. Worth every cent to be able to pump your tires up with ease. You could probably even drink a cold beverage of your choice while getting these tires to 100 PSI, its that easy. The ABS deflate makes life easy, and the presta speed chuck makes removal from the stem a breeze. This works on every valve type so everyone is happy! This thing is heavy, so beware of its beefiness!
solid bike pump
Familiarity:

I've used it several times
i love this pump. it's rock-steady and pumps up solid. it gets my tires up past 120psi with ease. lezyne's flip-thread chuck is awesome - i prefer this to the joe blow's flippy switch thing. it's so much easier (for me and my road bike, personally) to screw in the valve and know that it's tight and not leaking air.
Low quality
Gender:

Male

Familiarity:

I've put it through the wringer
Great pump when it's working. The gauge keeps breaking. I went through 3 gauges in less than 2 years. I gave up and I'm trying different pumps now.
Pumps quickly and efficiently to get my tires rock hard. Nothing bad to say. I also like that the pieces are largely modular and Lezyne customer service was able to quickly hook up repair parts when I needed to warranty this pump.