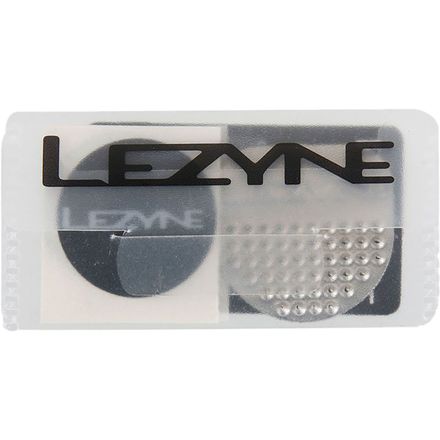 Six self-adhesive patches, a tire boot, and a tube scuffer patiently wait inside the compact and lightweight Lezyne Smart Patch Kit for an inevitable flat tire.
$2.99... Can't go wrong!
Familiarity:

I've used it once or twice and have initial impressions
I just got this little pack o' patches, and it's definitely worth the $2.99 and the peace of mind.



The kit includes:

6 stick on patches

1 scuffer

1 Tire puncture backer

1 slim plastic carry case



The 6 tube patches are in a super slim package along with the scuffer and a small (almost cardboard material with a sticky side) piece for backing a tire puncture. The kit can fit anywhere, and is a necessity if you're not carrying spare tubes. No glue to mess with, just peel, stick, replace the tire, and keep riding.



I have yet to use a patch, so I cannot attest to the quality or longevity of the patches: 4 stars for now!


great piece of kit
Familiarity:

I've put it through the wringer
slim and fits anywhere, easy to carry, cheap. Does the job very well.
Good patches
Familiarity:

I've used it several times
Got these to throw back in the alloy kit I already have. Seem to hold fine at around 75-90psi from my experience and referencing other reviews. It's nice not to have to mess around with glue and waiting for it to dry, the trade off seems to be not quite as good of a seal especially with higher psi
The adhesive doesn't hold
Familiarity:

I've used it several times
Coming from the the square Park Tool self adhesive patches, I thought I'd give the fancy Lezyne kit a try.



Bottom line, two of the four patches I've applied have failed. I followed the directions exactly, cleaning the area, roughing it, holding for 30s, but after about a day or two at 120psi, you end up with a crinkled patch that doesn't hold air. Forget about removing it and reapplying a new one...it's not coming off gracefully and your tube is trashed. Granted, the Park patches will give out eventually, but that's expected and you can generally replace them as the adhesive has degraded.
Great patch kit. Small, easy to use, does the job (patches a tube so you can get home).
Is this product as easy to use as it...
Is this product as easy to use as it sounds?? Just stick the patch over the hole and no more waiting 5 min for glue to dry??? How long before the patch dries/seals to the tub before you can inflate and get back to riding? Sounds like a huge improvement.
Best Answer
Ultimately, yes, it will save you some time and it is not as messy as a tube of glue. They work very well, just be sure to rough up the area around the puncture before applying the patch or it won't hold.
how does this patch hold up in heat? i...
how does this patch hold up in heat? i jumped on the park patches back when. great patch, but couldn't handle 95+ degree weather in ga.
Best Answer
I live in Moscow ID and we get like 95 degree weather in the summer. I haven't had a problem yet. And just as a sales pitch, I use these patched for my cross bike and they handle 80psi no problem. Many times patches have a hard time with the higher pressures. In fact, I'd forgotten that I'd patched the tube until I punctured it again and saw the patch. That's the only reason I pay this much for a patch kit (I got the fancier Alloy one. Only dif is the bling case). : )