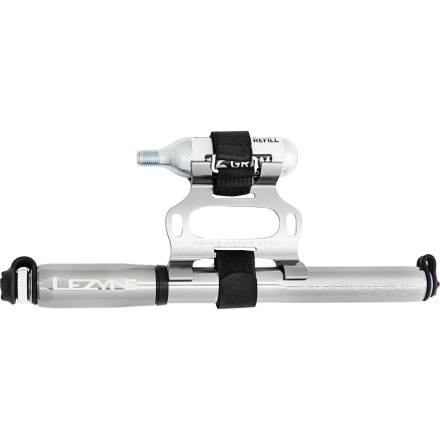 Detail Images
If you're the type of cyclist that doesn't like to spend half a training-ride inflating a tire with a half-assed mini-pump, then look no further because the Leyzne Road Drive CFH was designed for you. Leyzne made the Road Drive CFH 30% more efficient by using an oversized piston and shaft -- this means more air with less strokes. The Road Drive CFH also features a unique high-pressure steel braided hose for easy attachment and no more broken valve stems. When finished the hose slides conveniently inside the body of the pump for super-sleek transport. Finally, if you're in a real hurry, the all-in-one-mount, CNC-machined aluminum bracket holds one 16oz CO2 cartridge and attaches to the steel-braided hose for super-quick inflation.
High-pressure steel braided hose uses a flip chuck for compatibility with Presta & Schrader and works with threaded CO2 cartridges
100% CNC-aluminum construction for years of use
Simple bracket installation frees-up pocket space in your jersey
Good pump
Familiarity:

I've used it several times
Like this pump a lot, but like any micro pump it doesn't get anywhere near the 165 psi it says it will. You'll be able to get 60-80 psi into your tires and limp home. Nice to have a backup if your C02 cartridge fails somehow or you get two flats in a ride.
Great System
Gender:

Male

Familiarity:

I've used it several times
I have been very happy with the pump that comes with this setup. It pumps quickly and is small enough that it stays out of my way. I really like how it can be mounted under the waterbottle cage, keeping everything very accessable. It also comes with a small rubber gasket that goes around the pump to keep it from vibrating against the frame which was a nice touch. All in all I am very happy with this purchase.
Great Pump. I would definitely recommend
I really like the other version of this pump, the pressure drive and like others, I have been on a ride and then realized I needed to tighten the removable stem. I happen to have a spoke tool on my multi-tool and it works fairly well. I have now made sure that I don't have any of those types of tubes. Riding for a handful of years recreationally, I am kind of curious why the stem is removable in the first place...it's not like you're going to need to replace it. Maybe I'm missing something but the removable and replaceable stem seems completely useless and only apparent when using a screw on style pump.



I see now they have this road drive CFH and I think I'll opt for this one next time and see if there's any difference in the pump since it'll go up to 160psi according to the specs.
P.O.S. Looks cool, works horribly.
Lezyne might have their marketing dialed, they might have Cavendish to promote their products, but my experience so far with all their product is less than satisfying. I've been around bikes my whole life, have used dozens of pumps and the Road Drive CFH straight up sucks. I bought one for my wife because the hose makes it easy to NOT break valve stems—but 9 times out of 10 when you attempt to unscrew the hose from the Presta valve it unscrews the valve core letting all the air out of your tire. My wife had tons of issues with this, one on the side of the road. I figured it was her, so I tried to use the Road Drive again & again. It pulled the valve core every time! If you screw it on enough to get air in the tire it pulls the valve core, if you don't screw it all the way on it doesn't get air into the tire. It may look great but it's worthless.