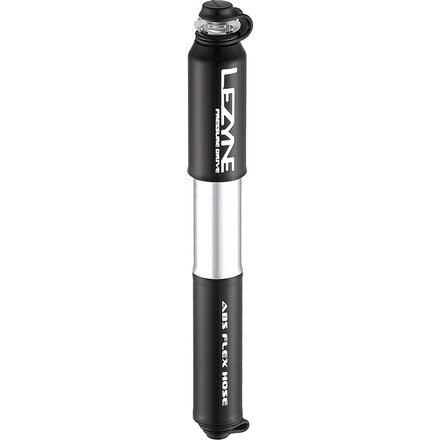 Colors

Videos
Description
It makes a lot of sense.
Lezyne has made portable bike pumps an art form. These beautifully designed pumps are more than pretty, however. The CNC-machined Pressure Drive pump makes your miserable road- or trail-side repair a bit less miserable with a large, 20mm barrel that inflates your tire faster and a removable hose that doesn't have to be held at exactly the right angle, like most mini pumps. The thread on head means that you don't have to hold the pump between your spokes, either.
The high-pressure design was made to pump up road bike tires—it goes all the way to 120psi. Lezyne was also thoughtful enough to include a frame mount for convenience.
CNC-machined aluminum
20mm barrel diameter
Thread-on head
Air Bleed equipped
High pressure design
Frame mount included
cracking down on bad habits
Familiarity:

I've put it through the wringer
This thing has got me out of some nasty situations of frustration, i typically run tubeless but on that rare occasion where i just so happen to flat out this guy gets me rolling fast again, its by far the sturdiest pump i've owned, making the strokes is smooth and fluid for ease of inflation.
Finally...
Familiarity:

I've used it once or twice and have initial impressions
...a "mini-pump" that actually works. I took a crack at this after being impressed by the design of Lezyne floor pump. To be clear, it is a bit of a workout to get high pressure clinchers up to 100 psi. But, it can be done and without fear of tearing the tube at the valve or having the pump head constantly blow off. The ABS hose with the thread-on head is a fantastic concept. It lets you focus your energy on the pumping instead of holding the pump head in place. The pump tucks away nicely in the bottle-cage mounted clip. A convenient velcro strap keeps the pump securely in the clip. it could probably be carried in a jersey pocket. Durability? It seems fine but, to be honest, you really only hope to use this thing one or two times a year so it should not be a huge concern. (If you have quality tires and keep them properly inflated with a floor pump, flats should be a rare occurrence).
Pump of Destiny
Familiarity:

I've put it through the wringer
This is a great little pump. Super small and light. There is no excuse not to bring it along. The quality of the pump is excellent. Takes awhile to fill up a tire, but what would you expect with something so small? The hose is nice. I like that you have some flexibility between the pump and the valve. You don't have to worry about breaking the valve off with the pumping gets real extreme. Watch out if you have removable valve cores. The abs chuck has unthreaded my valve core a time or two deflating the tire. As great as this pump is, having to pump up a tire twice isn't fun. Durability seems great. Works every time.
Lezyne Pressure Drive Pump
Great little pump
Familiarity:

I've used it several times
Awesome little pump that works great and fits in a jersey pocket.

But....it's definitely pink not red. Own it your a man!
Reliable & Compact
Familiarity:

I've used it several times
Perfect pump for emergency fixes on the road. Compact and even the longer medium length fits in the back of your jersey just fine. Easy to use with a secure thread on hose and flexibility friendly for easier pump action. Have been able to get up to 110psi, with admittedly a bit of a struggle from 90+, but it'll get the job done. Remember to let the air bleed, and be careful when unscrewing the valve as it can take your valve core with it if you're not paying attention.
no let down here
Familiarity:

I've used it once or twice and have initial impressions
this pump works great! pumps my road/mt bike tubes great! pumps up to 100 psi.. easy to install on my bike and would never leave home with out it!
Works pretty good, watch your valve core
Familiarity:

I've used it several times
I've used this for mountain and dirt road (CX bike) and carry it on the road. The durability is very good, the hideable hose is nice and convenient and makes pumping vigorously less un-nevring as you are less concerned of ripping the valve stem out of the tube. I have the "medium" size one and its slightly longer then your average jersey pocket length. If I pack my pockets with food and stuff, I don't have to worry about having the thing fall out. For mountain and cross the volume is sufficient. I have not had any flats on the road, so I can't speak of how it does at road pressures.



Now the downside. The hose screws onto the valve stem, making a nice and tight seal. You pump it up and life is good. However, the seal is almost too good and grips the valve core. When you screw the hose off, if the valve core is not extremely tight, you take the core with it, having all your hard work air fly out followed by a long list of course words. I'm giving this 4 stars as it works fine IF you use a small valve core wench (sold with some brands of stems) and stench the thing down.
Small, Light, Elegant Design ...Works OK
This is replacing the venerable Topeak Road Morph G. In the process of getting the backpack off my back, the old Topeak was the last thing... and was just too big to have hanging off the beautiful frame of my bike.

Enter the Lezyne Pressure Drive. Small enough for a pocket or a more discreet frame mount, and lighter. The Pressure Drive pumps pretty easily up to about 80 psi, but my weak arms are tapped out before 100psi... but I've seen others do it, it's just not for me. But it does the job and gets me back on the road, and pretty darn effectively. I will make the sacrifice and take this over the larger Topeak anyday.

In the two times I've used it I've never broken a valve stem or unscrewed a valve core, as others have reported.
For the sake of clarification, the medium...
For the sake of clarification, the medium will fit presta and schrader valves, and comes with a gauge that screws in to the short side of the flex hose? If so i'm sold.
The Medium does NOT include the gauge, it is sold seperately.
Works great, it takes a decent amount of pumps to fill up a tube but sans a monster frame pump what doesn't? I like the mount which allows you to still use your waterbottles. The mount has a velcro wrap as well as a clip and it is very secure.
Very nice pump it is compact and works well I don't even mess around with co2 anymore. This is the perfect pump for my eastern Sierra rides where there is no cell phone service and u are on ur own. And now I never have to worry about running out of co2 ever again.
Does this pump attach to the side of a...
Does this pump attach to the side of a bottle cage allowing you to use 2 water bottles? Or does it take the place of 1 of the bottle cages allowing you to use only 1 water bottle?
It mounts to the side so you can use 2 water bottles.
Does the ABS thing mean you can use this...
Does the ABS thing mean you can use this as a shock pump?
ABS= (Air Bleed Equipped) for dialing in exact pressure.
It's for tube onely
120 psi will not be enough for a shock.