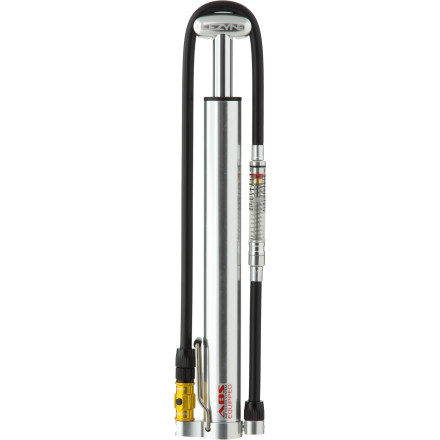 Videos

Community Images
The Lezyne Micro Floor Drive High volume Pump takes shop-pump convenience out of the shop and into your pack for quick roadside repairs. The Micro Floor Drive features a fold-out foot peg and a 24-inch hose, so you can use it just like a floor pump. The T-handle is also much more comfortable than most micro pumps shaft handles. The pump works with either Presta or Schrader valves, and a Speed Chuck is included.
Fold-out stainless steel foot peg
CNC-machined T-handle
24 inch hose
Speed chuck included
Good in concept
Familiarity:

I returned this product before using it
I was reluctant to buy Lezyne because of past experience and seeing others. I love the metal construction which they have set the bar on. My problem with their pumps is the thread-on head. Without fail, about 40% of the time when removing the pump it unthreads the valve stem you just worked so hard to inflate. You're chances are higher of loosing all the air from your repaired tire than they were of flatting in the first place. Aside from that, this would work well in a pack for MTBing but even though it comes with a bottle cage mount it's way too big to be hanging out down there. With a t-handle, a hose and a (fold-away) foot there was just too much potential of it coming loose on a ride and interrupting a killer descent. I didn't want to risk it.
sweet pump
Familiarity:

I've put it through the wringer
Love the valve, love the pump. It's a great item and i still despise C02
Amazing Pump
Familiarity:

I've used it several times
This is the best pump you can carry around. The attachment method for these Lezyne pumps onto your valve is fool proof. I love that it threads on and won't pop off like the "locking" type seen on other pumps.
Large enough to get the job done while small enough to throw in a small backpack.
best portable pump
Gender:

Male

Familiarity:

I've used it several times
I use this pump for long distance touring where I am often unable to find high pressure air and need to conserve weight. This is the lightest pump I have found which is actually able to inflate tires to 100 psi or greater. Most mini pumps (which admittedly weigh less) can't come close. (This pump weighs 227 g or 8 oz by actual measurement.) Plus, the attachment to the stem with mini pumps risks damaging them, especially fragile presta valves. CO2 pumps are OK but the need to carry cartridges is a disadvantage, and they still can't achieve pressure as high. The beauty of this pump (besides its appearance, which is a work of art) is that the hose screws onto the valve (either presta or schraeder) making an airtight and gentle attachment. Several strokes reaches as high a pressure as any bike tire can handle. The inline pressure gauge option is recommended, and works well. The pump can mount on your frame to water bottle braze-ons with the included hardware. The water bottle cage can still be used. I rarely see products I like as much as this one. 5 stars.
Pump Up the Good Times
Familiarity:

I've used it several times
This pump is great. It makes pumping up large mountain bike tires as easy as it can be with a pack sized pump. The flip out foot peg is genius. The pump feels very light for its size. It is a little bulky, but it still fit in the pump sleeve of my Osprey Pack. The long hose is also great. You can get it on the valve and not feel like you are going to break off the valve with every pump. The only negative of this pump is the tread on chuck. It is great to form a tight seal on the valve stem. The issue comes when you go to remove it if you have removable valve cores. It isn't cool to have just pumped up your tire and then have the pump remove the valve core emptying all the air. This has only happened a couple of times, but pumping up the tire the second time is never as enjoyable. Make sure your valve cores are good and tight and you should be ok. Great pump, the chuck could use some tweaks.
Everything you want and nothing you dont. Buy it.
Lezyne Micro Floor Drive High Volume Pump
Get Floored
Familiarity:

I've used it several times
This pump is awesome, the design makes it much easier to work with then other mini pumps I have used, so getting back on the saddle isnt as much of a hassle thanks to the fact that you arent applying so much torque right near the valve stem. Say goodbye to broken valve stems thanks to the floor pump like design which allows more leverage over the pump for an easier stroke. Definitely would recommend to anyone who has had the dreaded experience of bursting a valve stem while pumping using a hand pump
A must for fat bike
Familiarity:

I've used it once or twice and have initial impressions
When you need to compress a guzillion cubic feet of air into your fat bike tire just to get to 10 psi and it's freezing or hot or buggy or anything you want this high volume portable pump with you. I have the version with the gauge but it's worthless for low pressure fat bike tires - I think the first mark on the gauge is 20psi. Buy it and be happy and bail out every stranger with a flat so they can be happy too.
Best mini pump for MTB
Gender:

Male

Familiarity:

I've put it through the wringer
The first time you use this pump, you will wonder how you put up with any other mini pump you've used previously. Just by holding this pump in your hand you realize that it's design is well thought out and the quality is unlike any other pump you've wasted your money on before. Think of the nicest floor pump you've used and shrink it down into a nice package that fits conveniently in a hydration pack.



This pump is about 12 inches long and has a 24in hose with a chuck that works with both schrader and presta valves. It isn't the lightest pump out there, but is not noticeable in a hydration pack. For the punch that it packs, it is well worth any weight penalty woes you may have. This pump saves tons of time pumping up MTB tires and getting you rolling again quickly by using the attached foot peg and allowing a better position for pumping. The option for a pressure guage may be handy for those really picky about their pressure, but certainly is not necessary.



A frame mount is included with this pump, but feel it may be a bit bulky to fit on a frame. I highly recommend this pump, you will not be disappointed!
Best portable pump ever - seriously.
I am beyond impressed with this pump. The quality of craftmanship is the best I've ever seen in a pump. It is easy to pump with - the handle does not dig into your hands (though admittedly I haven't pumped without wearing gloves). It is efficient at getting air into my tire, and I think this is mostly due to the larger size and fitting being so secure that you don't need to be gentle with the pump (ABS/Flex Hose = AWESOME and every pump should have it). There is just never any undesirable leakage. It's easy to get a ballpark idea of how much pressure you've put in by watching the integrated gauge, though it doesn't agree with my digital gauge that I actually use for setting air pressures, so I only use it as a guide. It's super-easy to switch between a secure Presta and a secure Schrader connection. With the little foot stand it's also easy to pump hard and fast and not waste energy holding both ends of the pump.
I have no doubt that this pump will last me for years to come as I do not see any desire to switch from this since it's really light, relatively small, maximally efficient, easy to use... really, all the qualities that you would want a pump to have. If it's too big for you, you are probably already using CO2. This is my second Lezyne (I have an HP for my road bike that can get my tires over 100 PSI with ease), and this HV version for my MTB works wonders. Stop "trying out" other pumps. Just stop it.
If you are looking for a mini pump to take with you during rides, stop looking and just get this! It's sooooo good!
This pump is great but....
I love this pump. The quality is great and its really easy to switch from schrader to presta. The one gripe I have about it is the button to bleed out the air is poorly placed. They put it right in the knurling that you use when you thread the pump onto the valve. Its really tough to not bleed out a couple psi when you are removing the pump from the valve stem.
I've always used the basic pumps and was so impressed with this one. This is a must have for any mountain biker. We all know how bad it sucks when you get a flat, and it sucks just as bad getting your tire up to the pressure you want with a basic pump. with this little guy, in less than a minute your 29" 2.25+ size tire is up to at least 40 psi, and your arms aren't worn out when you're done!
Can this be threaded on to a shock? I was...
Can this be threaded on to a shock? I was thinking specifically like a Fox RP23.
It probably can be threaded on, but its not going to work. This pump maxes out at 90psi. I run my shock at 160psi, so not even close. Also, this doesn't have a gauge, which you need for use on a shock. The Topeak Shock and Roll is a dual use pump. I too hate carrying two pumps. I wish Lezyne would make a dual use pump for mtb use.