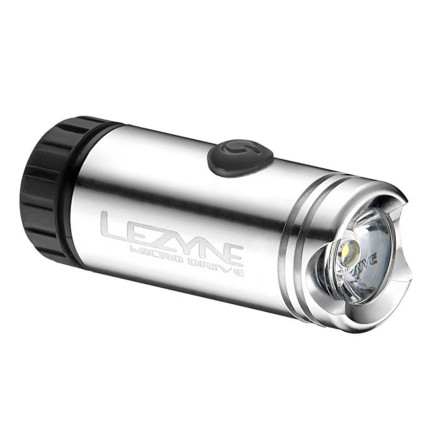 Colors

Detail Images
Description
A punch-packing featherweight.
The Lezyne Micro Drive Front Light will slide in nicely between the other items mounted on your handlebars to give you 150 lumens looking forward, and 180 degrees of visibility.
The most obvious difference between the Micro Drive and other lights is the CNC-machined aluminum body. In the event that you take a spill, the Micro Drive can handle it. The machined aluminum body also dissipates heat, which can damage LED bulbs over time. The Micro Drive is sporting a redesigned power button that increases the headlight's water- and weather-resistance. The new power button hides the green and red LED's that allow you to monitor battery level without losing a pedal stroke. When the headlight is on, the indicator (locator on top of the light housing) will be either green, red, or flashing red to indicate power level. The Micro Drive is also equipped with Lezyne's Maximum Optical Reflection one-piece internal reflection technology. The result is a light with fewer parts and a smoother, wider Uniform Power Beam.
The Micro Drive has five modes: Overdrive (200 lumens), Blast (150 lumens), Enduro (100 lumens), Flash (100 lumens), and Economy (50 lumens). Lezyne's side visibility technology makes the Micro Drive visible from 180 degrees at night without illuminating your handlebars, which can be distracting. It includes Li-ion, rechargeable batteries and a USB charger, and a nylon handlebar mount.
The Lezyne Micro Drive Bicycle Headlight comes in Black and Silver and is compatible with 31.8mm or 25.4mm road or mountain handlebars.
Share your thoughts
What do you think of the
Lezyne
Micro Drive Front Light
? Share a...
Great commuter light
Familiarity:

I've put it through the wringer
This light is bright enough and has a good battery life considering that is easily recharged in a USB port. It is easy to take on and off your handlebars as well. The battery life indication is a nice added bonus as well.

I wouldn't take this light on a long tour or anywhere I didn't have access to a USB port for recharging, but going to and from work you can't ask for anything better. You never have to worry about trying to turn on your light only to find out the battery is dead, then go buy batteries, install, etc. I have a rear light that is really bright that I use for commuting that uses batteries and I've changed them three times in 4 months and my commute is about 20 minutes each way at most. Get a rechargeable light and save yourself the money on batteries.
Tiny light packs a punch
Familiarity:

I've used it several times
I have used this to commute around 5 miles home at night from school/work and it does the job on the road and on dark, paved paths. The only downside to it is the mount seems a little flimsy. I would have preferred a bolted mount, instead, it's just a rubber strap. I do take it with me when I go inside because it would be super easy to steal.
Lights out, folks!
Familiarity:

I've put it through the wringer
I have 3 sets of these lights (front and rear for 3 bikes) and all 3 front lights share a common problem: they have far less than the advertised "burn" time and fail to hold a charge running in "daylight warning" mode. Specifically, when new (<6 months old) fully charged front lights showed the red "battery low" indicator when operating at ambient temperatures between 40-80 degrees F. Now, the low charge indicator appears within 15 minutes of run-time and the lights are about 1.5 years old. Curiously, the rear lights do not have this issue. The total run-time for front lights in daylight warning mode is about 2 hours when new. I've written to Lezyne about this issue a couple of times but the company never responded. In short, this might be a model you should carefully consider before purchasing.
Bright Enough
Familiarity:

I've used it several times
I bought this to put on my tandem bike to ride from various local establishments at night. The light does a decent job of illuminating obstacles and letting drivers know you're there.
My only complaint is that the mount is a stretchy rubbery band that I feel will wear out or get heat damaged sooner than solid plastic, but time will tell.
Pack Heat - just not in the cold
Gender:

Male

Familiarity:

I've put it through the wringer
This light is plenty bright to get you in trouble with cyclists going the other direction. The battery doesn't last forever though so you'll want to charge it regularly. Luckily the on/off switch quickly tells you how much juice you have.

My only real complaint is cold-weather battery life. My speculation is that the aluminium case conducts heat so well that the battery just gets cold and dies.