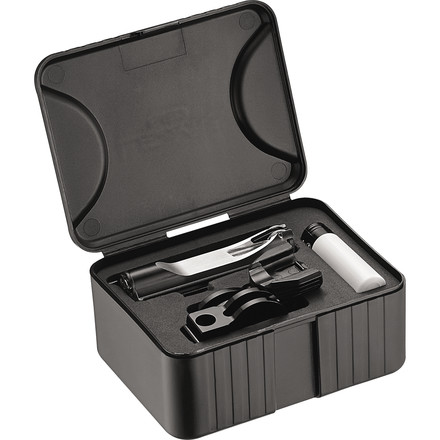 Detail Images
A super bright headlight is vital to nighttime cyclists, yet so many of them rely on heavy external batteries and clumsy cables that you have you deal with. Not so with the Lezyne Mega Drive Front Light, a handlebar-mounted headlight cranking out an impressive 1000 lumens from a rechargeable, self-contained battery in a relatively light package.
The most obvious difference between the Mega Drive and other lights is the CNC'd aluminum body. In the event that you take a spill (not hard to do on a trail at night), the Mega Drive can handle it. The machined aluminum body also dissipates the heat that can damage Li-ion batteries over time. It also looks good. You'll downplay the importance of style, but we know you don't want to hang some cheap, plastic gumball-machine headlight on your carbon race machine. The Mega Drive also sports a redesigned power button that increases the headlight's water- and weather-resistance. The new button houses the green and red LEDs that allow you to monitor battery level without losing a pedal stroke. When the headlight is on, the indicator (located on top of the light housing) will be either green, red, or flashing red to indicate power level.
Lezyne's Infinite Light feature is another unique innovation that adds versatility and usability for endurance riders, 24-hour racers, or anyone planning to outride the battery's burn time. If you burn out your battery, just pop it out and slide in a fully charged Li-ion. It sounds simple but it's a rare feature among trail lights and it allows you to ride as long as you want, depending on the number of backup-batteries you decide to carry.
Yet another performance-enhancing innovation is Lezyne's Constant Current technology. Constant Current delivers even and constant lumen output over the entire life of the battery without dimming or fading out as the battery loses charge. This feature increases efficiency to allow the Mega Drive to burn brighter, longer. The Mega Drive is also equipped with Lezyne's Maximum Optical Reflection one-piece internal reflection technology. The result is a light with fewer parts and a smoother, wider Uniform Power Beam.
The Mega Drive has three modes: Blast (1000 lumens), Enduro (500 lumens), and Economy (200 lumens). The battery is good for 1.5 hours, 2.5 hours, and 5.5 hours in each mode, respectively. Lezyne's design makes the Mega Drive visible from 180 degrees at night without illuminating your handlebars, which can be distracting. It includes a Li-ion rechargeable battery pack and a USB charge cable, and a nylon handlebar mount.