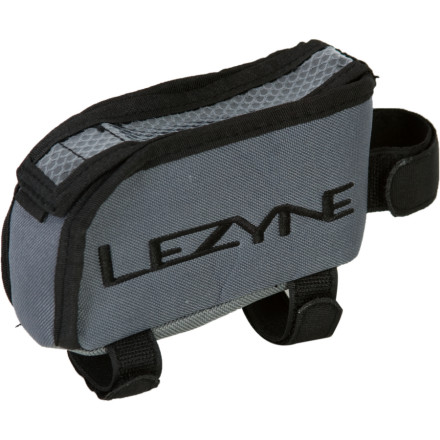 Detail Images
Mount Lezyne's Energy Caddy on the front of your bike to hold speed nutrition during race day or bonk-fighting endurance fuel on a century. Hook-and-loop closures securely and simply hold this bag and contents in place—yet retrieval while riding's a cinch.
I can't realize how a bag designed for a bicycle is closed with a small square of velcro, the whole bag is open all the time. Please never buy this. I got 2 and i just put in the trash!
Easy access to the bag
Familiarity:

I've used it several times
I bought this as a gift for my girlfriend, she did her first half ironman and didnt have a bag. She stuffed this full of gu's and food and crushed her first half! Great bag.
Not quite the quality/functionality I would expect from Lezyne. Smallish, but that's to be expected given its top-tube mount. Holds a couple of energy bars and a few gel packs; maybe 800 calories. Clear cover is not very wide, only attaches at end, and provides no security along the length of the caddy. Velcro attachments to top tube and head tube are OK, but whole thing tends not to stay upright, preferring to tilt to the left or right. On a recent century ride I noticed similar top-tube bags from other manufacturers that appeared to have better closure and/or larger capacity.
I thought this would be a good energy bag since the Lenzyne seat bags are so nice. It is a good size but the closure is really bad - just a simple flap with a small piece of velcro to attach it. This closing flap will gap open allowing the bag contents to fly out. I could not imagine putting something important like a phone in this bag.

I will search for a bag that either zips closed or has a larger closure contact point.