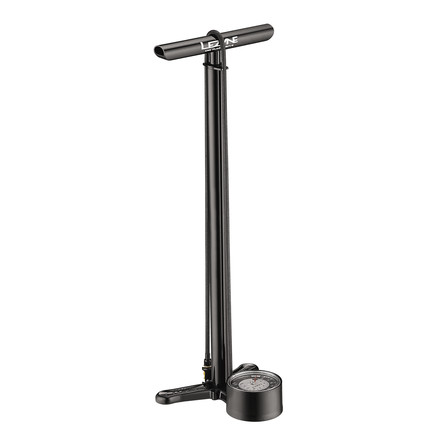 Community Images
Constructed of CNC machined aluminum with a brilliant anodized finish, the Lezyne CNC Floor Drive Pump adds sleek sophistication to a powerful, ultra-precise floor pump. Its oversized 3.5-inch gauge shows pressure up to 220psi for accurate pressure readings. The Air Bleed System (ABS) Flip-Thread Chuck works with both Presta and Schrader valves. Its ABS unit is a small button used to bleed air from Schrader valves and gently remove air from Presta valves without damaging the valve stem or hose. Looking at the hose, it's made of braided nylon for durability. Additionally, you'll find an included 90-degree Speed Chuck for easier use with wheels with low clearance, such as deep rims and disc wheels.
CNC machined aluminum with anodized finish
Oversized 3.5-inch gauge displays up to 220psi
ABS Flip-Thread Chuck for use with Presta and Schrader valves
Included 90-degree Speed Chuck for use with deep rims and disc wheels
Nylon braided hose
Well Done
Familiarity:

I've put it through the wringer
This has been an excellent floor pump for my home shop. The reversible head allows me to handle both Schrader and Presta valves, and the screw-on chuck connects solidly to the valve. It's built well and has a solid feel to it, and the gauge appears to be pretty accurate.

One tiny personal hang up is that I'd like to see the handle continue all the way to the end as opposed to having a beveled edge on either end of the bottom side -- my hand tends to creep that way while pumping. Again, no big deal, but worth a mention.
Excellent pump, worth every cent.
Familiarity:

I've put it through the wringer
Excellent pump. Worth every penny. The thread-on system is great. In case you haven't used it before, note that it does not require threaded valves - it screws on to tiny threads (that I never really noticed before I got one of these) near the end of the valve, and even smooth valves have them. Anyway, the great thing about this is it goes on in seconds without having awkwardly torque down on a flip lever. I used to struggle with those levers - I would have to use both hands to make sure I didn't bend the valve, and it took a ton of elbow grease on older pumps. By comparison, the thread-on system does not put any stress on the delicate valve parts. And you don't lose any air in the process of unscrewing it. Moving on to other features - the pump is very lightweight due to aluminum construction, yet sturdy. The handle is oversized, well-contoured and comfortable, and has a sturdy, solid feel. The hose is easy to secure in place when you are finished, with 2 permanent tabs that stick out of the pump body. I have the silver one, which is esthetically pleasing; no cheap chrome look. Finally, there are a couple small parts I will probably never use (like a football inflator attachment?) but there is a place on the base where you can secure these in case you need them later. I never used the quick chuck or whatever it is called; seems unnecessary.
Well made floor pump
Familiarity:

I've used it once or twice and have initial impressions
It has a nice length of hose to get any where you need it. I like that it threads on the valve stem so it won't blow off when reaching high pressure. Nice quality and very accurate.
One sexy pump
Familiarity:

I've used it once or twice and have initial impressions
I had originally considered the digital version of this pump but like the other reviewer commented the dial version is the way to go. The huge 3" display is easy to read and has a sort of retro look to it. I purchased the black model...sexy, sleek , and well made. The thread on chuck can be a bit tricky just make sure you are threading it on right as it seems like you could easily cross thread it if you were to force it on. It does come with a 90deg speed chuck although I have yet to try it. Also supplied is a needle valve for your sports balls...now I can accurately fill my sons soccer and footballs...and a cone valve for beach balls and pool toys.