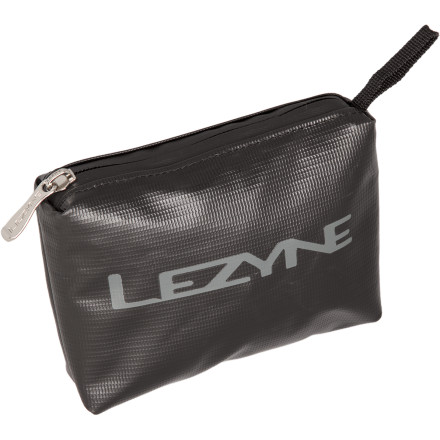 Detail Images

Community Images
Whether you're naturally hyper-organized (maybe even a little compulsive) or you're an ardent follower of The Rules, the Lezyne Caddy Sack will help keep your jersey pockets organized. Glueless patches seem to be a little bit like socks in the dryer -- you put six in and get five back. Fight this phenomenon with the Caddy Sack. This bag is made from water-resistant and durable PVC fabric, and has enough room for tire levers, a multi-tool, patch kit, and a CO2 cartridge.
Good jersey tool bag...
Familiarity:

I've put it through the wringer
I have the medium size bag and it fits in my jerseys. It is handy, I store my tools in and throw the bag either in my jersey or my backpack before a ride. It is tough and waterproof.

I have is the one with Velcro but not with zipper which I might have preferred.

Good little bag that I would use for anything I want to protect or small stuff I don't want to lose and to use for any activity.
Is this the small or the medium? dimensions...
Is this the small or the medium?

dimensions : S 145x110mm | M 180x130mm *

*(from the Lezyne website)

Based upon the comments below, It sounds like this may be the medium.

Thanks,

Mark
It's the simple things...
I don't use this to replace a saddlebag, but I do keep everything I want with me on a bike ride in it. Keys, ID, cash, even my large smartphone fits in there, which keeps it from being covered in the sweat that my jersey is "wicking" into the pockets.
Greatest Thing Since Sliced Bread
I HATE saddle bags and I've been looking for a product like the Caddy Sack for a few years now. LOVE this thing! I switch between road and mtb and it's really nice to have a stocked kit that lives in the gear bag and is able to hold everything I need for both bikes - just grab and go. I used to use ziplock sandwich bags to hold my essentials, but once packed, they would always feel bulky and never had the right proportions to fit nicely in my jersey pocket. My Caddy Sack is stocked with a road tube (an mtb tube might be a bit too big to fit), tire levers, a patch kit, compact multi-tool, 2 CO2 cartridges & CO2 chuck - you have to get a little creative with how you pack it, but it all fits with ease with a little room left to spare. Once packed, it fits in the middle pocket of all my jerseys comfortably and with ease - I've got stuff from Capo, Craft, Performance and LG. On my euro jerseys the top of the bag does poke out a bit, but it's maybe a quarter inch, if that. No big deal. The Caddy Sack is not bulky or obtrusive, it sits comfortably on my back and I really don't notice it's there. Big plus that it is well sealed and water resistant - you kit doesn't get soggy when you start sweating. 5 stars - beats a saddle pack any day of the week.
Super Bag...for carrying stuff!
It is too big for a jersey pocket.
BUT
It is perfect for city riding. I keep it in my city bag, chocked full of stuff: tools, money, lighter, lip balm, patch kit, tube, etc...pretty damn cool.
This is supposed to replace your saddle bag and tuck away in your jersey pocket. The bag is simply too big to fit in all of my jerseys without folding it in some manner. Capo, Rapha, Castelli, etc, they all have pockets smaller than the bag. Needs about 3cm removed height wise.
Too big to use in a jesey pocket, I think....but it works great in my messnger bag, catching tools, lighter, change, small flashlight, etc...very durable